Integra DHC-40.2 Surround Processor
Price
: $1,200
At A Glance
: THX Ultra2 Plus certification • Seven HDMI inputs • Dual HDMI outputs • Home network and Internet audio streaming
Four years ago, Integra rocked the A/V world when it released its well-reviewed DTC-9.8 surround processor (HT, May 2008) for an unprecedented price of $1,600. It boasted a bevy of cutting-edge features and was one of the first processors on the market that could decode Dolby TrueHD and DTS-HD Master Audio. Since that time, the company hasn't rested on its laurels. It's offered yearly upgrades with the DHC-9.9 (HT, July 2009) for $2,000 and DHC-80.1 (HT, May 2010) for $2,300. Each subsequent year, the processor has offered additional improvements to justify the price increase. However, those seeking out separates on a budget were being left behind.
Lo and behold, Integra saw an opportunity and entered the budget category in 2009 with its DHC-40.1. While the surround processor didn't have all the bells and whistles of its higher-priced sibling, it was priced at an affordable $1,200. Another digit has been added to the calendar, and the company has released a new budget-priced surround processor, the DHC-40.2. It has some additional enhancements to entice you to upgrade, plus one big surprise—no price increase.
What's New
The processor's aesthetics haven't changed much except for the addition of a USB input on the right-hand side of the front panel in order to hook up an iPod, stream tunes from a USB drive, or upgrade the firmware. In addition, the front panel sports an HDMI port, direct access to each of the various inputs, a bevy of controls for various settings, and a large volume knob. The text-based display is quite bright, but thankfully it's dimmable to call less attention to itself in a dark room. However, you can't turn it off completely—not good in a bat cave home theater.
The back panel has additional upgrades over its predecessor, including a 7.1-channel analog input. The seven HDMI inputs are version 1.4a to support 3D and the Audio Return Channel, plus the two HDMI outputs can be active simultaneously. Integra includes legacy support for Deep Color and x.v.Color, but other than some video games or select camcorders, you'll rarely need either of these features. The Ethernet port allows access to Internet radio from a number of services, including Pandora, Rhapsody, and Napster. You can also stream music from your home network and even upgrade the firmware from Integra's servers.
Other highlights from the back panel include three 1080pcapable component inputs with one output, an FM antenna input, and a 7.2-channel analog RCA output for hooking up your amplifier. There's also an input for an optional Sirius Satellite Radio tuner and a universal port for an optional iPod dock and HD Radio device (purchased separately).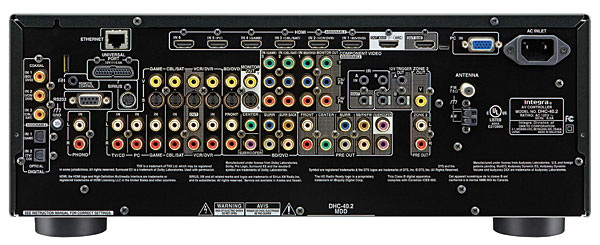 The Integra can decode virtually every current flavor of audio codec, including Dolby TrueHD and DTS-HD Master Audio via the HDMI inputs. Two Texas Instruments 32-bit DSP chips deal with the audio processing, and Burr-Brown 24-bit/192-kilohertz DACs on all channels with PLL Jitter-Cleaning Circuit technology take care of the digital-to-analog conversion. The unit includes Audyssey MultEQ for room correction. Also on board are Audyssey DSX and Dolby Pro Logic IIz for front width or height channels. You also get Audyssey Dynamic EQ and THX Loudness Plus to rebalance the system when you listen at less than reference level, as well as Audyssey Dynamic Volume to perform advanced dynamic range compression and level matching between sources.