Face-Off: Noise-Canceling True Wireless Earbuds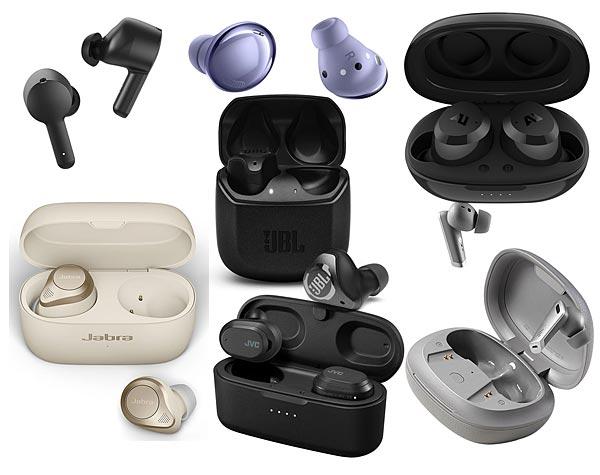 What the world needs now is active noise-canceling (ANC) true wireless earbuds. ANC buds meet the needs of the moment by providing a way to boost audio quality during Zoom calls while simultaneously isolating us against intrusive environmental factors (remote-schooled kids, other work-from-home adults, etc.). And fortunately for us all, they are getting better-sounding, more feature-packed, and less expensive.
When considering which ANC buds will satisfy both your ears and lifestyle, you many need to reverse your usual headphones-buying qualifications. You're a Sound & Vision reader, so sound quality is critical. But while you will discern differences in frequency response and soundstage dimensionality from one set of buds to the next, the more critical metrics for comparing true wireless ANC in-ear models are convenience and operational features. You'll also find a wide disparity in noise-canceling performance from bud to bud. Once you narrow your choice to a model with the right feature set, and noise- canceling effectiveness—the latter of particular importance if you regularly travel on planes, trains, or buses—sound quality can serve as a final determination.
As the range of available ANC bud options expands, buyers should expect a minimum set of standard features and functions. When comparing models, consider the following:
An easily pocketable charging carry case (2.5 inches wide or 1.5 inches thick max).
At least five hours play time on a single charge, plus a case that allows three recharges at minimum.
At least three pair of different-sized silicone ear tip options.
A complementary app to customize sound, noise-canceling, and operational functions.
Automatic playback-pause when you remove a bud from your ear.
Charging via a USB-C cable.
A selectable "ambient" mode to clearly hear external sound such as announce- ments, or to conduct conversations without removing the buds from your ears.
On-bud control to access an Alexa or Google voice assistant.
Either IPX4 or IPX5 water protection (dust-plus-water protection would be expressed as two digits, e.g., IP56).
As you compare different models, you'll see references to "adaptive" rather than "active" noise cancellation. This basically means that the otherwise active noise- canceling automatically adjusts—or can be adjusted with a control app—to accommodate environments with varying degrees of ambient noise. Also be aware that all earbuds that feature ANC use external mics to detect external noise, which can result in whooshing wind sound getting amplified.
We auditioned nearly 20 sets of buds in varying outdoor and indoor situations: walking around midtown Manhattan, riding the subway, pedaling a bicycle through a gusty 15 MPH wind, and sitting in a room with 75db of YouTube-sourced airplane cabin noise plus a TV blaring with chattering talking heads to simulate in-flight conditions. For each of these acoustic environments, we streamed a variety of classical, jazz, classic rock, modern pop, and hip hop tracks, from Beethoven ("Ode To Joy") to Dave Brubeck ("Take Five"), The Beatles (Abbey Road 50th anniversary mix), Bruno Mars (with Mark Ronson on "Uptown Funk"), and Cardi B and Megan Thee Stallion ("WAP"), plus others from Apple Music on an iPhone 12 Pro Max. After auditioning nearly 20 different models of ANC buds, here are our top 10, in alphabetical order.