Best Gear of Spring 2023
Spring has been kind to us. We've had the opportunity to evaluate and recommend a number of interesting products in recent weeks. Among them, a streaming speaker guaranteed to rock your house, luxury headphones from an iconic high-end brand known for its top-shelf electronics, two terrific TVs — one OLED, one mini-LED — a "spatial audio" speaker you can balance in the palm of your hand, and more. Read on for a rundown of our latest Top Picks in just about every AV category.
Top 4K TVs
TCL 6-Series mini-LED QLED 4K Roku TV: $999
China's TCL is making remarkable strides in the ever-competitive TV market with an expansive range of budget models in screen sizes ranging from 32 inches all the way up to 98 inches. Though the 65-inch 6-Series R655 Roku model we reviewed falls at the higher end of the brand's price spectrum, it's a decided 5-star bargain in the relatively new world of LCD TVs that use mini-LED backlighting to bolster picture brightness and contrast. It's also a visually striking TV that supports Dolby Vision and HDR10+ high dynamic range (HDR) in addition to offering a near-reference quality Movie picture mode, voice control through the Roku app and remote, and home-screen access to Netflix, Hulu, Amazon Prime Video, YouTube, HBO Max, Disney+, and other streaming services, including The Roku Channel with its wealth of free content. Also on tap is a handy Game mode that automatically unlocks superpowers not otherwise available — from 4:4:4 chroma to 144 Hz support to VRR (variable refresh rate) and ALLM (auto low latency mode).
Reviewer Mark Henninger was so impressed with the R655 — particularly its natural color, HDR presentation, and gaming prowess — that he gave Performance a 4½ star (out of 5) rating: "This TV will absolutely wow you with its picture quality," which translates into a "particularly crisp and punchy image as long as you are seated centered to the screen." The caveat, of course, is the image doesn't look as impressive to viewers seated off to the side — a compromise many will be willing to accept given the attractive price/performance ratio. Even so, there was no mistaking the "visual feast" of detail, color, and action conveyed in the 4K HDR stream of Avatar: The Way of Water. The bottom line: A thousand bucks gets you a "peak bang-for-the-buck" Top Pick TV packed with the latest video formats and technologies, presented in an easy-to-use Roku interface.
AT A GLANCE
Plus
Very bright
Deep blacks
Excellent contrast
Wide color gamut
Minus
Limited viewing angles

Full Review Here (posted 4/6/23)
LG G3 OLED Evo 4K TV: $3,299
LG's svelte Gallery Edition series of 4K OLED TVs just keeps getting better. Building on the success of last year's impressive
G2
, which uses an aluminum heat sink to increase brightness by drawing heat away from the display panel, the G3 goes a step further with the addition of a micro lens array to (in conjunction with LG's excellent Alpha 9 processor) reach new levels of peak brightness by better focusing light from the millions of pixels that make up the image. The difference is immediately noticeable, resulting in the brightest OLED we've tested to date and all but removing criticisms around limitations in brightness. Add to that lifelike color, impressive contrast, superb detail and you have a topnotch OLED TV.
The G3 supports Dolby Vision high dynamic range (HDR) and is equipped with dynamic tone mapping that effectively converts HDR10's static metadata into dynamic metadata to minimize clipping while retaining as much image detail as possible, useful Filmmaker and Cinema picture modes, controls for fine tuning color, brightness, and contrast, and a dizzying selection of setup options. Though we can't guarantee your experience will be the same as ours, the out-of-box performance of the set LG delivered for this review was so close to ideal that active calibration offered no visible improvements. Drawing on a broad range of movies, from the ornate Victorian-era environments in Topsy-Turvy to the vivid animation of Trolls World Tour, veteran TV reviewer Tom Norton was never disappointed: "Regardless of genre, the LG G3 sets a high bar for its competition."
AT A GLANCE
Plus
Stunning brightness
Excellent color
Outstanding blacks
Minus
Cluttered WebOS
Little else
Full Review Here (posted 5/17/23)
Stereo/All-In-One Speakers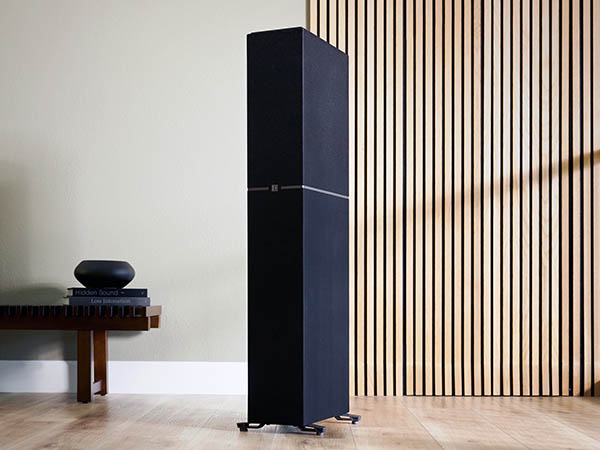 Definitive Technology Dymension DM70 Bipolar Tower Speaker: $4,000/pair
Definitive Technology has returned to its roots with the DM70 tower, the latest iteration of the bipolar design it pioneered 30+ years ago. Like all of the company's bipolar tower designs, the DM70 follows the path set forth by founder Sandy Gross: mating front- and rear-firing drivers with an integrated subwoofer. In this case, the DM70's slender 4-foot-tall cabinet mates two driver complements, each comprising a 5.25-inch woofer and 1-inch aluminum-dome tweeter, with a built-in bass module that draws on a 250-watt amp to power a 10-inch woofer augmented by a pair of 10-inch passive radiators. The beauty of this design is you get rich, three-dimensional sound with deep effortless bass from two minimalist speakers wrapped in black fabric.
Reviewer Mark Henninger was mesmerized by what he heard when he powered up a pair of DM70s: "Their most obvious quality is stereo imaging that's transcendental in nature. The soundstage is vast and enveloping, and the imaging is so accurate that it is as if the performers are right there in the room with you. I know that's a cliché, but it's also how it really sounds!" But what about that pair of integrated subwoofers — what do they bring to the party? For starters, they are rock solid down to 30 Hz and having two of them helps smooth out peaks and dips in the bass. At four grand a pair, these speakers don't come cheap but they do deliver in spades and are an exciting choice for stereo music.
AT A GLANCE
Plus
Excellent soundstage and imaging
Powerful and adjustable bass output
Disappears when the lights are out

Minus
Each speaker requires a power outlet
Cloth grille is not removable
Can't be placed up against a wall
Full Review Here (posted 4/14/23)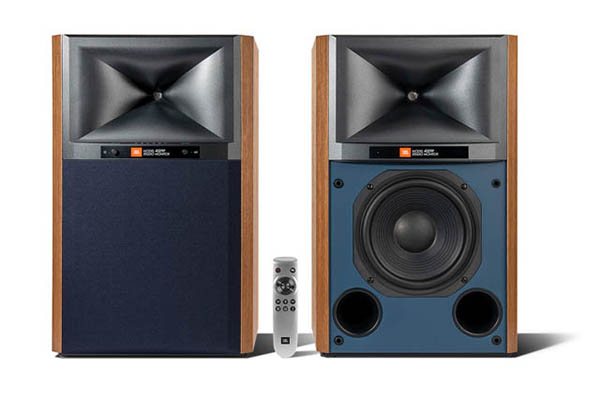 JBL 4329P Powered Streaming Studio Monitor: $4,500/pair
JBL has once again brought its heritage in studio monitors to bear in a
consumer speaker
but this time with a twist. At a glance you wouldn't know it, but the 4329P is actually a "press and play" speaker made for streaming via Bluetooth or Wi-Fi, the latter through Apple AirPlay and Chromecast. As you'd expect from JBL, it's an impressive audiophile-caliber affair that mates an 8-inch woofer and a horn-loaded 1-inch tweeter with a 300-watt amplifier in a ported cabinet best suited for placement on an optional stand. Hard-wire connections include Ethernet jack, optical and USB-B digital inputs, balanced XLR stereo inputs, a stereo minijack input, and an RCA Sub Out, which activates an 80-Hz high-pass filter when connected. In a wireless setup, internal processing is limited to 96 kHz/24 bits but can be expanded to 192/32 with the hard-wire Ethernet connection.
Using Chromecast via Roon to zero in on streaming performance, the 4329Ps aced just about everything reviewer Daniel Kumin threw at them — from the subtleties of Suzanne Vega singing à cappella on "Tom's Diner" to "Jack of Speed," a clean and ultra-punchy track from Steely Dan's Two Against Nature played at levels you'd expect to hear in a recording studio. "The 4329Ps' displayed no loss of clarity, dynamism, or bottom-end heft, despite snare-drum strikes that rifled across my studio like gunshots." Likewise, the JBLs conveyed the sub-20 Hz bass heard on Belà Fleck's "Flight of the Cosmic Hippo" without breaking a sweat leading Kumin to conclude: "JBL's largest and most capable streaming speaker to date is an unreserved success."
AT A GLANCE
Plus
Outstanding sound quality and dynamics
Deep bass extension
Subwoofer output
Minus
No music-data or volume display
On the large side for stands
Full Review Here (posted 5/3/23)
Sonos Era 300 Wireless Spatial Audio Speaker: $449
The Era 300 is the latest in a new generation of small, Atmos-compliant "spatial audio" speakers designed to deliver a hassle-free immersive listening experience. At $449, it costs more than the
competition
, though it is engineered to a fare-thee-well and delivers excellent sound quality on its own, in tandem with a second Era 300, or as a rear surround speaker in a soundbar-based home theater setup. The speaker supports streaming via Bluetooth and AirPlay 2 with voice control through Alexa or the new Sonos Voice assistant and includes Trueplay tuning to compensate for room acoustics no matter when you place it. Of course, it also fits in the long-admired Sonos multiroom ecosystem.
As impressive as the sound is with one speaker, things get really interesting when you play Dolby Atmos tracks with two speakers in play, each of which houses six drivers, including two woofers and tweeters that fire forward, to the sides, and up from the top. As reviewer Rob Sabin put it, "The image went edge-to-edge, and with Atmos tracks, utterly filled the room up and out toward my seat. Classic jazz tracks remixed for Atmos, such as "Have You Met Miss Jones" by the Oscar Peterson Trio, became more adept at recreating the acoustics of the recording space." Throw in a Sonos Sub and things get even better with bass that dips down to 30 Hz, though the price goes up considerably. The Sonos Era 300 will surprise and delight you with its simplicity and ability to deliver clean, spacious, full-bodied sound from a speaker you can balance in the palm of your hand.
AT A GLANCE
Plus
Excellent stereo and spatial audio
Works alone or in a stereo pair
Good 'smarts with Alexa, Sonos Voice
Bluetooth-compatible
Impressive industrial design
Minus
No compatibility with Atmos tracks on Tidal
Does not work with Sony 360 Reality on Amazon
Sensitive to placement
Full Review Here (posted 5/10/23)
Subwoofers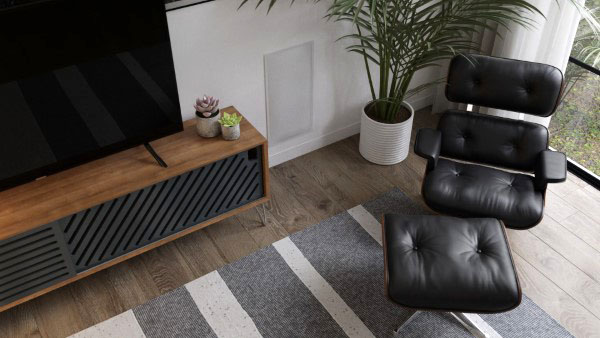 SVS 3000 In-Wall Subwoofer: $2,000