OSD Audio Nero XA7180 7-Channel Amplifier Review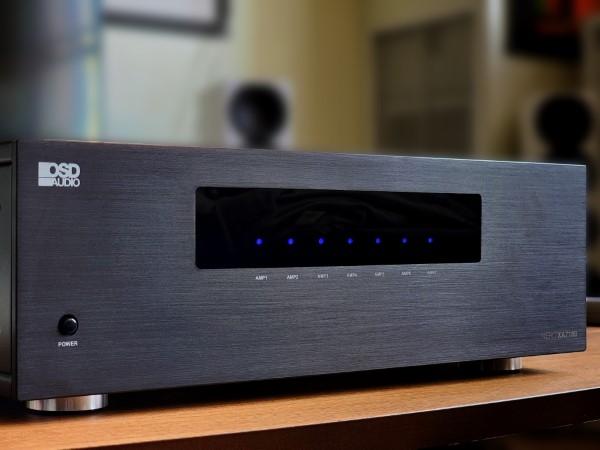 PRICE
$850
AT A GLANCE
Plus
Inexpensive
Fanless
RCA and balanced XLR inputs
Auto standby
12 volt and Signal power trigger
Minus
Needs six-inch clearance when rack mounted
THE VERDICT

A rock-solid, affordable and attractive amp for powering seven channels in a surround-sound AV or home theater system. It delivers audiophile-quality sound for about a buck a watt.
Audio amplifiers have but one task: take an electrical signal and make it more powerful without changing its character. A good amplifier is as transparent as possible, neither adding nor subtracting anything from what you hear. The OSD Nero XA7180 promises all that plus high efficiency at a very attractive price.
Before attending CEDIA 2022 in Dallas TX, I was not familiar with OSD, a company specializing in high-performance, cost-effective gear—my preferred type. A bit of Googling revealed the company has a good reputation in online forums, so I took the plunge on doing a full review. This proved timely, as 2023 brought numerous premium AVRs with preamp outputs compatible with the XA7180.
In this competitive arena of solid-state home theater amps, companies like ATI, Monoprice, Emotiva, and Outlaw offer similar power per dollar. However, OSD stands out for its combination of price and features, making it the most affordable seven-channel amplifier Sound & Vision has tested. Despite the low cost, it boasts a sturdy build, including both RCA and XLR inputs, and individual status LEDs for each channel on the front panel.
Features
The only settings on this amp you have to worry about are related power, with an on/off button on the front and a toggle switch in the back that lets you choose to use a voltage trigger or input signal to automatically turn on the unit.
The outstanding features of the design is the use of a toroidal power supply, which does make it heavy but provides a solid foundation for an amp that advertises 122 watts per channel RMS power into 8 ohm loads, all seven channels driven, and the inclusion of XLR balanced inputs.
Audio amplification typically provides a 3 dB increase in output when power is doubled. You might question if this amp's rated power is sufficient compared to AVRs with similar outputs. Notably, OSD offers comprehensive and detailed power ratings, illustrating performance under various loads. These include single-channel ratings, all channels driven ratings, 4 ohms, 8 ohms, 0.1% THD, 1% THD, and more.
Driving just one channel the amp can output 300 W RMS into 4 ohms with 1% THD. For 8 ohms, that figure is 180 watts. These numbers describe the headroom. But the spec of greatest interest is wattage for all channels driven into 8 ohms, 0.1% THD: 122 per channel. It will also deliver 130 watts into 8 ohms—driving a single channel—with only 0.025% distortion. With a 4 ohm load that nearly doubles to 250 watts while the distortion remains low at 0.03%.
It's worth noting that this amplifier belongs to the OSD NERO line, which also features 3-channel and 5-channel models—the XA3200 and XA5180.
Unpacking and Setup
Upon unpacking the XA7180, its solid build and impressive fit and finish made a strong first impression. The top plate, thicker than those on AVRs, is secured with countersunk screws that fit tightly. Its construction surpasses even the flagship AVRs I tested it with.
While the amp can be used in a rack, it needs six inches of space for passive ventilation. Designed primarily for shelf placement, it features built-in feet and an attractive design. The front panel features brushed aluminum and has a power switch, the OSD logo, and a glass panel protecting the status LEDs. This low-key, modern look complements almost any paired gear.
I employed my Denon AVR-X8500H AV receiver as the preamp/processor with the amp, powering seven of the nine Arendal 1961 Series tower speakers (excluding front wides) used in the course of this evaluation. Rated at 4 ohms impedance and 350 W maximum power handling, the Arendals can handle the OSD's full output. The AVR powered the Atmos height channels in this setup.
Of course if you buy a preamp/processor as opposed to an AVR than you absolutely need an amp. And you will probably have an option to use XLR balanced connections, which this amp supports.
Hands-On
As a standalone amplifier without DSP or tone controls, there's little to discuss regarding the XA7180's operation. The amp remains silent unless receiving a signal, with no speaker hiss. While I lack a lab to confirm its published specs, I detect no sound issues. Transparent, highly competent amplification is a solved engineering problem, and this amp fits that description.
This high-quality Class AB amp, the most common amplifier topology, features a Class-H designation, indicating its use of dual voltage rails to reduce electricity consumption during low power operation. I monitored this using a Kill-a-Watt power consumption meter.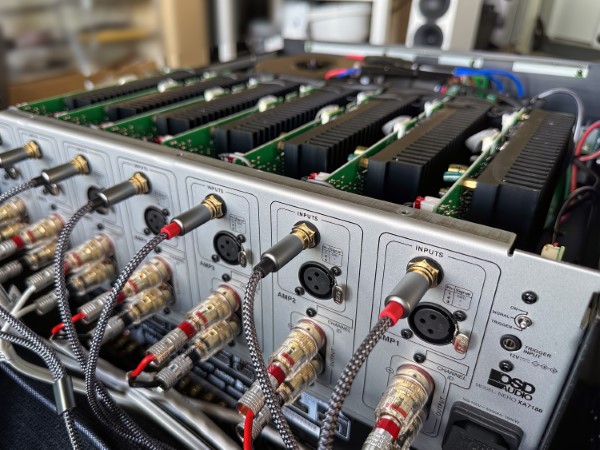 At idle, the amp drew 58 watts and the top reached about 85 degrees. During "normal listening levels," it consumed roughly 120 watts, demonstrating ample headroom and warming up to around 90 degrees.
The Nero's strength lies in its ability to deliver more power to seven channels simultaneously than typical AVRs, including 13-channel flagship models. By relieving an AVR from powering all channels, you gain increased headroom and shift heat generation from the AVR to the amp.
As a matter of principle I avoid discussing how amplifiers sound. I believe that modern solid-state amps, when not clipping, are effectively transparent. Of course there are designs that have a "signature sound" but that's not what I seek from any amp. I seek ruler-flat response with inaudible THD, the likelihood of distinguishing between two such amps in a double-blind test is low.
The XA7180's performance depends on the input and connected speakers. With well-produced audio and competent speakers, the listening experience is enthralling. The amp is not the weak link. Used as a 2-channel audiophile amp with high-fidelity speakers, the sound reflects the speakers' capabilities, not the amp's limitations.
The proof of its prowess came when I powered a pair of the Arendal 1961 speakers full-range as if it were a 2.0-channel audiophile stereo system. This experience gives my hope because it shows that very high levels of fidelity are now achievable with gear priced in the range sometimes referred to as "mid-fi" but here there's nothing "mid" about it.
When I played Snoop Dogg's "Legend" from his Coolaid album, the sound was super tight. The vocals were precisely focused and holographically rendered, perfectly centered. The bass throbbed and was palpable. The chorus expanded, shrank and twisted in a psychedelic manner. The tight snares made me tap my foot. Snoop Dogg can afford top-notch production, and it shows!
I observed that running tower speakers full-range demands more power from the amp. In a multichannel system, this is a key distinction versus using an AVR. The heavy demands of movie bass - deep drones, bass sweeps and percussive explosions - can max out an AVR's power supply and cause trouble. Without the amp, I tend to use a crossover and run the towers as "small" with an 80 Hz crossover to lighten the load. However, this leaves a lot of bass-making capability on the table—fourteen woofers in seven ported cabinets, to be precise.
With the OSD amp in the mix, the system can have better bass with more overall power on tap. It's simple really, by injecting another 800+ watts into a system, you can push competent speakers further than when just relying on an AVR's amps. And as a bonus, the AVR runs cooler because it is not working nearly as hard. You are distributing the heat generated between two devices, and frankly the amp has better ventilation and more heat sinks than you'll find in any AVR.
I'm not going to get too deep into how this or that album, video game, or movie "sounded" using this amp. However, during my review, Avatar 2 was released and even though I streamed it, the sound was so energetic that my neighbor complained about their walls shaking. This had never happened before. I definitely noticed the physicality of the sound—this amp moves sizeable quantities of air.
My new favorite pastime is playing Gran Turismo 7 in a racing simulator cockpit, perfectly centered within a full surround-sound speaker system. The experience is fully immersive when the Atmos audio matches the visuals on a 98-inch TCL 4K TV rendered in 4K Dolby Vision. Car racing is LOUD and with this amp and the volume up high, I achieved the tactile acoustical aspects of being in a racecar going full blast and surrounded by other racecars.
The recently remastered Grand Theft Auto Online has Dolby Atmos sound and 4K Dolby Vision visuals. It's my all-time favorite game with plenty of visceral moments involving music, explosions and a complex mix of sound effects. All come through crystal clear even at near reference levels on the Arendal speakers.
Conclusion
This OSD amplifier offers flexibility and headroom in a rock-solid and attractive package at a reasonable cost. While there's no one right or wrong way to build a system, a good amp is a useful tool—that's the moral of this story.
Not to rain on any audiophile parades, but the Nero XA7180 proves that you don't need to break the bank for great sound and plenty of power. With 122 watts of rated power across all seven channels, it delivers 854 watts for just $850. That's one dollar per watt of output, unquestionably a bargain.
Apart from volume, I can't hear the difference between the Nero XA7180 and the amps in the flagship-class AVRs I have. This is good, you wouldn't want to "match" an AVR's sound with an external amp. By design and principle, they should be neutral, transparent and offer the same flat response (as long as they're not clipping).
Don't overthink it. If you're seeking an excellent-sounding amp at a great value, OSD should be part of the conversation. It's not the only great deal out there on a highly competent home theater amplifier but it carves a sweet spot for price and performance. It's specs are in the Goldilocks zone, delivering just the right amount of power needed for most home theater speaker systems reach their full potential.
Specs
Number of Output Devices: 4 per channel
Power Bandwidth: 5Hz - 54kHz +0/-3 dB
Filter Capacitance: Four 6800μF Caps per channel
Crosstalk: >-70dB - 20Hz -20kHz
Gain: 29dB Input
Impedance: 40k ohms
Input Sensitivity: 1.00 Volt
Remote Trigger Voltage: 8-24v DC - 5 mA
Dimensions: including feet (HxWxD) 6.0" x 17.0" x 16.75"
Weight: 65lbs
Power Requirements: 120VAC, ±3%, - 60Hz 1800 watts maximum