Adcom Luna Wireless Speaker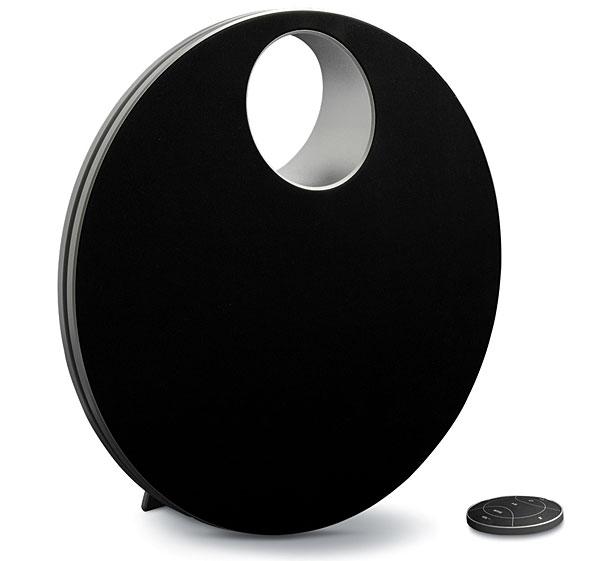 PRICE
$599
AT A GLANCE
Plus
Solid build quality
Powered by AC or battery
Integral handle
Minus
Disappointing sound quality
Expensive
THE VERDICT
The Adcom Luna has style and pizzazz but falls short of the competition on sound quality.
Luna is not your father's Adcom. As the first speaker to bear the familiar red logo, from a relatively recent licensee of the venerable old brand, it has no common heritage with the fine power amplifiers and preamplifiers on which the original company built its name in the '80s and '90s, except for its dominant color—black.
Funny thing is, at a glance you probably wouldn't even know it's a speaker. It could easily be mistaken for an accent piece. It's beautiful to look at, but even if you're not a fan of its modern design, there's no denying that Luna is unusual in the world of portable wireless speakers.
Adcom's sonic discus is about 13.5 inches across and expands gracefully from 0.75 inch on its metal edge to 3.5 inches in the middle. Fine fabric on its face conceals a plastic baffle that holds a pair of 3-inch drivers mounted in a sealed enclosure supported by a metal kickstand. Behind the kickstand is a USB port and three minijacks—one input and two outputs (one for headphones).
The circular opening at the top of the speaker is a distinct design element, but it also serves as a convenient handle. You can control Luna using the buttons on its top rim, a disc-shaped infrared remote that fits in the palm of your hand, or the Undok app on your smartphone or tablet.
Luna is equipped to operate over Wi-Fi or Bluetooth and supports aptX 4.0 for high quality streaming over Bluetooth, provided you have a compatible source. It supports WMA, AAC, and MP3.
Adcom provides a wall mount, but it's not what you expect. Instead of securing the speaker directly to the wall, you anchor one part of a two-piece threaded post to the wall, twist the second piece into place, and literally hang the speaker from the post using a piece of "rope" (actually more like a thick shoelace) that sits in a channel in the metal rim running around the speaker.
Stream Time
I spent a few weeks using the Luna speaker, starting with simple Bluetooth streaming from my iPad and Samsung Galaxy 5 phone. Connection was quick and easy, allowing me to stream music from Pandora and Spotify (free version) for days on end with no issues—except for something I noticed right away: The sound was confined and a bit hollow. Not horrible, but certainly not what I'd expect at this $599 price point and not as good as what I've heard from some other compact wireless speakers I've reviewed recently, including Como Audio's Duetto, which costs $200 less.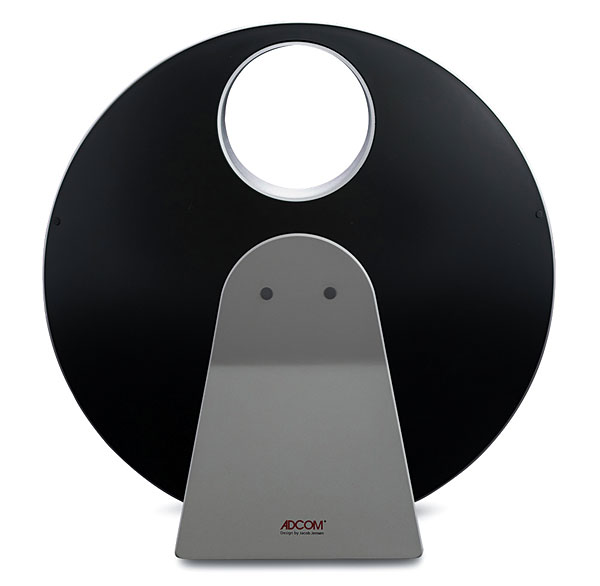 Luna was able to play fairly loud before breaking up, though the bass was a somewhat thin; moving it near a wall or into a corner bolstered the low end.
To verify my initial impressions of sound quality, I played a track I know well—"Michigan" by The Milk Carton Kids—on both the Luna and Duetto, which I still had on hand. The difference was plain: The dry, upfront vocals that define this acoustic track sounded more realistic on the Duetto.
After a week or so of steady streaming, I downloaded the Undok app and followed the simple procedure to set up Luna for Wi-Fi. Once the connection is made, you have direct access to Internet radio and Spotify Premium (not the free version, though this is common today among products that directly integrate Spotify). The app also supports multiroom playback. I didn't get to try out that feature—I only had one speaker—but I'm familiar with the app, which works as advertised.
In multiroom mode, you can't access a Bluetooth-connected device or one connected to the speaker's auxiliary input, but you can access WMA, AAC, or MP3 files stored on a USB drive or PC/DLNA server connected to your network.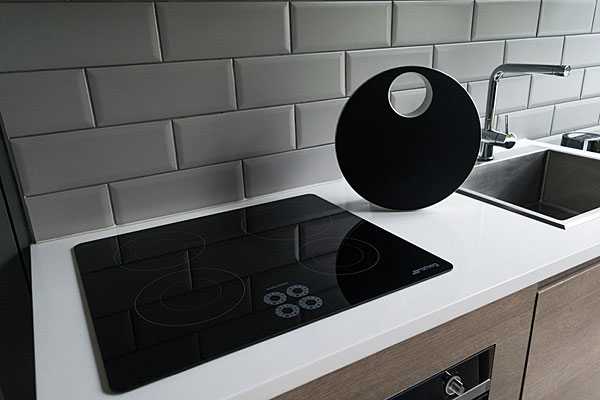 I did have a few ergonomic concerns with the Luna. Controlling it using the buttons on its top edge should be simple but was not. The power and volume up/down keys worked OK, but I often had to press the Mode button several times before it would advance from Wi-Fi to Bluetooth or the Aux input. And when it did work with one press there was always a lag. Using the disc-shaped remote was annoying: Besides having to aim it just so to get it to work, four of its seven buttons are arranged around the edge, making them awkward to use. For their part, Adcom told us they're modifying (or have already modified) the speaker's functions to make them more user friendly, but said that most users use Bluetooth or Wi-Fi to connect their source device and therefore don't use the buttons or remote for control.
That aside, it's the Luna's sonic attributes on which it must be judged first. Ultimately, it scores points for its striking design but misses the mark on delivering the higher-level sound quality you'd expect from a $600 product. In their defense, Adcom said that the Luna costs more than the competition because of "our investment in creating the design, and the craftsmanship in making an art piece into a speaker. It is difficult to make a perfect-sounding speaker with such sleek narrow curves and shape." Perhaps...and there are no doubt customers for this product for whom having an art piece that plays music is the most important thing. But those who put sound quality above aesthetics may find better value elsewhere.