Compact Wireless Speakers: What You Need to Know Plus 4 Reviews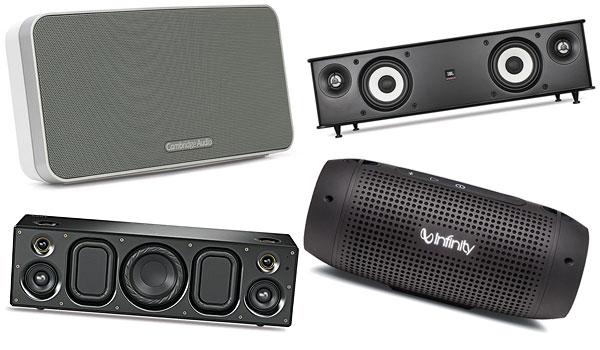 If you live in a small apartment or a dorm, or you're looking for a sound system for your office, small stereo bookshelf speakers are usually the way to go. They take up less space than traditional sound systems, are simple to set up, and generally offer better sound quality than the speakers attached to your computer, small TV, or portable device. But as we've all experienced, getting connected to analog speakers can be a drag. Running cables under carpets or through walls in a rental isn't always a possibility, and nobody likes having wires pinned along the molding and ceiling. If these problems sound familiar to you, then a wireless stereo speaker may be just what you've been looking for.
Room shapes and lifestyles vary, and thankfully there are a lot of great options that can accommodate different spaces, needs, and budgets. But before you can choose what works best for you, here are the basics:
What Are All These Wireless Formats?
Bluetooth: The most common of formats, and typically the easiest to set up, Bluetooth is found in most portable devices. After an initial pairing process, any audio coming from the device can be sent to the speaker, no wires needed. The audio data is transmitted from the device itself. The main drawback of Bluetooth is that the range is relatively small; the device and the speaker generally need to be within 30 feet or so of each other.
AptX: A specific codec used via Bluetooth, AptX promises higher fidelity than standard Bluetooth encoding, closer to CD-quality sound. You're required to have AptX capability on both the source and the speaker to make use of the codec. If you see it on your speaker, it basically means you've got an option for somewhat higher fidelity via Bluetooth.
NFC: Near Field Communication, in the audio world, is basically Bluetooth pairing that's negotiated by touching the devices to each other. Instead of putting both speaker and device in pairing mode, finding the speaker in your device's list, and blah, blah, blah, NFC allows you to tap your device to the speaker and be done. Turn NFC on in your device (if it has it), tap to an NFC-enabled speaker, and voilà! They will handle all the details.
AirPlay: AirPlay is proprietary to Apple devices, and it needs Wi-Fi to function. While this can mean a few extra steps to get everything set up, the maximum distance between device and speaker is limited only by the range of your Wi-Fi router. So if your Wi-Fi reaches, your audio device and speaker can be rooms and floors away from each other. Plus, the wider bandwidth of Wi-Fi means you can get up to CD-quality (44.1 kilohertz, still compressed, but lossless) sound.
DLNA: This is the same idea (with similar requirements) as AirPlay, but it's for streaming content from non-Apple devices that can be found on your home network. Also requiring Wi-Fi, DLNA can be a tad trickier to set up, or not, depending on what kinds of apps are on your device. But if you have an Android, Nokia, Samsung, or Blackberry, this is one of the methods you could use to connect to a speaker over a larger distance in your home.
Play-Fi: Another proprietary encoding format developed by start-up Phorus and now owned and licenced by DTS. This is where it gets a little confusing. Play-Fi works with any source device that supports DLNA, but setup menus and controls are housed within a downloadable app that, notably, also provides multiroom streaming capabilities that allow you to direct different songs to different Play-Fi speakers simultaneously. The app is available for both Android and iOS. In other words, whereas Apple won't license AirPlay for use with non-Apple source devices, PlayFi will work with both Apple and non-Apple sources. Play-Fi requires a Wi-Fi network to run, but if you have an iPad and your spouse has a Samsung Galaxy Note, both of you can connect to a speaker that uses Play-Fi.
Proprietary Multi-Room Systems: What about Sonos, Bose Sound Touch, Samsung Shape, Denon HEOS, and LG Music Flow? Each is a multi-room music system with proprietary encoding that uses your Wi-Fi and the system's own internal network to connect speakers to your home network sources and the Internet. Generally speaking, these are modular systems that, similar to Play-Fi's open platform, allow you to create a wireless, multi-speaker network around your home and direct different music to different rooms or "zones." Speakers may be self-powered, or in some cases driven by a player/amplifier module or an existing sound system equipped with a player module that turns it into a separate, addressable zone. Although you could start with a single speaker and the app for most of these systems, portable speaker options are scarce, and, unlike a Bluetooth-equipped speaker, they'll need to be mated with a Wi-Fi system to operate. The powered speakers in these systems also typically lack additional inputs beyond the system's own wireless connection.
Speaking of which: If wireless audio is so great, why do many standalone wireless speakers also offer wired inputs? Well, first of all, if you have a source device that isn't wireless or that's not using a compatible wireless format, you can still hook it up via the old-fashioned ⅛-inch analog connector. Also, the larger of these speakers could potentially be used wired as an alternative to crappy, built-in TV speakers, along with providing excellent music playback. With wireless, there's sometimes a lag that creates an annoying lack of picture/audio sync, so having wired connections offers you more versatility.
To show you a range of options for yourself or your gift-giving, we auditioned a few wireless speakers that vary in form, size, and price:
Cambridge Audio Go Wireless Speaker
JBL Authentics L8 Wireless Speaker