Wall Unit Retrofit
We often think of a retrofit as a home entertainment installation within an existing home, versus a new construction install. Robert Crone, otherwise know as the Cable Guy to his clients was asked to retrofit and update an existing wall unit. When he was contacted it was outfitted with a 27" CRT TV and various legacy components, nothing up-to-date.
The oak wall unit was 20 years old and the client wanted to keep it while upgrading to a rack system to create a more modern look. This proved to be the main challenge on this job explained Crone,"The cabinet depth was only 16.5" by 31" tall, so Middle Atlantic's 16" deep rack wasn't tall enough to hold the equipment stack. A custom CFR rack was ordered, offering an additional 5" of height."
Still this didn't solve the issue of managing and serving the equipment stack. Since there were no commercial options available for the restricted dimensions Crone was dealing with, he came up with the idea to use two 14" slides together that would allow 10 inches of travel past the cabinet face. In total, four pair of KV 8900 slides were used as well as aircraft aluminum side plates to create the pullout rack.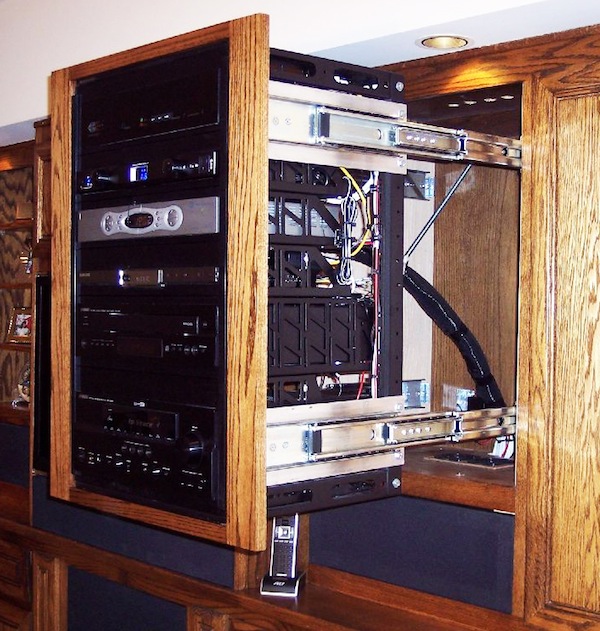 Additionally, Crone installed a back brace with a cantilever mount which allows for servicing the Samsung 46" LED. "The TV fit as if the cabinet was designed around it," said Crone. "Sometimes you just get lucky."
The AV system is centered around a a 3-zone Yamaha RX-V1900. Three areas of the house are powered from a Sonance 260 amplifier being fed from the zone 3 output. The master suite is powered by the Yamaha AVR and is controlled with an RTI RKM-1 keypad. The main zone is controlled with an RTI T2Cs remote. The RF on the remote was strong enough to include pages for zone 2 and zone 3 usage anywhere in the house.
Contact Info
Robert Crone, The Cable Guy
818-421-8867
Los Angeles, CA
Robert@bestcableguy.com
bestcableguy.com