Vizio M65-E0 LCD Ultra HDTV Review Page 2
The Color Tuner menu provides an 11-point White Balance control along with a full set of Color Management adjustments. Other settings include variable Gamma (I left it at 2.2) and Xtreme Black Engine Plus, a fancy label for the 32-zone local-dimming control (I switched it on for all of my viewing; there are no variable level settings). When you watch Ultra HD/HDR material from an HDMI-connected source like an Ultra HD Blu-ray player or Roku Ultra, it will also be necessary to turn on Full UHD Color for the set's HDMI 2.0acompatible HDMI input—something I didn't discover until I decided to visit the Inputs menu and change the label for Input 1 to "4K Blu-ray."
Performance
CalMAN measurements indicated that the set's DCI-P3 color space coverage was 93.1 percent (again, as measured within the UHD format's full Rec. 2020 color envelope that's yet to be reached by any consumer source or display). That's less than Vizio's claimed 96 percent but comparable to the coverage of other affordable Ultra HDTVs I've tested recently, such as Sony's XBR-65X900E (see review in the December 2017 issue; also available at soundandvision.com). Another area where the Vizio rivaled the Sony was contrast ratio in SDR tests. I measured 33,400:1 on the Vizio in Calibrated Dark mode with local dimming on. That's close to what I measured on the Sony, though that TV's native contrast (local dimming off) was notably higher than the Vizio's.
Vizio says that the 2017 M series delivers higher brightness in HDR mode than the 2016 sets—a claim that my measurements confirmed. The M65-E0's light output was 763 nits on a 10 percent window pattern, 758.2 nits on a 25 percent pattern, and 331 nits on a 100 percent pattern. Those numbers are roughly comparable to what the Sony delivered, though you can expect substantially brighter peaks from pricier LCD models, such as the Samsung QN65Q9 (October 2017 and our website).
I began my subjective testing of the M65-E0 by watching the black-and-white "Noir" version of the movie Logan, a great Ultra HD Blu-ray for evaluating a TV's picture uniformity. The Vizio displayed a clean range of gray tones, and it also did a very good job rendering shadow details in the dark, dome-like space where Logan hides his longtime mentor, Professor X. The blacks in this scene looked solid and deep, and highlights such as shafts of light poking through holes in the ceiling came across as impressively bright. The same light sources in this scene did create a mild halo effect—a backlight-related artifact—that was visible in the image's black letterbox bars, but it was one of the few instances during my time with the Vizio where I noticed halos. Screen glare was also something of an issue with the M65-E0; I had to carefully control room lighting to avoid seeing onscreen reflections. Picture uniformity took a dip when I viewed the set off-axis, but this is typical of TVs like the Vizio that use Vertical Alignment (VA) LCD panels.
Shifting to regular Blu-ray, I next watched Passengers. When I switched between the 1080p and 2160p output of an Oppo UDP-203 Ultra HD Blu-ray player, I didn't notice any serious differences in image quality on the set's 65-inch screen— indicating that the Vizio did a fine job upscaling regular high-def content. In one scene, Jim and Aurora are out on their first date, sharing a drink at the ship's bar. The skintones of both actors displayed a similarly warm quality, whereas the bottom-lit face of the android bartender (echoes of Lloyd the bartender from Stanley Kubrick's The Shining?) looked cooler and less saturated. Meanwhile, rows of bottles on shelves in the background revealed an impressive range of subtle green, red, yellow, and blue hues.
Although Passengers on Blu-ray didn't look bad, watching the HDR10 version on Ultra HD Blu-ray was a much-improved experience. A shot in the ship's cargo hold, where the camera lingers on passengers lying in their pods, showed a wider range of shadow detail. The illuminated control panels and overhead lights also had greater punch. Basically, the 4K/HDR version of the movie came across as more dynamic: Colors were more vibrant, and there was a more tangible sense of depth. While I can't say I've been wowed by all of the Ultra HD Blu-rays I've watched, the Vizio definitely delivered the goods with this Passengers disc, which is one of the better examples of the format I've encountered so far.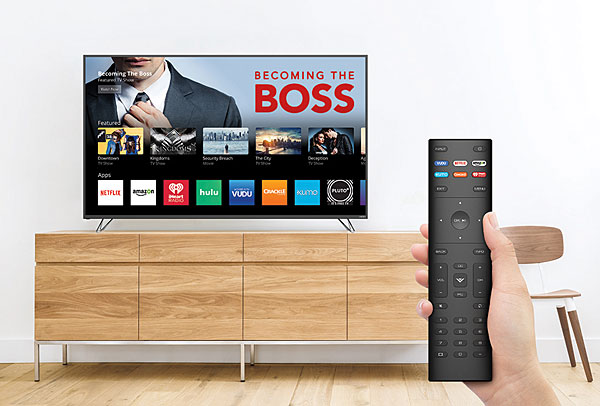 Now that Ultra HD Blu-rays with Dolby Vision are finally starting to roll out, I was able to snag a copy of The Fate of the Furious for this test. Same as with Passengers, highlights had a bright, punchy quality, and the picture displayed a compelling sense of depth. I wouldn't call The Fate of the Furious an Ultra HD showcase, but HDR is used to powerful effect in a scene where Dwayne Johnson and crew are shown a warehouse filled with cars seized from drug dealers—the agency garage. On the M65-E0, the rows of show cars were like a glistening, candy-colored fiesta; the visual effect was impressive enough to justify the involuntary declarations of automotive love from the assembled cast.
Conclusion
Having previously tested the 2016 M series, I can confirm that Vizio has introduced numerous improvements to their midrange UHDTV line for 2017. The M65-E0 is capable of higher peak brightness than its predecessors when displaying HDR sources, and its extended color gamut coverage now rivals what you get with more expensive TVs. While I did notice some localdimming artifacts from its full-array backlight, they were mild, for the most part. And in its performance overall, the Vizio wasn't that far off from the last LCD set I tested, Sony's XBR-65X900E, a model that, at its $1,800 street price (as of late October), costs quite a bit more.
Are there downsides to spending less on the Vizio? The set's single HDMI 2.0a port is less than what you get with many other new TVs (though in most cases, you'll need only one such port anyway, for connecting an Ultra HD Blu-ray player). Vizio's omission of an antenna input and a built-in ATSC receiver for tuning over-theair broadcasts could present a problem for some cord-cutting viewers (though the cultural shift toward TV streaming makes that less of an issue than it would have been a few years back). If you're able to overlook those minor shortcomings, then the M65-E0's impressive performance, broad HDR compatibility, and Chromecast built-in support make it a great option for upgrading your TV to the newest tech—and saving a few bucks in the process.