Vizio M65-E0 LCD Ultra HDTV Review Test Bench
Test Bench
Full-On/Full-Off Contrast Ratio: 33,400:1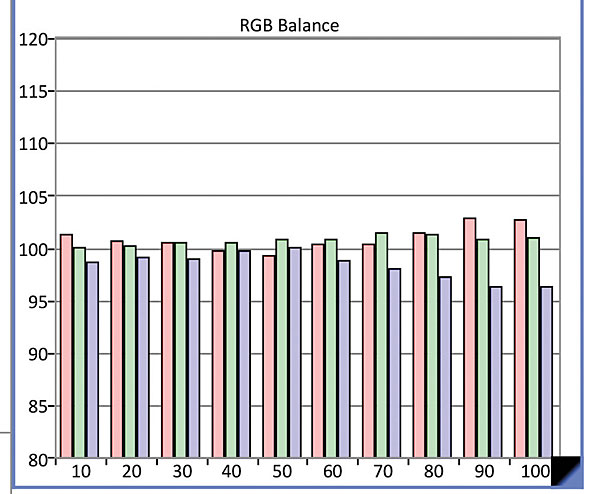 Pre- and post-calibration measurements were made with the Vizio M65-E0's Calibrated Dark preset active. Maximum SDR contrast measurements were made with the set's Xtreme Black Engine Plus local-dimming feature active. With this configuration, the Vizio's black level measured 0.001 foot-lambert and peak white 33.4 ft-L, for a contrast ratio of 33,400:1. Native contrast of the panel (measured with Local Dimming turned off) was 3,940:1.
During HDR tests using a Murideo Six-G pattern generator and CalMAN 2017 calibration software, the Vizio managed 763 nits light output on a 10% window pattern, 758.2 nits on a 25% pattern, and 331 nits on a 100% pattern. The TV's measured DCI-P3 color gamut coverage was 93.1 percent—a welcome improvement over Vizio's 2016 M series UHDTVs, which provided only Rec. 709 (HDTV) color space coverage. (Note that no consumer UHD TVs properly decode content mastered in the P3 color standard, only the Rec. 709 or Rec. 2020 color standards. Consumer UHD content is mastered inside of a Rec. 2020 color envelope to color coordinates that currently max out at the equivalent P3 boundaries, hence the relevancy of P3 coverage measurements.)
The Vizio's default Normal color temperature preset in Calibrated Dark mode delivered a very accurate grayscale during SDR measurements, with the Delta E averaging out to 1.8. Calibration just barely improved that average to 1.7, with a high of 2.2 at 100% brightness. (Delta E indicates how closely a display adheres to the color standard. Experts generally agree that levels below 3 are visibly indistinguishable from perfect color tracking.) With the Calibrated Dark mode's default settings active, the Vizio's measured color points were also highly accurate, with the Delta E averaging out to just 1.4.
Measurements made using the Murideo Six-G pattern generator and CalMAN 2017 software with the Vizio in Dolby Vision HDR mode showed equally accurate out-of-box grayscale tracking and color space accuracy. The Delta E for grayscale averaged 1.7, with a maximum Delta E of 3.7. For color space, the average Delta E was 1.28, with a maximum Delta E of 3.9.
With the 2.2 Gamma preset selected, total Delta E for gamma in the Cali- brated Dark mode was 2.6. Post-calibration, gamma tracking improved slightly, averaging 2.2, with a high of 2.3 at 80 IRE.
Picture uniformity was excellent, with gray full-field test patterns showing no uneven brightness when viewed on-axis. Viewed off-axis, the Vizio showed the same contrast fall- off typical of other Vertical Alignment (VA) LCD sets. The Vizio performed perfectly, for the most part, on our suite of video processing tests. Clipping and Luma resolution checked out fine, as did 3:2 and 2:2 pulldown patterns with both HD and SD sources. The set's only slip-up was on the Chroma resolution test, which it failed when displaying an HD source.—AG