Vizio M65-E0 LCD Ultra HDTV Review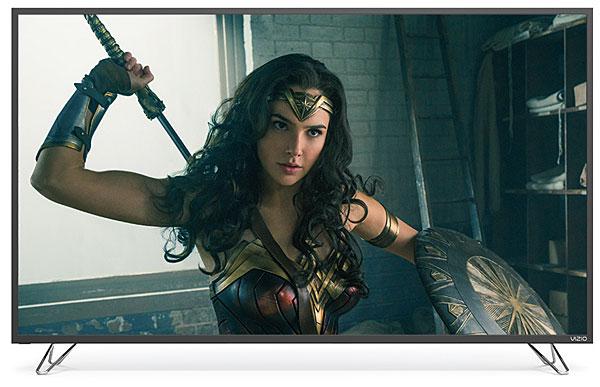 PRICE
$1,100
AT A GLANCE
Plus
Effective peak brightness with HDR sources
Can display extended color
Good overall picture uniformity and upscaling
Minus
Mild artifacts from local-dimming backlight
No off-air tuner
Only one HDMI 2.0a input
THE VERDICT
Vizio's new M Series set offers substantial performance improvements over last year's model and does so at an even lower price.
Ultra HDTVs that support the display of programs with high dynamic range, also known as HDR, have quickly become the norm. If you're out and about shopping for a new set, there's a good chance that you'll be taking home one of these TVs. Of course, the benefit to a state-of-the-art feature like HDR becoming standard is that prices for sets that include it will drop. How low? How about $1,100? That's what Vizio charges for their 65-inch M65-E0 LCD Ultra HDTV.
This set certainly comes with an impressive feature list for a budget UHDTV. While most other affordable big-screen LCD models—and even a few of the pricey ones—use an edge-lit backlight, the M65-E0 sports a 32-zone full-array backlight with local dimming. HDR support covers both the HDR10 and Dolby Vision formats, and Vizio claims 96 percent coverage of the DCI-P3 color range inside the set's UHD Rec. 2020 envelope—a big leap from that of the company's 2016 M series TVs, which were limited to reproducing only Rec. 709 (HDTV) color. (Most UHD Blu-rays are mastered out to the P3 color points.)
Vizio's SmartCast streaming platform lets you access Netflix, Amazon, Vudu, Hulu, and other services directly from the set's start screen using the remote control. This is different from 2016's M series, which included an Android tablet meant for primary remote-control duty and for selecting programs to stream to the TV. Like those models, the new sets feature Chromecast built-in, which also lets you "cast" content to the TV directly from Chromecast-enabled apps on your phone or tablet. Currently, there are 1,000 such apps and counting, including popular ones like YouTube, HBO Now, Showtime, and Spotify.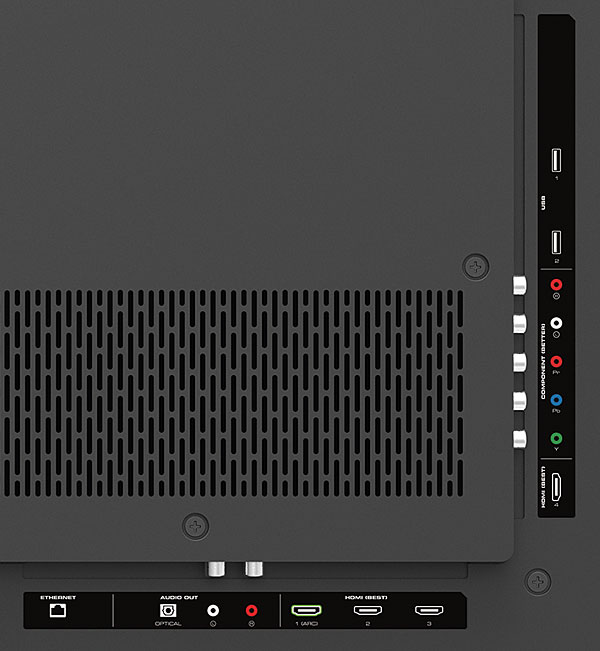 Vizio didn't bother to revamp the look of the M series for 2017: The new sets mirror the previous models right down to the 0.5-inch black bezel, silver side panels, and metal support feet. Four HDMI inputs include one HDMI 2.0a with Audio Return Channel and three HDMI 1.4 connections; there is also a component video input and a USB port. Fortunately, all the HDMI ports carry the latest HDCP 2.2 copyright management and will accept a signal from 4K sources such as a UHD Blu-ray player or streaming media player, but the HDMI 1.4 ports are limited to 4K/60 Hz signals with 8-bit color (with 4:2:0 chroma subsampling) or 4K/30 Hz at 10-bit (or any chroma higher than 4:2:0). This makes them less suited for a full-bandwidth source, such as a UHD Blu-ray player, than the singular HDMI 2.0a connection that handles 4K/60 Hz with up to 12-bit color (at 4:2:2) or 4K/60Hz at 8-bit (with the highest resolution 4:4:4 chroma).

Another carryover from the prior model year is the omission of an RF input for connecting an antenna. Since the set lacks a built-in ATSC receiver, broadcast TV fans will need to seek out an alternate method to get their free, over-the-air TV fix. As for sound quality for the built-in speakers, I'm afraid it ranks as barely adequate and no substitute for any outboard system—even a $200 soundbar I had on hand sounded much better. For those who might be hooking up a multichannel soundbar to the set's optical output, the set will pass a 5.1-channel Dolby Digital bitstream presented at its HDMI inputs through its optical output, but DTS bitstreams are reduced to twochannel PCM.
Vizio bundles a basic remote control with the M series. All the buttons you'll need to operate the TV are accounted for, but they're closely packed together, and the keypad isn't backlit. On the plus side, two button rows at the top provide direct access to key streaming services, such as Netflix, Amazon, and Vudu. One alternative to using Vizio's remote is to download the company's SmartCast app, which lets you control the TV, browse content, and launch Chromecast-enabled apps. The new M series TVs are also compatible with Google Home speakers. If you happen to own one of those, you can use it to tap Google Assistant and control the set via voice commands, such as "OK, Google, watch Master of None on Netflix" or "OK, Google, volume up."
Setup
The M65-E0 didn't require much in the way of video calibration because its out-of-box settings in the Calibrated and Calibrated Dark modes were mostly spot-on. That said, I did use CalMAN 2017 calibration software to measure the TV's performance and make adjustments in the set's Color Tuner menu, which resulted in slight improvements to grayscale tracking and gamma with standard dynamic range (SDR)/Rec. 709 sources. Since the Dolby Vision measurements also proved to be extremely accurate, I opted in that case to leave well enough alone and make no further changes.