Swiss Home Theater Keeps it Simple…and Stealth
U.K.-based projection-screen specialist Screen Excellence has selected a nicely appointed stealth home theater designed and built by Homecinema of Grosshöchstetten, Switzerland as winner of its Installation of the Month competition.
Featuring a simple design that could work anywhere, the theater is understated and exudes comfort with its plush recliners, but what makes it special is the distraction-free focus on the massive screen at the front of the room. You won't spot a speaker (or any piece of gear) — and if you do…well, you must have X-ray vision.
Unlike so many thematic, over-the-top designs, this home theater doesn't complete with the movie. When the lights dim, viewers sink into those comfy recliners and are immediately immersed in the story.
The homeowners wanted a classy installation but one with a simple design aesthetic that concealed all speakers and AV gear. They requested seating for seven, and AV functionality had to be fully integrated with lighting and HVAC control.
"The customer didn't want visible structures in the room so it was a challenge to integrate the six [Dolby] Atmos height speakers together with the air conditioning," Homecinema explained. The solution? Hide everything behind acoustically transparent fabric.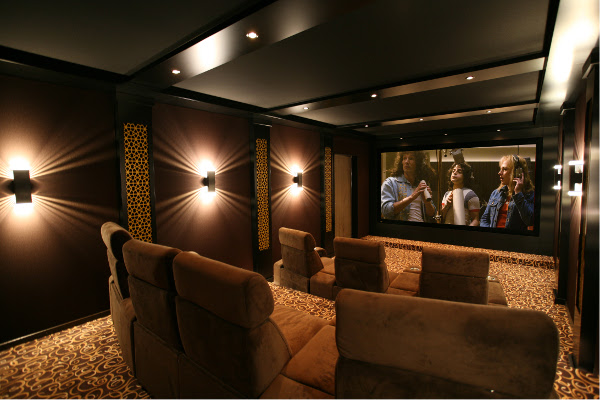 Determined to maximize screen surface and viewing pleasure, the installers chose a Screen Excellence TAM 2 TB screen. A 2.40:1 aspect ratio didn't make sense because the room has high ceilings but isn't very wide so Homecinema had it customized to match the Sony projector's 4K native resolution with a 17:9 aspect ratio.
Acoustic transparency was essential since speakers were hidden behind the screen to "add to the suspension of disbelief." To achieve this, Homecinema selected Screen Excellence's Enlightor Neo material for its "negligible insertion loss, neutral color reproduction, and smooth surface."
As a final touch, the company installed a True Aspect Masking (TAM) system to enhance image quality for watching movies with a cinemascope aspect ratio.
"The client is in complete awe whenever he starts the system," Homecinema reports. "He raves about the overall performance and 'diving into another world.'" Isn't that what good home theater is all about?
Equipment List
• Screen Excellence TAM 2 TB 130-inch custom screen with Enlightor Neo material
• Sony VPL-VW870ES 4K Ultra HD projector
• Trinnov Altitude 32 AV preamp/immersive audio processor
• Motu 24Ai AVB convertor
• 3 Ascendo CCRM12 powered speakers (front)
• 12 Ascendo CCRM6 powered speakers (surround and ceiling)
• 4 Ascendo SMSG15 WL DSP-controlled, 15-inch powered subwoofers
• 2 Ascendo SMSG32 custom-built 32-inch powered "super-woofers"
• Oppo UDP-203 4K UHD Blu-ray/universal disc player
• Kaleidescape Strato 4K UHD player
• RTI XP-6s control processor / T2x universal remote control
• 7 Palliser LeMans recliners
• Lutron Grafik Eye lighting control
• Custom acoustic treatment
Editor's Note: Story courtesy of Screen Excellence, a joint-venture partner of U.S. based projection-screen specialist Seymour Screen Excellence.