Rotel RSP-1576MKII Surround Sound Processor Review

PRICE
$3,500
AT A GLANCE
Plus
Dolby Atmos and DTS:X processing
Dirac Live Full room correction
Fully backlit remote control
Minus
No Dolby Vision pass-through
Music streaming options limited to Bluetooth
Lacks setup and control app
THE VERDICT
Rotel's RSP-1576MKII lacks some features you'd expect to see on a surround sound preamp/processor circa-2021, but audiophile-grade sound quality and Dirac Live Full room correction help make up for any deficits.
Any new surround sound processor circa-2021 is bound to have a heap of demands placed upon it. Along with support for the latest immersive audio formats—Dolby Atmos, DTS:X, etc.—there's music streaming, Auto EQ/room correction, and HDMI video switching of the latest 4K/high dynamic range video formats. And because a surround sound processor serves as the main user interface in an A/V system, ergonomic considerations are paramount—how easy is it to switch between sources and tweak audio settings like surround, subwoofer, and center-channel levels on the fly?
Rotel's new RSP-1576MKII surround sound processor ($3,499) arrives ready to meet the needs of the contemporary home theater with support for 7.1.4 Dolby Atmos and DTS:X processing, along with full-bandwidth Dirac Live Full room correction. Rotel puts emphasis on the audio side of its A/V preamp, citing the RSP-1576MKII's "audiophile-grade" 24-bit/192kHz Wolfson DACs and "in-house manufactured toroidal transformer, with low distortion/noise-rejection circuit layout." It also offers a moving magnet phono stage and the higher-quality apt-X Bluetooth variant for direct wireless streaming from a smartphone or tablet. Does the RSP-1576MKII check off the other boxes on our circa-2021 surround sound processor wishlist? Let's dig in and find out.
Available with a silver or black brushed aluminum faceplate, the RSP-1576MKII has the elegant, uncluttered look characteristic of Rotel products. The large, centrally placed volume control knob offers smooth action, though adjustments can be made only in 1-dB steps. A cluster of input buttons on the right side let you switch between the preamp's 14 inputs, while a line of buttons at left are for selecting surround, stereo, or bypass modes, muting volume, and calling up the onscreen menu. A good-size front-panel display indicates the current source, processing mode, and volume, and it can be dimmed to different levels using the remote control. Unfortunately, the same dimming option isn't available for the Rotel's power on/standby button, which is encircled by a blazingly bright blue LED light. An HDMI input and powered USB type-A port are also located on the Rotel's front-panel. I at first used these to plug in my Roku Streaming Stick+, but quickly discovered that it didn't support HDCP 2.2 content protection—a requirement for 4K streaming.
The RSP-1576MKII's rear-panel video connections include six HDMI inputs and two outputs, one of them with standard Audio Return Channel (ARC), not the next-gen Enhanced Audio Return Channel (eARC). Rotel's preamp has some additional HDMI limitations. There's no Dolby Vision HDR pass-through (HDR10 is supported), though Rotel says that feature will be added in a firmware update scheduled for July release. Rotel also specifies a maximum 5-meter HDMI cable length—a cap we confirmed when trying to use a longer passive cable run in a setup with a JVC projector.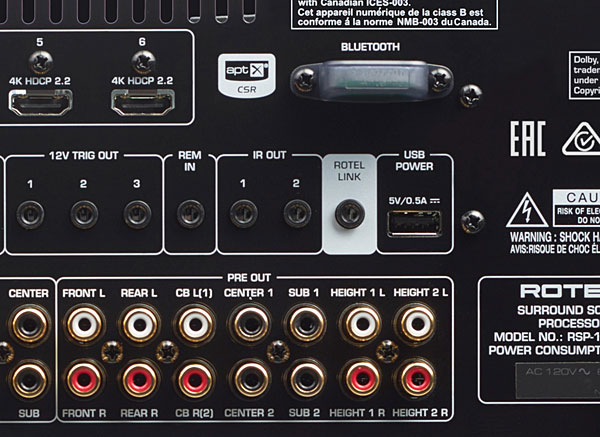 Audio inputs include three each coaxial and optical digital, four RCA stereo analog (one phono for a turntable hookup), balanced XLR, and 7.1-channel RCA analog for a Blu-ray player connection—a feature that's disappearing from preamps and AVRs as the video world transitions from discs to streaming. (When the 7.1-channel input is used, the Rotel automatically switches to analog bypass mode, so you'll need to configure all speaker crossover points, distances, etc. in the player's setup menu. Dirac Live processing also can't be applied in this case.) There's a USB type-B input that supports up to 24-bit/192kHz audio files from a connected computer (but not DSD), along with a second powered USB type-A port. The RSP-1576MKII's rear-panel Ethernet port is for control only and can't be used to stream audio over a home network. Other control connections include IR and 12-volt trigger outputs, and RS-232C.
Rotel's sizeable remote control has a fully backlit keypad and a well-organized button layout. Direct buttons for each input are locate at the bottom, while buttons to toggle through sound modes are located at the top along with controls to adjust center, surround, and subwoofer channel levels on the fly. The preamp's network connection is provided exclusively for third-party advanced control systems (along with Dirac Live setup, as we'll get to shortly), so there's no Rotel smartphone/tablet app that duplicates the remote's functions.
Setup
The video resolution of the RSP-1576MKII's onscreen display, which can be called up when the preamp's HDMI ARC port is connected to a TV or projector, is limited to 480p. This turned out to be an issue with a projector I initially used that wouldn't accept a 480p video input. Rotel's user manual is provided on an included CD-ROM, and the same document can be found in the support section of the RSP-1576MKII page on the Rotel website.
Setup starts with configuring inputs, with options to relabel them from Video 1, 2, etc. to Blu-ray, TV, or other source device names. From there you assign an HDMI video and audio source (HDMI 1, coaxial 2, analog 3, etc.), default audio processing mode (including analog bypass, which routes analog audio signals through with no processing), and trigger output (to activate a motorized projection screen, for example). You can also set a delay here for specific sources to correct lip-sync issues, set volume offsets or configure a fixed volume level, and enable Dirac Live filters. Along with rear back and overhead speaker setups, Rotel's Speaker Setup menu lets you configure two center back speakers. Advanced menu options allow for setting the crossover for individual speakers in 10Hz steps from 40 to 100Hz (there are also 120/150/200Hz settings) and configure subwoofer level offsets individually for Dolby, DTS, Stereo, and multichannel analog sources.