Rotel RSP-1576MKII Surround Sound Processor Review Page 2
One of the RSP-1576MKII's key features is Dirac Live room correction. As previously noted, Rotel gives you the full-bandwidth version here, not the Lite one that tops out at 500Hz provided on some other gear. To get started with Dirac Live, you'll need to download the Windows/Mac software to a computer, make a hardwired Ethernet connection from the pre-pro to your network router, and connect the included omnidirectional microphone to your PC or Mac. After launching the software, it directs you to select the Rotel as a target device and displays the available mic inputs (you can use a third-party measurement microphone such as a MiniDSP UMIK-1 if you prefer). When using both Mac and Windows computers, you may need to check the Privacy settings and grant Dirac Live permission to use the mic—a setup step I initially overlooked that had me reaching out for tech support.

The next steps are to calibrate the sound output of all speakers using pink noise tones generated by the software and to start the measurement process. Depending on your listening arrangement, you can select Focused, Tightly Focused, or Wide Imaging, with the number of required microphone placements corresponding to the specific selection. (I chose Wide, which uses 17 total measurements.)
After completing that step, you proceed to the filter design stage, where you can view a detailed graph of your system's in-room response of along with a Dirac-generated target curves for correction. Measurements and correction curves for individual speakers or speaker sets (front left/right, surround left/right, etc.) can be selected and viewed in isolation, and you can zoom in and out on specific areas of the graph for a more detailed view. From here you can either upload the correction filter straight to the RSP-1576MKII or click on editable control points on the target curves to alter them—something best done after experimental listening to the results of the Dirac processing.
I tried my hand at a few filter designs, bumping the target curve up by 6dB below 100Hz—an option suggested in the Dirac Live manual—and using a "curtain" to limit processing to the 20Hz-800Hz range. I found that the full-bandwidth Dirac Live correction sounded surprisingly good, with none of brightness and glare that other systems like Audyssey MultEQ XT32 can introduce. There was a degree of high-frequency rolloff that made some music tracks sound a bit dull, however, so I ended up using the 800Hz curtain filter for most of my viewing/listening.
Performance
I tested the RSP-1576MKII in a setup with various amps driving an Elac Uni-Fi 2.0 surround speaker system. Along with a Roku Streaming Stick+ for Netflix, HBO Max, and Amazon Prime Video viewing, sources included an Oppo UDP-203 Ultra HD Blu-ray player for CD and Blu-ray disc playback. I also used the Oppo as a Roon endpoint for streaming music from Tidal and Qobuz, with the player's coaxial digital output routing signals to Rotel's preamp.
Starting out with movies, I watched the scene in John Wick 3 where John hides from assassins in an antiques warehouse. As he pieces together a gun from various old parts found in a display case, listening intently to hear if everything properly fits, the Rotel did impressive work rendering the detailed clicking sounds accompanying his effort. In the intense fight sequences that follow, the smashing of bodies into glass, tossed knives and axes hitting their fleshy targets, and flurries of punches and kicks all had a wonderfully dynamic quality. I also experienced a vivid sense of being in the packed space as sound effects accompanying the tossed weapons trailed from the front to the back of the room.
Like most viewers, I had to give my Ultra HD Blu-ray of Christopher Nolan's Tenet a few repeat spins before I could even begin to understand connections in the film's convoluted plot. But this gave me a chance to replay the many extraordinary action scenes, a highlight of this fantastic-looking and -sounding disc. The opening sequence, a raid and shootout at an opera hall, starts things off with a literal bang, and the Rotel rendered the gunfire and general sonic chaos in a clean, dynamic manner. Ludwig Göransson's music sounded exceptionally full, the bass-y elements integrating smoothly with the textured, almost industrial-sounding score. Dialogue in Tenet is difficult to follow due to the soundtrack's densely layered effects and aggressive music mix. Pressing the handy "CTR" button at the top of Rotel's remote let me easily boost the center speaker level (adjustments are indicated on the front-panel display, not the onscreen one), which helped quite a bit to enhance dialogue clarity for the duration of the disc.
Rotel's preamp generally sounded great with music, and Dirac Live made a notable contribution toward tightening up the bass and creating a coherent blend between the system's subwoofer and main speakers. This was very evident when listening to Bill Frisell's "Blues Dream," from the CD With Dave Holland and Elvin Jones: Holland's standup bass had a rich, rounded quality, but there was a linearity to it that made it easy to distinguish the full range of high to low notes as he dug into his solo. With Dirac Live room correction levelling off at 800Hz, Frisell's electric guitar retained its crisp bite, and the overtones of Elvin Jones' cymbals displayed appropriate levels of metallic shimmer and "air."
Vocal-heavy tracks like "Guinnevere" (24-bit/96kHz FLAC, Tidal) from the album Crosby, Stills & Nash sounded perfectly lush with the Rotel, and I could easily differentiate between the trio of harmonizing voices. This track can have an almost uncanny "performers-in-the-room" quality, and I definitely experienced that when listening. On another folky track, Joe Pug's "Long Midnight" (16/44.1 FLAC, Tidal), the singer's textured, Dylan-esque voice sounded wonderfully full and came through with just the right amount of roughness, while the harmonica in the song's outro had crisp, energizing quality.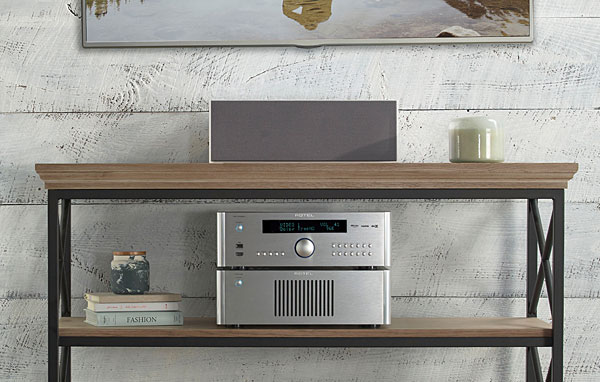 Completely switching musical gears, I next listened to "Sodalis," a track from Field Works Ultrasonic, an album that pairs modern classical and electronic music composers with the natural sounds of bats recorded out in their natural habitat. The Rotel captured the percussive texture of Kelly Moran's prepared piano's plucked strings and their complex overtones. There was an impressive sense of depth to the presentation, and, after electronic bass drones drifted in toward the track's end, a panoramic sense of scale.
Conclusion
Audio performance and ease of use are key considerations when buying a new surround sound preamp/processor, or when upgrading from an old one. Rotel's RSP-1576MKII delivers on both of those counts, delivering clean and dynamic sound with both movie soundtracks and music, and providing an easy to navigate interface for initial setup and subsequent tweaking. And the inclusion of Dirac Live Full, one of the most effective DSP room correction options available, makes Rotel's preamp even more compelling. Did the RSP-1576MKII check off all the other boxes on my wishlist? The lack of out-of-box Dolby Vision HDR support is likely to be an issue for some users. And the same goes for the lack of network streaming capability and app control. That being said, Rotel's RSP-1576MKII sounded great in my system, and served most of my core A/V needs well.