Review: Pioneer A4 Wireless Speaker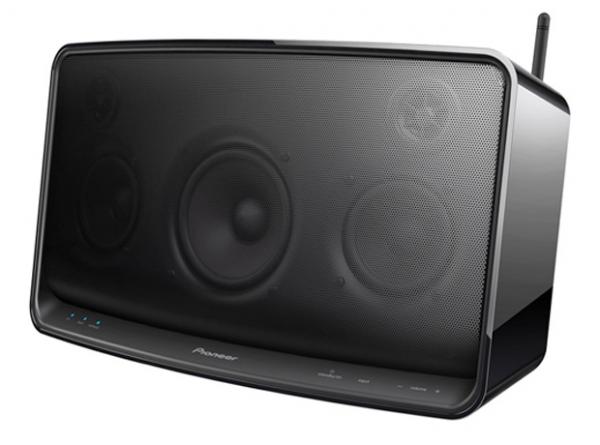 I've reviewed a few of these types of speakers. Pioneer calls this one a "Wireless Speaker" but that's not really adequate for the category. Music streaming speaker (MSS?) is probably more accurate, if less pithy.
Either way, my experience has been that for most, it's function first, quality second. As in, you get sound, but it's not very good. Unless the MSS has some sort of special attention paid to sound quality, I try to avoid them.
What got my attention with this one, then? Well, the A4 has been tuned by none other than Andrew Jones, and given how amazing his inexpensive Pioneer speakers are, I figured this doodad was worth a look.
At first glance, the A4 doesn't do much to inspire desire. The curved, black gloss cabinet is attractive, but lacks the "wow" factor like B&W's dirigible thing, or B&O's flying saucers.
Inside is what counts, and there you'll find two 1-inch tweeters, two 3-inch midranges, and a 4-inch "subwoofer." Not sure why any 4-inch driver is called a "sub" when even "woofer" would be a bit of a stretch, but what do I know? There are two 10-watt amps inside, plus a single 20-watter.
On the back there's Ethernet and USB for wired digital, and a 1/8th inch jack for analog. A credit card-sized remote offers volume, play controls, and an input button. The power, volume, and input buttons on the front of the A4 are all touch-sensitive, which is cool.
With so few buttons, how, might you ask, does one connect this thing to your wireless network? Smartly, Pioneer has multiple videos on their website, known most people's mortal fear of reading manuals (myself included).
I expect most people will use their iPhonadpod, and there's a video for that. It's incredibly simple, literally just plugging in your iOS thing and pressing two buttons. You can also connect the A4 to your network using your computer.
Once connected, you can use the free Pioneer Control App to control the A4, and to play Pandora or vTuner. On the Android side, it has HTC Connect built-in as well, but since I don't have the One (yet...), I wasn't able to test this.
It gets cooler. The A4 has AirPlay, so you can open iTunes and select it as a speaker. Whole house audio, anyone? Right now, I can play music through the speakers connected to my computer (through a Wadia PowerDAC mini), the speakers in my theater (via an Apple TV), and the A4. Three rooms, no fuss. Awesome.
But what if you're not near WiFi? The A4 is capable of creating its own network, called Wireless Direct mode, which you can access directly from your phone, and stream music that way. It does this instead of Bluetooth, which isn't exactly known for sound quality.
So from a connectivity side, the A4 fits a bunch of little niches that many of these types of wireless speaker thingiees don't.
Of course, that means little if it doesn't sound good.
I decided to try the A4 in a few different environments, as it's not likely it will have perfect placement in a theater setting.
So first up, I placed it on my dining room table and cued up "Fable (Dream Version)" by Robert Miles. I would qualify the A4 as "surprisingly loud." At maximum it definitely approaches party volumes, enough so you'd have to raise your voice a little if you were standing near it. With an SPL meter roughly 1m away, I measured about 97 dB. Perhaps more impressive, there's no distortion at these levels.
The bass on this 90's techno track, isn't particularly deep, so I queued up my standard organ test track, "Lindenkirche Berlin" played by Gerhard Oppelt. There is definitely more bass than you'd usually expect from such a small speaker. Four-inch "subwoofer" indeed. The low pedal tones were both loud and deep.
Changing gears, I put on Amy MacDonald's "Mr. Rock & Roll" (yes, I discovered her thanks to Top Gear). Amy's voice was a little recessed, and there was a bit more zing to the top-end of the acoustic guitars and cymbals. Not enough to be objectionable, but not quite flat. There was a bit more bass to the track than I've heard elsewhere too. It's like there's a slight smiley-face to the frequency response.
Last up was "All my Days" Alexi Murdoch. For this, I moved the A4 into my theater, placing it where the center channel usually goes. The overall character of the A4 didn't change. There's still a little extra bass and treble, but in all, it sounds very good. I doubt anyone looking for a wireless speaker like this would object to room-filling bass. For that matter, a little extra treble probably isn't bad, since I doubt most people would sit directly in front of it to listen.