Review: Logitech Squeezebox Touch Page 2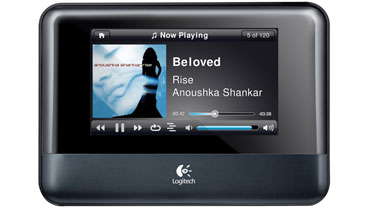 Performance
The best of the free music services, Slacker and Pandora, let you select from a diverse array of music channels or create your own. I've used both of these on my PC and Squeezebox Boom for a few years, so finally hearing them on my larger sound system was a delight. The interface for operating these services may in fact be a little too easy, as my daughter quickly mastered it, and I now have music channels dedicated to Taylor Swift and Owl City.
Heard over my Onkyo receiver and Canton speakers, Audio quality on the streaming services was pretty good, though it fell short of CD-quality. I call it fill-quality music: It fills the space, creates background ambience, and doesn't require me to get up frequently and change discs. If your music interests are much more eclectic, or you simply want to know what they're listening to in Calcutta, there are also several traditional Internet radio services that will connect you to stations from around the globe. Sound quality on Internet radio varied widely from surprisingly good to kitchen radio-bad.
To see hear how well the Touch compared to regular CD playback when streaming uncompressed music from my computer, I played a couple tracks from the Nicolas Lens Latin opera Flamma Flamma. This recording features some of the most dynamic vocals you'll find, especially on the track "Sumus Vicinae" with its mix of nasal chanting and baritone notes. To my ears, the streamed version sounded just as rich as the CD (played on an Oppo DV-983).
LATEST VIDEO