Review: Logitech Squeezebox Touch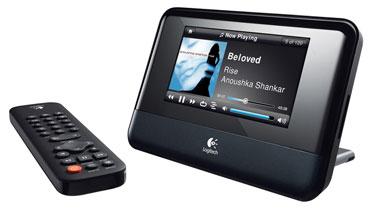 Logitech's latest addition to its Squeezebox family of network music players is the Touch, a small LCD touchpad that taps into your wired Ethernet or 802.11b/g Wi-Fi network and connects to your audio receiver. It resembles the company's Harmony 1100 remote and, like the remote, brings multiple systems, or in this case multiple services, easily under your control.
The Squeezebox Touch is similar to its older siblings, the original Squeezebox and the Squeezebox Boom, in that it allows you to stream digital music both from your PC/Mac and from a variety of online services. Unlike the popular Boom, the Touch has no speakers, so it's aimed at the person who wants to listen to their networked music through a larger audio system. Being a touchscreen device, there are no buttons on the unit, but it does come with a remote control so you can practice your couch potato skills and still operate the system.
Setup
In keeping with the simplicity theme, plugging the Touch into your audio rig and getting it running is a straightforward process. You can hook it up either through an analog stereo connection or via its coaxial/optical digital jacks. There's also a USB port, an SD card slot, and a 3.5-mm headphone output so you can listen to music without disturbing other members of your household.
Once the Touch is plugged in, you need to connect it to your network. Ethernet is the simplest option, and the one I used most of the time because my router sits next to my receiver. But connecting via Wi-Fi takes only a few minutes and allows for greater freedom of placement.
The Touch's home screen offers users an extensive menu of music services, the main offerings being My Music (stored files streamed from your computer), My Apps (online music services like Pandora) and Internet Radio. You can also subscribe to and play podcasts, display your Facebook feed, or listen to music loaded on an SD card or connected USB drive. It also works as a digital photo viewer via the SD card slot.
To listen to music streamed from your computer, you first have to download the Streambox Server software. I needed to install it twice to get the application to work, but once it was up and running, the program found all the music in my iTunes library, which could then be easily accessed from the Touch. The unit supports most audio codecs including MP3, WAV, WMA, Apple Lossless, Ogg Vorbis, HD-AAC and FLAC. The only downside is that you have to leave your computer turned on to listen to stored music.
App Appeal
For most users, the biggest appeal of the Touch will likely be its assortment of Internet music apps. Over the years, terrestrial radio quality has plummeted and satellite radio programming has become more generic. Consequently, people wanting greater variety and personalization have turned to Internet music-streaming sources, which are largely free or really cheap. The Touch allows you to tap into an incredible variety of tunes through an assortment of music apps. Some can be used right away, while others require minimal account setup (usually just an email and password). A few of them cost money.
Since I already had a Streambox account set up (I own a Squeezebox Boom), I just entered my password into the Touch and my existing apps appeared ready to use. To add more apps to the device, you navigate through the available services on the screen and tap to add (you can also add apps through mysqueezebox.com). Once added, the service is available to use. At present there are more than 20 apps, including Napster, Rhapsody, Sirius, and Last.FM. There are even a few non-music apps like Facebook and Flickr.