Review: Aperion Audio Zona Wireless Speaker System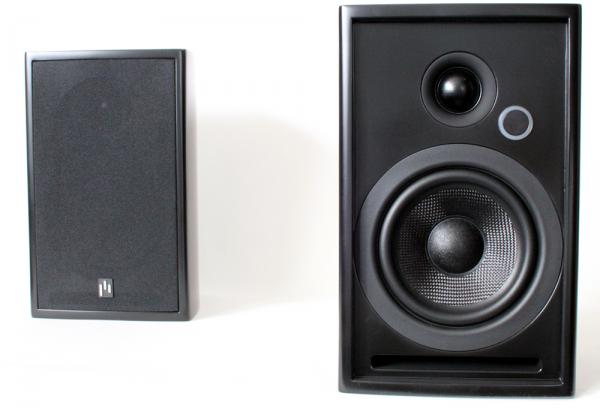 A few weeks ago I wrote about building a WiFi audio system without resorting to the use of a glorified iPod dock, with all of its inherent disadvantages.
The Aperion Audio Zonas offer a different way to do the same thing, or offer the flexibility of wireless speakers for surround channels, sound reinforcement, sound in another room, or anything else you can think of.
The Zonas are small, powered, bookshelf speakers. They feature a 1-inch silk dome tweeter, and a 4.5-inch "woven fiberglass" woofer. The curvy MDF cabinet, ported on the front, is attractive in an understated way. Inside each is a 2X20-watt Class D amp (these are biamped units, with tweeter and woofer powered separately) with DSP, plus a 2.4 GHz wireless receiver. The Zonas are wireless only, there's no other way to input a signal directly into the speakers.
Setup
There are two ways to set up the Zonas, though both ways start the same. Each speaker plugs into the wall via a small external power supply. Under the grill a round light flashes to let you know they're ready and looking for signal.
The transmitter, about the size of a hockey puck (and also used in Aperion's bring-your-own-speakers Home Audio Link 2 system), has a 1/8th-inch analog input and is powered via USB. A small wall wart is included to power the transmitter if you're going the analog route. In this method, you'd connect to your receiver, or any other analog audio source, with either an RCA-to-1/8th Y-cable, or a straight 1/8th-inch-to-1/8th-inch cable (both included).
Conversely, you can go the digital route, and plug the transmitter directly into your computer via USB (the onboard DAC handles up to 16-bit/48 kHz audio). With this method, it functions as your computer's sound card. The downside to this method is that if you already have a USB DAC/Amp for your computer, you have to choose between it and the Zona. Generally, you won't be able to use multiple USB audio output devices simultaneously.
Regardless of the method you choose, the transmitter and speakers sync quickly. There's no real tech know-how needed, it all works exactly as it should. Aperion claims a 100-foot range with the Zonas, though I'm always skeptical of such claims, from any company. It depends too much on what your house is made of. I'd test this, but 100 feet from any part of my house would be out in the yard.
Performance
With the transmitter connected to the computer in my office, and the speakers in my theater, I fired up iTunes and got to some list'nin. The first thing I noticed about the Zonas is their big soundstage, much larger than you'd expect from such small speakers. Playing "Killed Myself When I Was Young" from AA Bondy's American Hearts album, the soundstage was wide and tall, yet still had a strong center image. At regular volumes, the Zonas also put out a surprising amount of bass for their size. It didn't go particularly deep, but it was controlled and well balanced.
Treble was equally well balanced, for the most part. The guitars from "The Night's Too Long" (off Lucinda Williams' self-titled album) retained their clarity, but weren't too bright. However, the Zonas weren't as open sounding as I've heard from other speakers in this category.
One interesting aspect to the Aperion's acoustical potential is bass and treble controls on the remote. To some extent, you could use this to dial in a sound more pleasing to your ear, though like the same controls on a receiver, it has limited useful range. You could probably tap it once to take the edge off a particularly bright song, but it's not going to add more ambiance to a live recording, only harshness. The same is true of the bass. You can use it to reduce the bass if you're trying to play a bass-heavy track loud, but it's not going to make the sound fuller.
Speaking of which, if there's a weak spot in the Zonas, it's the amp. They don't play particularly loud. For most music I could get them above an average listening volume, but they couldn't "rock out," so to speak. Some music - specifically tracks with a lot of low bass - caused the Zonas to distort. The bass drum at the beginning of the AA Bondy track mentioned earlier, or Roger Waters' bass on Pink Floyd's "Another Brick in the Wall (Part I)," were two notable examples that had me turning down the overall volume, or reducing the bass using the remote. The Zonas will certainly let you know if you're pushing them past where they're comfortable. The digital-sounding distortion is unpleasant enough that you'll want to adjust the speaker, but not so horrific that you'll dive for the remote in a panic.
Bottom Line
The Zonas potentially fill several gaps in the speaker world. You can use them as wireless surround speakers. You can use them as wireless computer speakers. You can use them to easily add sound to another room. The $499 cost seems right in line with similar products already on the market - perhaps they're even a little cheaper than the alternatives. I wish they could play a little louder, and had a bit more bass (a tall order, I know, given their size), but overall they sounded pretty good for their size and are worth checking out.
Aperion, being a web-only brand, offers a 30-day in-home trial. You'll get a refund if you don't like them, and they'll even pay for the return shipping.