Remaster Class: Queen: A Night at the Opera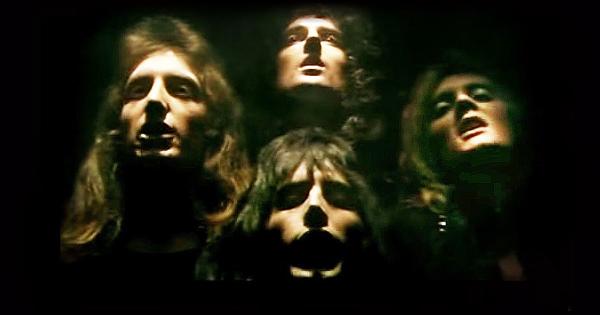 It was sometime in late 2001 when I heard the future of surround sound. I was seated in a conference room-cum-listening room at DTS headquarters in California when the gathered parties at hand promised me an experience that would solidify the mission statement of what the company was hoping to achieve with their then-burgeoning slate of DVD-Audio releases (which, admittedly, had essentially been hit or miss up to that point).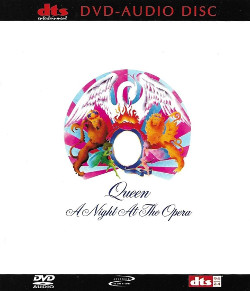 And with that, a choir of instantly recognizable multi-layered Freddie Mercury vocals queried, "Is this the real life? Is this just fantasy?" all around us, and the 24-bit/96kHz 5.1 DTS mix was off and running in fully completely enveloping ways theretofore unheard. After all 5:58 of Queen's "Bohemian Rhapsody" had finished and the resonance of the massive gong hit by drummer Roger Taylor had faded away into the ether, the room was silent for a few extra beats beyond the typical listening-session norm. The handful of us in attendance remained somewhat stunned, to be honest, still marveling at and internally processing the scope of what we had just heard. If this was a clear-cut realization of what surround sound could achieve, then, by the seven seas of Rhye, the sky must surely be the limit — or so we thought at the time, anyway. (We audiophiles well know how that initial DVD-A and SACD era ultimately veered off course, of course, so no need for me to retread upon that well-beaten path here.)
Indeed, the album from whence "Bohemian Rhapsody" sprung — Queen's fourth studio effort, November 1975's A Night at the Opera — was itself a masterstroke of mid-1970s multitrack recording, an achievement I'd venture to say was not totally appreciated at the time of its initial release, revisionist history to the contrary. Much of the public's Opera fascination has tended to center on the aforementioned "Bohemian Rhapsody," the next-to-last track on Side 2 — and with much good reason. In fact, "BoRhap" (as it's abbreviated in some quarters) saw quite the chart resurgence as a No. 2 reissued single thanks in no small part to Mercury's untimely passing in November 1991 and its in-car singalong zeitgeist moment in February 1992's Wayne's World. More recently, the song took on yet another life of its own thanks to having served as the title to 2018's Oscar-winning Queen biopic. (You can read my take on the film's 4K UltraHD Blu-ray right here, if you so desire.)
"Bohemian Rhapsody" also displays an ongoing impact on many contemporary musicians. "It's so ubiquitous now — everyone knows it. That's why I started doing it in the show," explains Styx keyboardist/vocalist Lawrence Gowan, who leads audiences in singing most, and sometimes all, of "Bohemian Rhapsody" along with him every night during the solo section he performs near the end of the band's main set. "I just love what a tour de force that piece is. It's a stellar vocal performance and a stellar piano performance simultaneously," Gowan continues. "Freddie Mercury was someone incredibly engaging to watch, with a tremendous quality to his character and his vocal. I love the fact that the song is classical music, and it's very Beatlesque in some ways too — and it's also very raw, in some sections. How wonderful it is to get all of that in just one piece."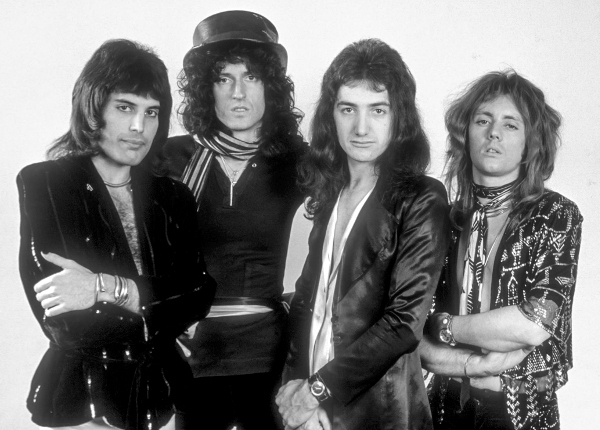 Indeed, as brilliant a piece of work that "Bohemian Rhapsody" will forever remain, the rest of Opera teems with the elements that have ultimately proven Queen to be one of the biggest and badass-est bands of the core rock era. Witness the all-out sneerfest of Mercury's opening gambit "Death on Two Legs (Dedicated to. . .)," aforementioned drummer Roger Taylor's automotive-passion showcase "I'm in Love With My Car," bassist John Deacon's touchingly penned "You're My Best Friend," and guitarist Brian May's magnum sci-fi opus "'39," for starters. Overall, A Night at the Opera is equal parts anthemic, operatic, and bombastic — all of it having been done with a level of abject earnestness, raw talent, and somewhat fraught charm that would be, well, downright cheeky in the hands of lesser acts.
Naturally, Opera has seen its fair share of multiple-format releases over its 44-year lifespan (and counting). The initial 1975 vinyl issue on EMI in the UK and Elektra stateside is quite the fine aural artifact that did its level best to reproduce the many intricate layers of the band's razor-bladed master-tape edits overseen by co-producer Roy Thomas Baker and executive engineer Mike Stone onto a single platter. That said, I am more partial to the modern-day half-speed-mastered 180-gram black-vinyl version, initially issued via Hollywood Records in 2011 and subsequently rereleased through Virgin/EMI/Universal in 2015. In addition to the above-noted classics, tracks like Side 1's jaunty "Lazing on a Sunday Afternoon" and Vaudevillian "Seaside Rendezvous" and Side 2's feudal ditty "Good Company" and simply majestic album-closing "God Save the Queen" all benefit from the half-speed vinyl-remastering prowess of one of Abbey Road Studios' top-tier engineering mavens, Miles Showell.
Plus, I happen to like running my fingers over the raised texture of the central royal cover-art illustration that appears above the Mercury-designed blue-script band logo, something that's not always been part of the various jewel-box-housed CD issuances that have occurred over the years. (That said, DCC/Hollywood's off-white 2000 gold-disc version gets bonus points for giving us the proper relief map, as it were.)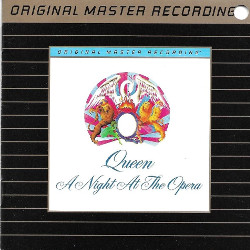 Speaking of CDs, the initial 1986 EMI edition is all well and good for completists only, followed by Hollywood's flag-planting catalog version from 1991. The 1991 Mobile Fidelity Ultradisc II Original Master Recording edition is a fine offering from that era of MoFi dominance. Hollywood's double-disc 2005 CD/DVD digipak combo, labeled as the 30th Anniversary Collector's Edition, includes a revised, May-approved 5.1 mix (more on that shortly) and somewhat arbitrary commentary tracks from each bandmember that sound better on paper than in actual practice. May himself endorsed this package further, enthusing in the liner notes that "This is definitively the best version ever created . . . I doubt it if can ever be bettered!"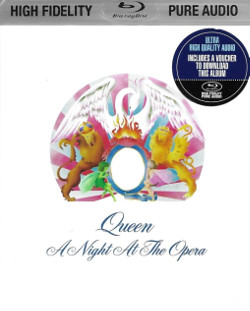 Well, at least until Island's clearly superior, even-more-engrossing 2013 High Fidelity Pure Audio Blu-ray came along, that is (but I semi-digress). Hollywood's 2011 digital remaster 2CD edition (from which the 2013 BD was upgraded/culled) includes a bonus six-track EP with outtakes and live tracks, including an intriguing Operatic Section A Cappella Mix of "Bohemian Rhapsody" as supervised by Justin Shirley-Smith and Kris Fredriksson. Hearing that reminded me of what it was like listening to the isolated vocal tracks of various entries on the aptly named Stack-O-Vocals disc that was included in The Beach Boys' The Pet Sounds Sessions box set. Harmony-capturing-and-sharing genius at work, in both cases, imo.
Ah yes, and then there are the surround sound versions of Opera. I could spend multiple-hundreds of words dissecting the behind-the-scenes drama surrounding the initial 2002 DTS DVD-A release, and one can certainly scour the interwebs for the deep rabbit-hole teeth-gnashing of it all, but I'll condense it as follows. The mix initially issued to the press prior to and circa CES 2002 (and the one I heard played back at DTS HQ) contained surround pioneer Elliot Scheiner's gambit-grabbing mix, done with the help of original Opera co-producer Roy Thomas Baker. However, Brian May had other surround ideas of his own, and he took it upon himself to enact an eleventh-hour retweak of the 5.1 mix more to his liking, which was ultimately the one issued for public consumption. The difference in packaging between the two is relatively minimal, but critical. You can locate Scheiner's mix on the admittedly hard-to-find version with a blue-hued back-tray inset and a 2001 DTS copyright date on the back cover, while May's mix is on the somewhat easier-to-find DVD-A with the all-black back-tray inset and 2002 Hollywood copyright date on the back.
For his part, Scheiner told S&V's Ken Richardson in mid-2002 that, in regard to the initial surround mix he and Baker did, "Brian wanted to change the sound of his guitars, primarily on 'Bohemian' and 'The Prophet's Song.' He said, 'I'm so tired of hearing the guitars this way. I can't stand that they're so bright.' He wanted them to be not as nasty, not as edgy. Brian also had me move certain things," Scheiner continued. "In 'Bohemian,' when it cuts to the opera section, I originally put the piano in the rear for those quarter notes: da da da da, da da da da. Everything went to black except there. But Brian said, 'Can we bring it out to the front a little?' So I did — and it just doesn't have the same impact for me. I thought my version was good because it drew your attention. It did something different; it wasn't ordinary. But that's my opinion."
Me, I'm torn between the differing surround philosophies of these two upstanding gentlemen (which must also mean my personal Libran nature toward finding balance is showing to some degree). Thing is, it's hard to argue surround minutiae with respect to one of the artists who gave his literal lifeblood to making this hard-fought/hard-won album in the first place. I mean, I'd be quite interested in hearing a full-bore, all-in 360-degree envelopment of the entire choral section of "Bohemian Rhapsody," but it's not my call. As Scheiner rightly told Richardson, "Brian's the artist. His name's on that record, not mine."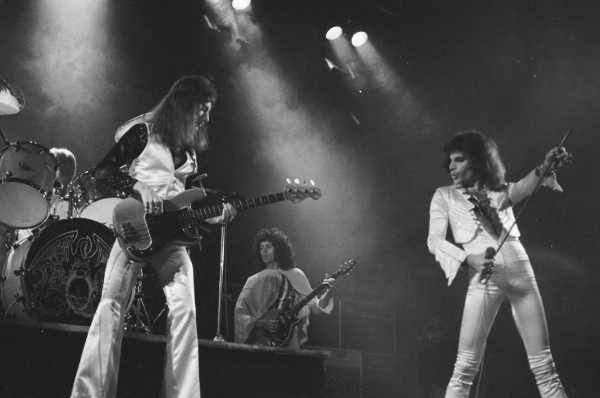 Seeing how Queen's October 1977 masterpiece News of the World was graced with a 3CD/1LP/1DVD 40th anniversary box set from Hollywood Records in November 2017, I wonder if we'll get to see/hear something similar for Opera's own 45th birthday later this year, or even for its 50th candle-blower in 2025. Either way, I'd love to get all available versions of the Opera mixes that have been issued over these ensuing years, in a manner following the practice Yes took to heart with the multiple-mix offerings of the albums from their prime 1970-74 era that can be found by way of the Panegyric-issued series of BDs and DVDs from 2013-16.
Regardless of any which way the sonic wind blows, Queen's A Night at the Opera is a singular artistic achievement in the rock annals that can be enjoyed via multiple formats that unlock the mix complexities the artists were striving for in the first place. A little high, a little low. . . it's not just fantasy, but always something that really matters to me.