Bohemian Rhapsody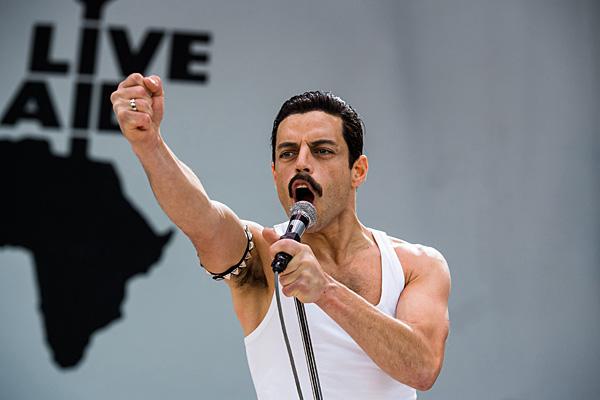 Rami Malek gives a beyond-worthy Golden Globe-winning performance as the man born in Zanzibar as Farrokh Bulsara in 1946. It's truly uncanny how seamlessly Malek embodies mannerisms both flamboyant and subtle of the man with the unapologetic overbite in a way that's 180 degrees opposite of his self-contained, withdrawn, and mostly sullen portrayal of vigilante hacker Elliot Alderson in the dystopian sci-fi TV show Mr. Robot (which won him an Outstanding Lead Actor in a Drama Series Emmy in 2016).
While certain band sequences are set in dark or dramatically lit period concert halls and/or dank clubs and backstage areas, a good bit of Bohemian Rhapsody's color palette leans more toward the brighter side of life, with members of Queen and their entourage sporting much light-colored clothing at various points throughout the film without any washouts. This is where Ultra HD/HDR literally shines best, as it does in capturing the textures on the white terrycloth bathrobe Mercury wears while talking on a payphone and the mostly white ensembles Queen sport during their iconic 1985 Live Aid performance—most especially Mercury's tight, scoop-necked sleeveless t-shirt and Adidas boxing shoes. As the band moves and grooves in front of a massive, all-white stage backdrop on an off-white stage surround by eggshell-white monitors, nothing is lost from shot to shot, essentially ensuring that these may very well be among the whitest whites you'll ever see this side of using OxiClean laundry detergent.
Sonically speaking, the Cinema Audio Society award-winning tandem of production mixer John Casali and re-recording mixer Paul Massey have masterfully deployed the Atmos soundtrack (DTS-HD Master Audio 7.1 on the included 1080p Blu-ray disc version) in all the right places, whether it's the percussive foot-stomping collective that triggers the creation of the bed track for "We Will Rock You," the pounding, all-channel rain splatter that falls during one of Mercury's lowest personal points outside his house, or the rapturously repeated double-claps during the chorus of "Radio Ga-Ga" and the elegiac "ayy-ohh!" call-and-response interactivity Mercury has with 100,000 concertgoers strong at Wembley Stadium in London during the Live Aid performance denouement.
The frenetically edited creation of the movie's titular song in a remote barn-cum-recording studio is fun to observe, especially the constant layering and overdubbing of its über-operatic multitracked-to-the-max background vocals ("higher!") onto a well-worn, stretched-to-the-max master tape. (Speaking of that ubiquitous title track, be on the lookout for a bearded, dark-bespectacled Mike Myers, playing a record-label executive who semi-ironically delivers a verbal Easter egg sure to please everyone who knows a certain in-car headbanging Wayne's World sequence by heart.)
While Mercury remains the focus of the narrative, the other bandmembers' personalities do get some semblance of play throughout the film—most likely due to original Queen guitarist Brian May and drummer Roger Taylor often being on set to ensure authenticity—though I would have liked to have seen a sequence, however brief, where May discusses (or even is shown) building his signature Red Special guitar from scratch with his father, since its unique sound shaped many of the band's most majestic recordings.
Amongst the extras, the full 20-minute breakneck Live Aid performance itself is a shot-by-shot recreation for the ages. I did my own separate, side-by-side Live Aid comparison of Malek and Mercury together on a split-screen in real time, and it's absolutely mind-boggling to confirm the actor's precision in embodying the frontman from stem to stern. Every strut, pout, fist pump, tongue flick, and microphone-grip difference between Mercury's left and right hands are conveyed by Malek to virtual perfection. Even more impressive is hearing producer Graham King reveal the Live Aid sequence was the first major thing that was shot for the film, barely three weeks after Malek began preparing for the role.
Given the reception Bohemian Rhapsody has received from both the public and their peers, Queen have quite handily proven they're the undisputed champions of the world, darlings. Long may they reign.
ULTRA HD BLU-RAY
Studio: 20th Century Fox, 2018
Aspect Ratio: 2.39:1
HDR Format: HDR10+ and HDR10
Audio Format: Dolby Atmos
Length: 134 mins.
Director: Bryan Singer
Starring: Rami Malek, Lucy Boynton, Gwilym Lee, Ben Hardy, Joseph Mazzello, Aidan Gillen, Allen Leech, Tom Hollander, Mike Myers

The indisputable success of Bohemian Rhapsody confirms what many of us have known for decades: Queen was one of the biggest rock bands in the world, and their late frontman Freddie Mercury was one of the singularly most polarizing and mesmerizing popular-music performers of the 20th century.