Ford v Ferrari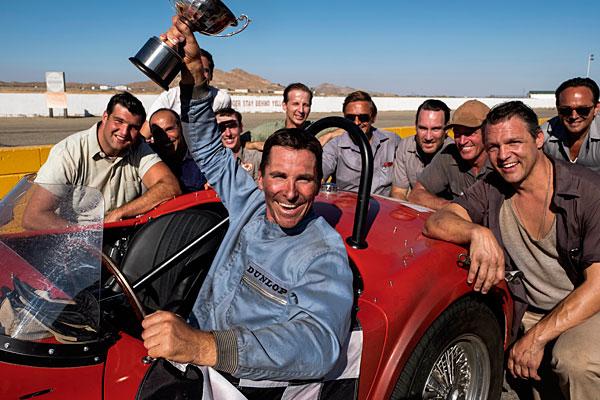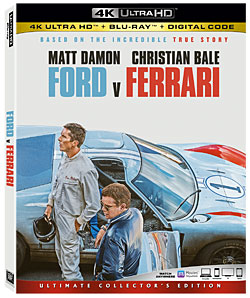 Ford v Ferrari was shot with digital cameras and the 4K home presentation is strong. Faces show exceptional detail and there's an often-dazzling clarity in the distant backgrounds of wide shots, be they desert hills or huge crowds of spectators at a motorway. I did note some artifacts in a close-up of a radio grille, but this was a rare anomaly. The value of HDR10 high dynamic range is evident in the many car headlights at night, as well as the frequently shadowy locales, dark business suits, and backlit actors. Colors are lovely, confirming director James Mangold's penchant for dusk-set scenes. The 1080p Blu-ray disc, while good, looks less punchy in all respects.
The soundtrack brilliantly depicts the many cars zooming around the track—and the home theater—in all their aggressive glory, with ample bass and a distinctive sonic character for each vehicle's engine. On top of that, the Dolby Atmos mix (the movie won an Oscar for sound editing) expands the experience via powerful ambience, notably in crashes and most memorably in a roaring airplane flyover. The excellent track is gripping from start to finish and is undoubtedly a big reason why the drama is so engaging. Even the 7.1-channel DTS-HD Master Audio track on the regular Blu-ray is still pretty enjoyable.
There's no bonus content on the 4K disc, but the regular Blu-ray houses an hour-long "making of" that covers all topics we would hope to hear about, both fact and fiction. The included Movies Anywhere 4K digital copy unlocks two additional vignettes, including one on the painstaking recreation of the iconic Le Mans racetrack.
ULTRA HD BLU-RAY
STUDIO: Fox, 2019
ASPECT RATIO: 2.39:1
HDR FORMAT: HDR10
AUDIO FORMAT: Dolby Atmos with TrueHD 7.1 core
LENGTH: 153 mins.
DIRECTOR: James Mangold
STARRING: Matt Damon, Christian Bale, Jon Bernthal, Caitriona Balfe, Josh Lucas, Noah Jupe
The true story of sports car designer Carroll Shelby and driver Ken Miles' partnership with the Ford Motor Company to challenge legendary Ferrari and perhaps win racing's ultimate test of endurance, the 24 hours of Le Mans, is can't-miss Hollywood gold. While not quite a David v Goliath tale—we learn that cash-strapped Ferrari was something of an underdog—the results here are a heartfelt ode to cars, speed, second chances and next chapters, and good old American ingenuity. The protagonists are fascinating (goodness, Henry Ford II must have been a piece of work), the antagonists infuriating, the stakes high, and the race scenes thrilling, with no shortage of gasp-out-loud moments when man or machine fails.