Fast & Furious Presents: Hobbs & Shaw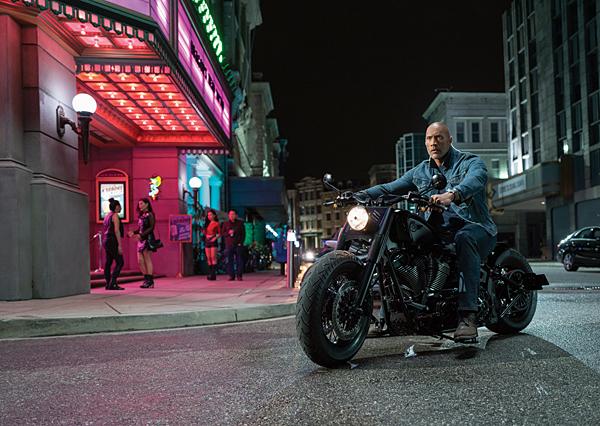 Fast & Furious Presents: Hobbs & Shaw
were introduced in earlier
Fast & Furious
films, but you don't have to know much about their backstories to enjoy this film, an extremely serviceable action-comedy that leans heavily on the charm and chemistry of its stars, Dwayne Johnson as Luke Hobbs and Jason Statham as Deckard Shaw.
Hobbs & Shaw
is also elevated by the formidable presence of Idris Elba as an evil, cyber-enhanced villain and excellent supporting performances from Vanessa Kirby, Helen Mirren, Kevin Hart, and Ryan Reynolds.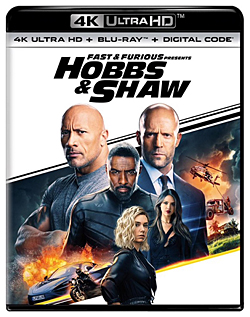 The Dolby Vision-enhanced Ultra HD picture is nearly as perfect as you would expect from a big budget action film, even though it was reportedly shot at resolutions less than 4K and mastered in 2K. An establishing shot of a night skyline really pops with brilliantly colored lights and inky blackness, and the cinematography reveals every detail in backgrounds of the outstanding high-tech sets (including a pair of KEF Reference 5 speakers in Shaw's hideout). As with many modern films, the picture is stylized, with some scenes exhibiting exaggerated yellow and green hues. Still, given the stylized look, everything seems as it should, with cloudy outdoor shots appearing slightly muted and with less contrast than brightly sunlit scenes.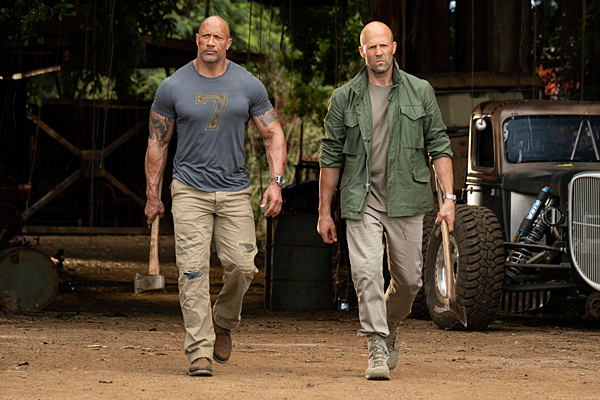 Complementing the excellent visuals is a dynamic Dolby Atmos mix that perfectly combines all elements of the soundtrack in a coherent and convincing manner. Music is present in all channels to totally immerse the viewer in a pulse-pounding cinematic experience. Some action movie fans might prefer a slightly more bombastic sound mix, but there is plenty of deep bass and enough SPLs when required, with exceptional delineation of individual sound effects and dialogue. From the opening scene with a serene cover of "Time in A Bottle" by Yungblud, followed by a finely crafted fight sequence, the soundtrack is an absolute delight.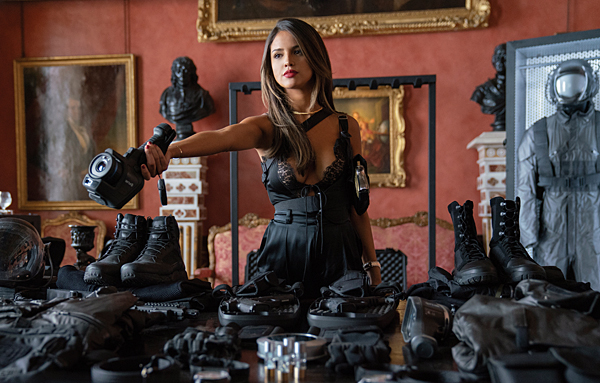 Universal's package includes a Movies Anywhere copy plus a standard Blu-ray with a Dolby Atmos soundtrack, and the generous supplemental materials are available on both discs. These consist of featurettes on the main characters and the actors who portray them, alternate and deleted scenes, and several documentaries that break down action scenes and stunts. There is also a director's commentary track with David Leitch that provides some interesting insights into the making of the film.
ULTRA HD BLU-RAY
STUDIO: Universal, 2019
ASPECT RATIO: 2.39:1
HDR FORMAT: Dolby Vision and HDR10+
AUDIO FORMAT: Dolby Atmos with TrueHD 7.1 core
LENGTH: 137 mins.
DIRECTOR: David Leitch
STARRING: Dwayne Johnson, Jason Statham, Idris Elba, Vanessa Kirby, Cliff Curtis, Helen Mirren
The titular characters in