Jaws
Jaws
to the #1 box office crown in 1975 would not have been nearly as effective without a rock-solid story and engaging characters. (That's one explanation for the many awful rip-offs.) Peter Benchley's best-selling first novel gave director/ uncredited screenwriter Steven Spielberg tremendous fodder, with concrete plot points, clear motivations, and rich backstories. While all of the performances are outstanding, the three leads—Scheider, Dreyfuss and Shaw—elevate this already great material. Police chief Brody, marine biologist Hooper, and boat captain Quint make us care deeply about their mission to protect the largely self-interested citizens of beach town Amity Island from the 25-foot, three-ton Carcharodon carcharias (great white) that's staked a claim off their shores. Carnage, courage, male bonding, and sacrifice ensue.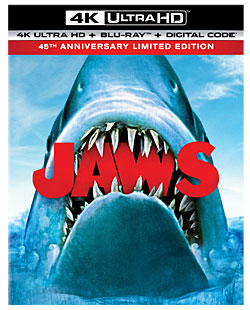 The master for this disc comes from the 2012 4K archival restoration of Jaws, now with new color grading and high dynamic range applied. The enhanced clarity and color are evident from the very first exterior daytime shots when Brody leaves home for work. Pinstriped blazers are rendered with impressive stability, skin tones show great variation, and Amity's skies have never looked bluer. HDR highlights such as the opening campfire scene and the shimmer of light on the waves pleasingly enliven the 2.35:1 image. The credibility and consistency of the film's many day-for-night shots have long been an issue ̧ and the problematic brightness and hues are improved here, if not cured. Still, I'm giving this disc top marks because its overt beauty vastly outweighs any shortcomings.
The disc defaults to a new Dolby Atmos sound mix, though the still-wonderful Oscar-winning original mono soundtrack is also present in DTS. 2.0. Never before or since has a movie owed so much to its musical score, which is presented here with effortless fidelity and newfound spaciousness. Multichannel expansion is respectfully exploited, but seldom flashy; it adds a welcome embrace of surround on a crowded beach, beneath the water's surface, and out on the open ocean.
Ample extras (none new) can be found on the Ultra HD platter and are repeated and then some on the bundled regular Blu-ray. A 4K Movies Anywhere digital copy is also supplied. Packaging is excellent, with a fact- and photo-filled book that's packed in a substantial slipcase topped by a three-dimensional lenticular cover.
ULTRA HD BLU-RAY
STUDIO: Universal Studios, 1975
ASPECT RATIO: 2.35:1
HDR FORMAT: Dolby Vision/HDR10+/HDR10
AUDIO FORMAT: Dolby Atmos with TrueHD 7.1 core
LENGTH: 124 mins.
DIRECTOR: Steven Spielberg
STARRING: Roy Scheider, Richard Dreyfuss, Robert Shaw, Lorraine Gary, Murray Hamilton, Jeffrey C. Kramer
When we think shark, we think scares, but the incredible thrills that helped propel