Star Trek: The Motion Picture – Director's Edition 4K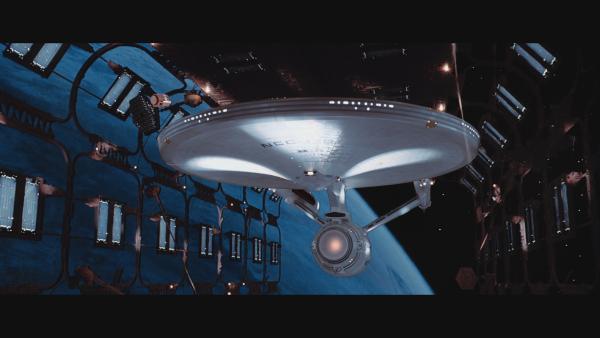 Star Trek: The Motion Picture
is an epic science fiction tale in no hurry to make its points about the nature of humanity and the future we might be headed toward. This was not the first time, nor would it be the last, that a TV show transitioned to the big screen, although few would achieve such box office success or anchor such an enduring franchise. In fact,
The Motion Picture
was judged somewhat harshly in the years following its release perhaps because of what would follow: the action-packed revenge thriller
The Wrath of Khan (Trek II)
and the accessible character humor of
The Voyage Home
(
Trek IV
).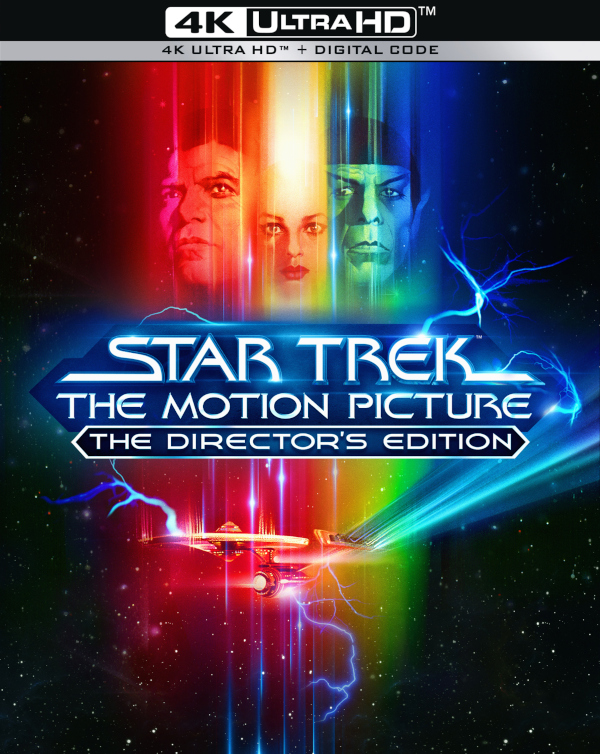 With the theatrical re-release of The Motion Picture earlier this year, a new generation of fans has discovered its charms thanks in large part to an extensive upgrade to the creator-approved Director's Edition released on DVD in 2001 — the version personally overseen by director Robert Wise to better represent the movie the way he wanted to debut it back in 1979. (Unfortunately, studio pressures left the original release rushed and compromised.) The 2001 redux required extensive new special effects and careful editing that honed the story and better motivated these beloved characters, which brings us to the new 2022 Director's Edition reviewed here. This version of the film is not a "restoration" in the traditional sense — it doesn't merely reveal detail that had been overlooked or refresh the sound and picture, although it certainly does that too. Rather, this new edition is a ground-up re-creation at the most fundamental level, rescuing pieces of film and snippets of audio thought lost for more than 40 years and finally utilizing them in ways long intended but never before realized, landing at the highest standards of 4K/HDR and Dolby Atmos.
There are several different ways to add this latest Director's Edition to your collection. Most indulgent, is the "Director's Edition Complete Adventure," a deluxe presentation of the movie with ample bonus content and nostalgic tchotchkes. (Watch for our review in this year's Holiday Gift Guide.) There's also the "Original Motion Picture 6-Movie Collection" boxed set, upgraded from last year's "Original 4-Movie Collection" to now encompass Star Trek V and VI in addition to The Director's Edition and the theatrical cut of Star Trek: The Motion Picture. For this review we will focus on what you can expect in the entry-level, two-disc release of the movie, which includes a disc with extras.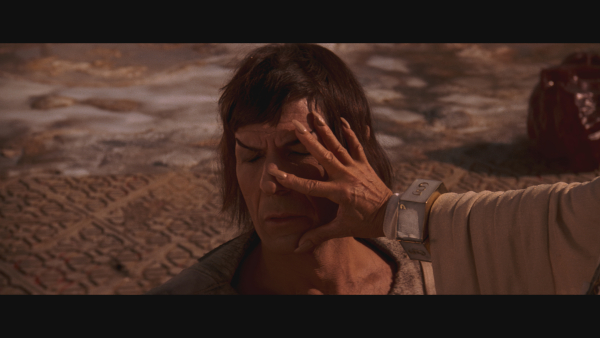 As an insight into the level of technical quality on display here, the movie's production employed the two big dogs of visual effects at the time, Douglas Trumbull and John Dykstra, who shot on large-format 65mm and VistaVision, respectively. That original camera negative was newly scanned at 8K and 6K resolution, also respectively. Physical models of every size and description were used extensively and the detail is laid bare, perhaps never more noticeably than on the U.S.S. Enterprise itself, gleaming with an array of multi-textured panels across its vast surface. The visual style of the storytelling here involves much dazzling play of light and it's brighter than ever, thanks to some aggressive implementation of high dynamic range. The crisp 2.39:1 image is consistently impressive, the sharp focus revealing the high production values — this was reportedly the most expensive movie ever made at the time — and making the most of the frequent split-focus shots of which Wise was undeniably a fan. Colors are deliberately restrained, with a lot of pale blue and beige uniforms against silver interiors, but precisely represented, right down to Mr. Spock's distinctive complexion. Keen eyes might also spot some forgivably wonky edges in the effects as well.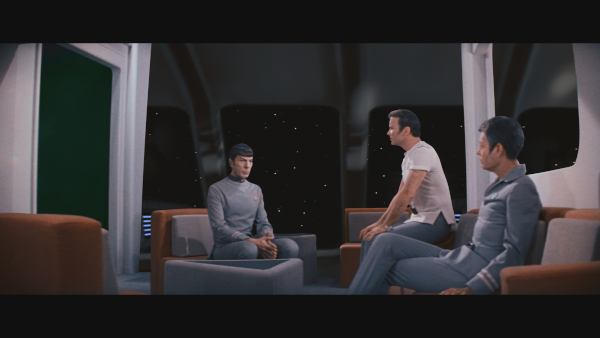 Likewise the original soundtrack, created relatively early in the evolution of multichannel sound, was hurried and not all that it should have been, so it was reassembled from the vintage music, dialogue, and effects recordings to yield a bold new Atmos presentation. The awesome scale of Star Trek: The Motion Picture is palpable — from the presence of the enormous ships and powerful, all-encompassing adversaries to the many thoughtful cues placed throughout the mix. Panning between the speakers is seamless and the experience is more immersive for it, especially when the energy weapons seem to assault us from all directions. Just as important, but perhaps less obvious, is the exquisite balance of this new mix, carefully conceived to keep dialogue clear and present even as Jerry Goldsmith's sweepingly romantic music peaks and swells. The iconic score is also accessible via an isolated track.
In addition to an excellent legacy commentary from Wise, Goldsmith, and the aforementioned visual effects maestros, there's a brand-new audio commentary by the three gents most responsible for this upgrade: producer David Fein, restoration supervisor Michael Matessino, and visual effects supervisor Daren Dochterman. (Be sure to check out Star Trek: The Motion Picture - Re-Energizing a Sci-Fi Classic for our exclusive interview with the trio, which documents their noble efforts.) They are recorded together and their in-depth knowledge and willingness to share it combined with their unbridled love and enthusiasm for the movie make this truly one of the best commentaries I've ever heard. In addition to those on-disc extras, there is a second platter, a 1080p Blu-ray that amalgamates new and old. The old is essentially a complete archive of all of the features from editions past, while the new kicks off with an outstanding eight-part documentary before segueing to deleted scenes, original costume and effects tests, and a collection of computer-animated graphics for the many screens on the Enterprise bridge. There is no HD Blu-ray of the movie in this particular package and the 1979 theatrical cut is not supplied but a digital copy code is tucked inside.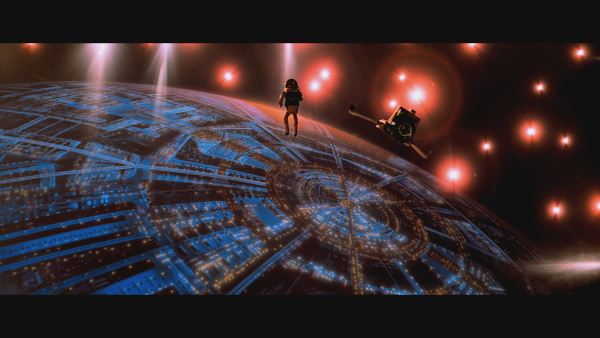 If there's a single sin that might still hinder Star Trek: The Motion Picture from the embrace of modern audiences, I would say it's an occasional over-reliance upon languorous shots of admittedly masterful special effects, sometimes intercut with wide-eyed reactions from actors imagining what they're looking at. Taken in the context of its era, however, and viewed as a supercharged realization of Gene Roddenberry's optimistic vision of the future, it's a wondrous and satisfying journey, now more than ever: No detail has been overlooked for the 4K Director's Edition, proof that a movie can achieve its full potential decades after its release.
Ultra HD 4K Blu-ray
Studio: Paramount, 1979/2022
Aspect Ratio: 2.39:1
HDR Format: Dolby Vision, HDR10
Audio Format: Dolby Atmos with TrueHD 7.1 core
Length: 137 Mins.
MPAA Rating: PG
Director: Robert Wise
Starring: William Shatner, Leonard Nimoy, DeForest Kelley, Nichelle Nichols, Stephen Collins, Persis Khambatta
A malevolent cloud of unknown origin is destroying everything in its path, and the seasoned crew of the Starship Enterprise must reunite if there's to be any hope of saving the deadly entity's next target — Earth. Taken by itself,