Time Bandits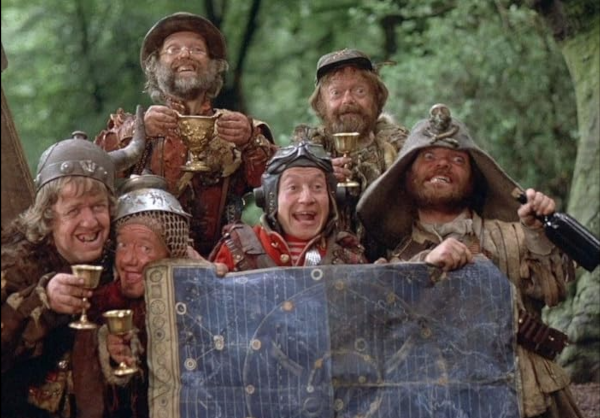 Time Bandits is a time traveling adventure set in an off-kilter world that is director Terry Gilliam's signature. A frenetic story that skips through various vignettes, it follows a young boy drawn into a journey with a group of renegade dwarves who use a special map to travel to different periods in time and steal treasures. In hot pursuit of the dwarves is the Supreme Being (Ralph Richardson) from whom the map was stolen.
During their journey, the time travelers cross paths with Napoleon (Ian Holm) who is suffering a severe case of ennui, the powerful King Agamemnon (Sean Connery) and a surprisingly snooty Robin Hood (John Cleese). They even have an encounter on the ill-fated Titanic. But famous historical figures and moments aside, the visual presentation of Time Bandits, its underlying commentary on the hypocrisy of the bourgeoisie, and the dark side of technology are what hold the film together. The main storyline of the pursuit by the Supreme Being to recover the map plays a secondary role to the hyperactive energy and witty dialogue delivered wonderfully by the star-studded cast.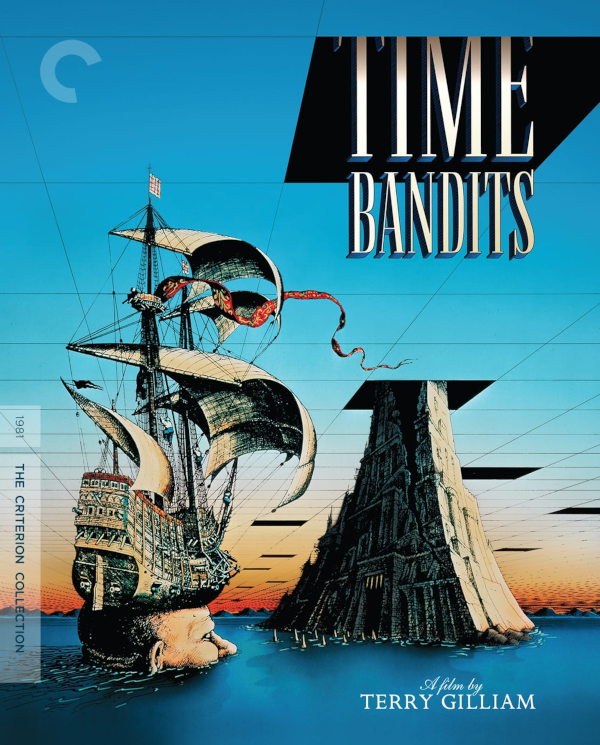 Criterion Collection presents a 4K restoration of Time Bandits that was overseen by Terry Gilliam and scanned in 4K from its original 35mm camera negative. On the 4K Ultra HD disc, the film is presented at 1.85:1 HEVC 2160p with Dolby Vision HDR encodement and HDR10 metadata showing a MaxLL of 1000 nits and MaxFALL of 911 nits. There is thinly layered, filmic granularity that brings an ample amount of crisp detail and texture to the proceedings. The image is clean without being smooth and the Dolby Vision coding provides three-dimensional pop to flames and reflections on surfaces.
Time Bandits was originally exhibited in theaters in Dolby Stereo. Here, we get a straight stereo mix remastered in 24-bit from the 35mm magnetic track, presented in LPCM 2.0. The sound is weak, even given that this is an audio mix from a 1981 film. High frequencies are a bit shrill, the midrange and low-end sounds are anemic, and the mastered volume is exceptionally low. I had to increase the volume to 8 dB over my usual listening levels. On the plus side, the sound mix offers wide stereo imaging and intelligible dialogue.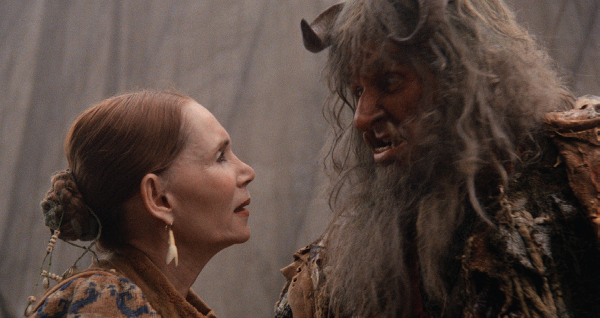 The Criterion Collection includes the usual slate of compelling bonus features, including a 1997 audio commentary featuring Gilliam, co-screenwriter and actor Michael Palin, and actors John Cleese, David Warner and Craig Warnock. There is also an essay by David Sterritt on the reverse side of a fold-out map poster, among other extras.
4K ULTRA BLU-RAY
STUDIO: Criterion Collection, 1981
ASPECT RATIO: 1.85:1
HDR FORMAT: HDR10
AUDIO FORMAT: English LPCM 2.0 Stereo
LENGTH: 116 mins., PG
DIRECTOR: Terry Gilliam
STARRING: Sean Connery, Shelley Duvall, John Cleese, Ian Holm