The Super Mario Bros. Movie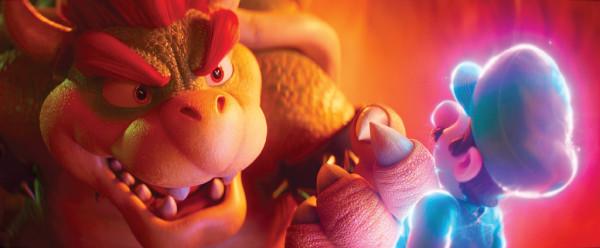 The Super Mario Bros. Movie is based on the popular '90s video game series and tells the story of a pair of Brooklyn plumbers who also happen to be brothers: brave Mario and the more reserved Luigi. When we meet them, Mario and Luigi are trying to find ways to keep their struggling plumbing business afloat. While exploring the city's sewer system, they stumble across the secret entrance to the Mushroom Kingdom, a magical place where they will discover the adventure of a lifetime. Along the way we'll encounter a host of familiar, lovable characters, all of whom will have to band together to defeat the power-hungry villain, Bowser.
I never seem to grow tired of animated family entertainment and, after hearing positive feedback on this film, I was all in for the chance to review it. It is a wonderfully spun adventure that teems with clever expression, opportune social commentary and resonant messages that speak to the bonds of friendship and brotherly love that hit home without mawkishness. I enjoyed the numerous references to the classic Nintendo game as well as the popular music of its time, both adding depth to the damsel-saving quest.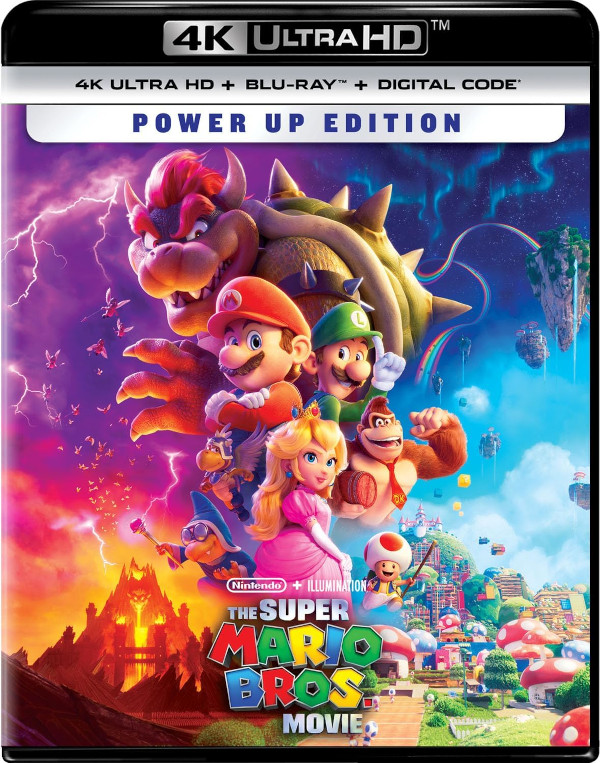 The narrative can be a bit trite and perhaps more than a little corny, but it doesn't strive to be anything more than an amusing romp. I found its slapstick, situational humor and heartwarming sentiment to be delightful. While not among my favorite animated films, I had a good time with The Super Mario Bros. Movie.
The differences between the 4K and 1080p versions are appreciable, as there is an increase in fine texture, especially in the physical makeup of the characters and the backgrounds. The image has excellent visual pop via the expanded color gamut and the high dynamic range which draws out the film's varied chromatic palette and use of contrast. Whites are gradational and bright and the monochromatic grays, blues, and blacks featured in the sequences with limited lighting are multi-staged and dimensional in appearance.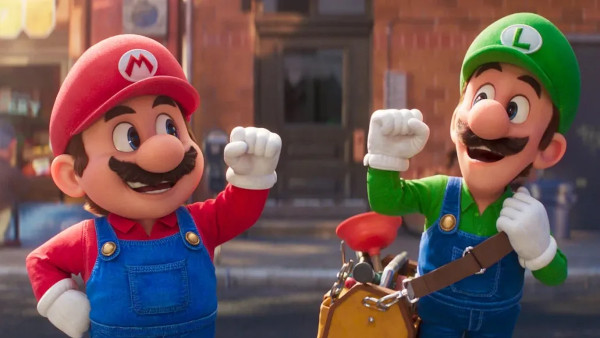 The Dolby Atmos sound is moderately active with respect to its use of the height channels, which was a bit disappointing. In general, the mix effectively places cues throughout the soundstage. Dynamic range and bass are adequate but underwhelming. I wouldn't regard this a commanding Atmos listening experience, but it gets the job done.
Bonus features include a six-part "making of," cast interviews and a pair of fun featurettes in addition to a singalong lyric video. An HD Blu-ray disc and a Movies Anywhere digital copy code complete this set.
ULTRA HD 4K BLU-RAY
STUDIO: Universal, 2023
ASPECT RATIO: 2.39:1
HDR FORMAT: HDR10, Dolby Vision
AUDIO FORMAT: Dolby Atmos with TrueHD 7.1 core
LENGTH: 93 mins.
MPAA RATING: PG
DIRECTOR: Aaron Horvath, Michael Jelenic
STARRING: Chris Pratt, Charlie Day, Anya Taylor-Joy, Jack Black, Keegan-Michael Key, Seth Rogen, Fred Armisen