The Longest Yard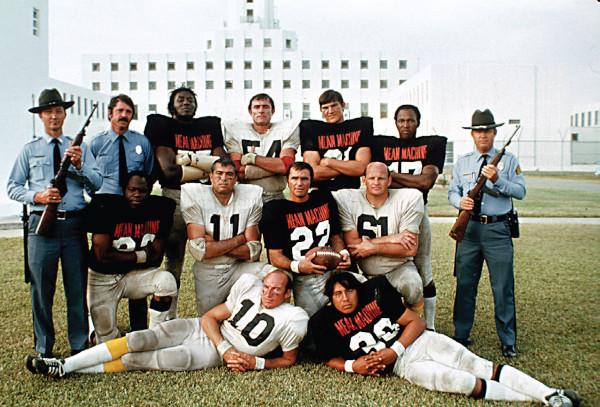 Some sports movies are simply about baseball, boxing, hockey or whatever, while others manage to be about something else, and maybe even something more. Such is the case with The Longest Yard, which adds layer upon layer of subtext to the game of football until we can't help but feel deeply invested in the final score.
Screen legend Burt Reynolds stars as Crewe, a disgraced former quarterback who's been shrugging his way through life, until he finds himself behind bars with a nasty head guard, a self-important warden and a yard full of inmates who universally resent the hell out of him. He reluctantly agrees to assemble a bunch of his fellow convicts into a ragtag team for an exhibition game against the guards, in exchange for special privileges and early parole. Yet along the way, Crewe discovers a nobility he never had before, giving his men something to fight for and ultimately facing the most difficult choice of his life. Director Robert Aldrich, known for works like The Dirty Dozen and Kiss Me Deadly, imparts ample humor and a real darkness that further elevate this film as one of the greatest sports dramas of all time.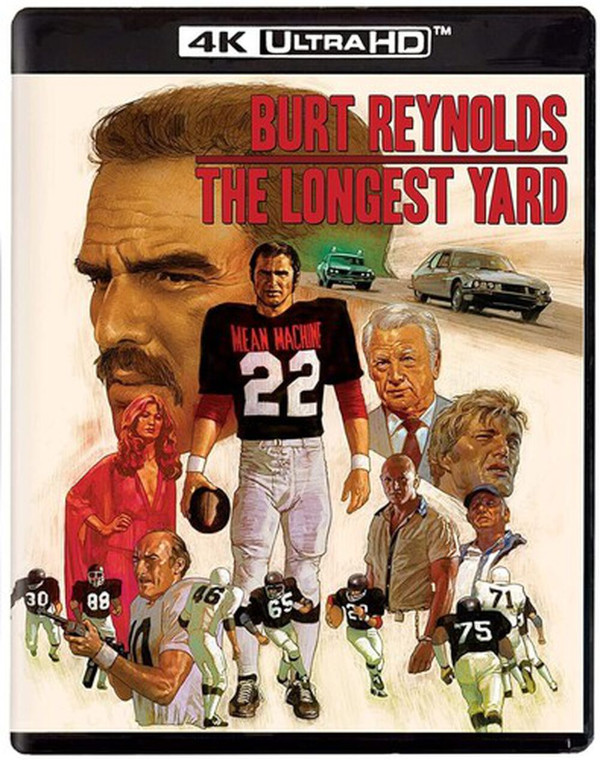 Kino Lorber Studio Classics has remastered The Longest Yard from the original camera negative, and we are treated to well-preserved, natural-looking grain across the 1.85:1 frame. Shadows and darker backgrounds are agreeably resolved, while the unforgiving Georgia sun might set us to sweating on the couch in sympathy. Fine details are maintained as well, including the small imperfections introduced in the split-screen sequences, owing to the additional film processing required, while the texture and weave of suits and uniforms are readily visible. My kind words notwithstanding, this is not a pretty movie nor is it a good choice to show off your system, rather a fine upgrade that allows us to better enjoy a '70s classic.
The DTS-HD Master Audio 2.0 is as clear and dynamic as we could realistically expect, sufficiently conveying the action, whether it's a car chase early in the film, the violent hits on the gridiron, or the roar of the crowd at the climactic game. Dialogue is always dependably legible. Of note, KLSC has opted not to provide Paramount's DVD-era 5.1-channel remix here.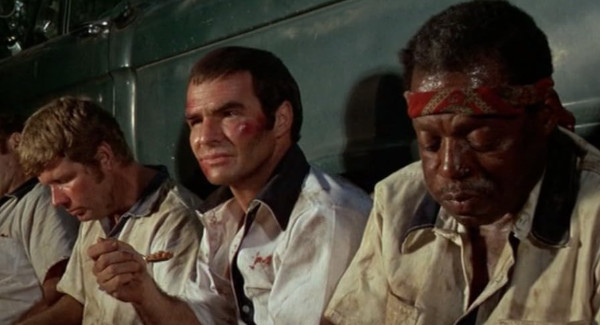 Two terrific commentaries grace the 4K platter, an archival track with Reynolds and producer/co-writer Albert S. Ruddy plus a new one from a pair of critics/Aldrich experts. The commentaries are repeated on the included HD Blu-ray, where we also find a couple of worthwhile featurettes with some familiar faces.
ULTRA HD 4K BLU-RAY
STUDIO: Kino Lorber Studio Classics, 1974
ASPECT RATIO: 1.85:1
HDR FORMAT: Dolby Vision, HDR10
AUDIO FORMAT: DTS-HD Master Audio 2.0 LENGTH: 121 mins., R
DIRECTOR: Robert Aldrich
STARRING: Burt Reynolds, Eddie Albert, Ed Lauter, Michael Conrad, James Hampton, Bernadette Peters