Rocketman
Rocketman
does, but given the larger-than-life nature of its titular subject, Sir Elton John, the movie's storytelling trajectory makes perfect sense. Director Dexter Fletcher's unabashed commitment to occasionally mirroring those classic MGM musical moments of yore—with Elton's full blessing, of course—succeeds with much audio/visual aplomb.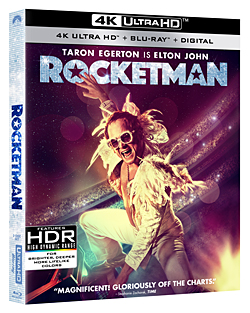 Taron Egerton is beyond spot-on in his portrayal of "Elton Hercules John" (as he announces himself more than once) and is equally adept at delivering subtle character work as he is at expressing the man's requisite flamboyancy. Not only that, but Egerton supplies many clever vocal choices for numerous EJ tracks throughout the film, lending added nuance to songs both a cappella and band-accompanied.
As one might expect, the Ultra HD disc's broader color palette benefits the visually stunning, spare-no-expense set design of the various aforementioned musical numbers, whether they take place at a raucous neon-drenched carnival or on a well-populated suburban side street. (Apparently, the other main requirement for these quite-lavish sequences is that they all had to take place on damp, reflective pavement, regardless of actual weather conditions.) The finer details are well in evidence too, such as the Fanta-orange flares on a sparkling, horned-and-hooded zip-up jumper worn by John or the spattered flecks of mud on the front-grille wings and passenger doors of the vintage Land Rover that delivers Elton and his lyric-writing partner Bernie Taupin (a quite game Jamie Bell) to their newly shared London flat.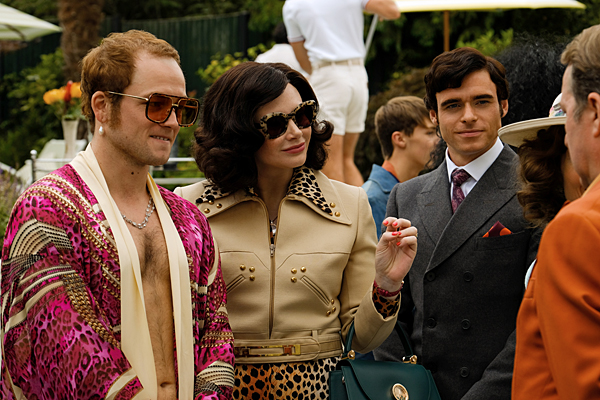 The Dolby Atmos mix was put in the ever-capable hands and ears of Giles Martin, who's long proven his mastery of the form with a score of mind-boggling Beatles Atmos mixes. Especially riveting is the 360-degree aural assault of the sneeringly aggressive "Saturday Night's Alright (For Fighting)." Layered horn accents infiltrate from all angles, while tambourine and string accompaniment nestles in the rear channels as it should. But be forewarned—the low-end acuity of your subwoofer will most decidedly be put to the test during the "A Day in the Life"-like blast-off crescendo of "Rocket Man," about 81 minutes into the proceedings.
Rocketman soars further with 75 minutes of deep-dive extras, including four extended musical numbers, 13 lyric-captioned singalongs, and in-studio interplay amongst Egerton, Martin, and John. Seven additional extras are exclusive to Apple TV and other digital-only platforms, which seems unnecessarily exclusionary. Even so, Rocketman accurately reflects the unapologetic verve of Elton John, a man who's weathered great success and abject failure without regret and is still standing better than he ever did, all these years later.
ULTRA HD BLU-RAY
STUDIO: Paramount, 2019
ASPECT RATIO: 2.39:
HDR FORMAT: Dolby Vision
AUDIO FORMAT: Dolby Atmos with TrueHD 7.1 core
LENGTH: 121 mins.
DIRECTOR: Dexter Fletcher
STARRING: Taron Egerton, Jamie Bell, Richard Madden, Bryce Dallas Howard, Stephen Graham
Few biopics could get away with recurring nonlinear narrative beats the way