Remaster Class: Elton John: Goodbye Yellow Brick Road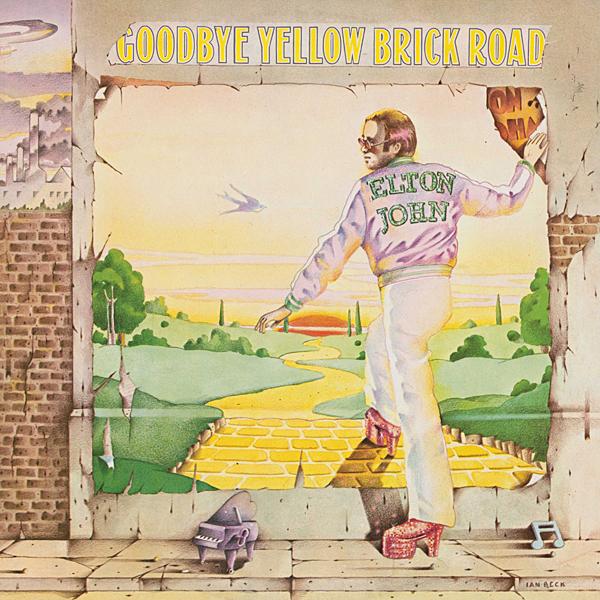 Elton John was in the zone. The piano prodigy and his songwriting partner Bernie Taupin were in the midst of an almost decade-long creative mindmeld, and October 1973's
Goodbye Yellow Brick Road
was the apex of their collaboration. The initially unintended double album's 17 songs covered the gamut from nostalgic reverie for days gone by (the title track, the indelible "Candle in the Wind") to pumped-up '70s-style electric-boot rockers ("Bennie and the Jets," "All the Girls Love Alice"), and everything in between.
And oh, what a listening experience it was—and still is. My original 1973 MCA 2LP Brick Road set, which is in similar condition to my first wax copy of The Who's Quadrophenia (discussed here), has seen somewhat better days. For one thing, ringwear is hard to avoid with older double LPs I obtained before getting more meticulous about proper sleeving and shelving. However, I do have a 2014 Mercury/UMC 2LP reissue in hand, which does a fine analog job when- ever I want to cue up piano-centric ballads like "This Song Has No Title" and "Harmony."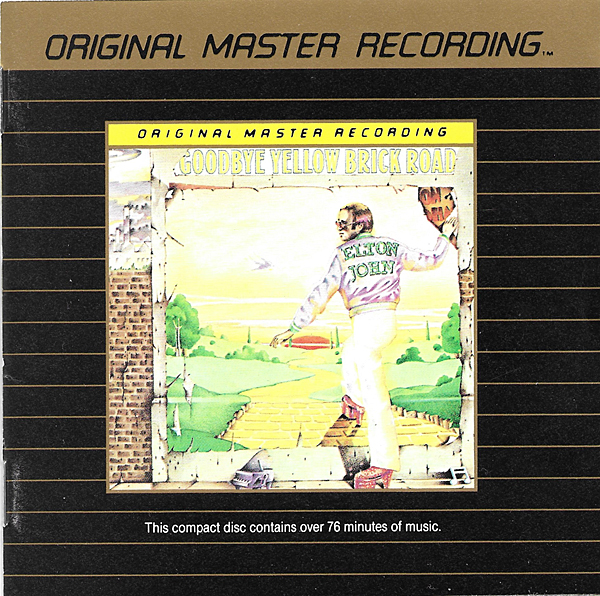 As for the digital realm, I'll only mention the 1984 MCA Redbook 2CD set in passing, just to play nice. Those of you prone to the 1990s-era Mobile Fidelity sonic universe will find the 1993 Ultradisc more to your liking, though it does assign all 17 tracks—which collectively clock in at an envelope- pushing 76:20—onto one CD.
Once the anniversary Brick Road reissues started coming, however, parent company Universal sure did them right. For starters, 2003's 30th anniversary Rocket/Island collection is spread across 2 SACDs and features four bonus tracks. A decade later, the 40th anniversary 2CD Rocket/ Mercury/UMe package upped the ante to include a second disc of nine covers (The Band Perry's "Grey Seal" is a standout) plus nine live tracks. If you kept the yellow hype sticker—an absolute collectors must, btw—you'll find it has an interesting typo: "Contains 9 love [emphasis mine] tracks from Elton's legendary 1973 London Christmas concert & much more." Of course, they meant live there—and said live tracks are indeed quite worthwhile, especially "Rocket Man"—so I suppose love would be considered somewhat of a Jamaican Jerk-Off slip up, in this particular case.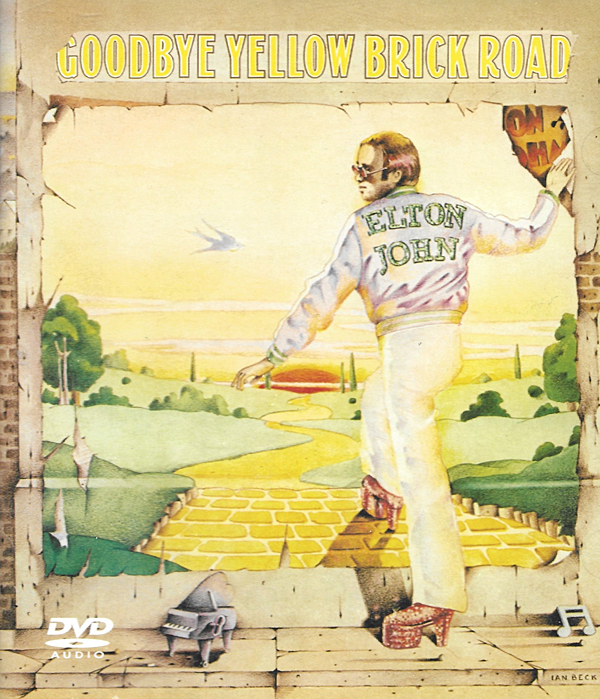 Brick Road was rightly brought into the 5.1 realm via both the aforementioned SACDs in 2003 and the Rocket/Island/Mercury DVD-A in 2004. The surround was "directed and mixed" by Greg Penny, who also did 5.1 for five other prime '70s-era Elton John releases. "I was terrified when I first played my initial surround mix for Elton," Penny told me. "He sat there for over an hour listening to it, and it was a revelation to him. After we got to the end of the last track I played, 'Candle in the Wind,' he just turned to me and said, 'It's incredible. Do whatever you want to do with the rest of it.'"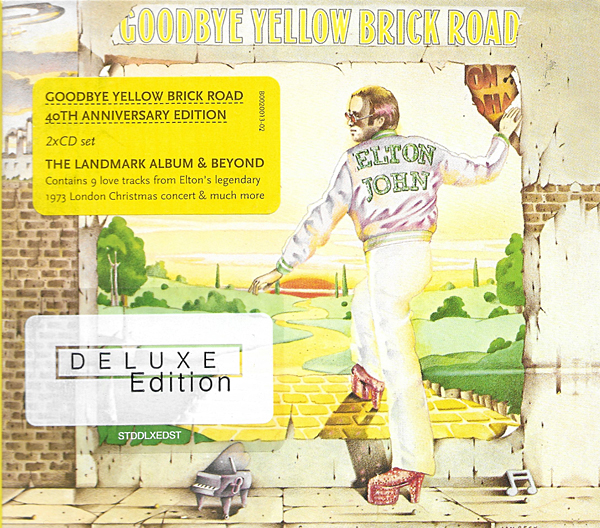 For my ears, I much prefer Mercury/UMC's High Fidelity Pure Audio Blu-ray Brick Road from 2014, which offers Penny's stellar surround mix in 24-bit/96kHz DTS-HD Master Audio 5.1. I could spend this entire column solely on the absolute majesty of Penny's work on the album's 11-minute opening opus, "Funeral for a Friend/Love Lies Bleeding," a combined track I often deployed to demo systems at CES in Las Vegas. Suffice it to say the volume dynamics of David Hentschel's ARP synthesizer intro rise and fall like an aural tidal wave for 5:52 before Sir Elton even sings his very first line, "The roses in the window box." And don't get me started on Davey Johnstone's full-channel electric guitar assault on "Saturday Night's Alright for Fighting." (Alright, do get me started.)
Naturally, I expect that, two years from now in 2023 when Goodbye Yellow Brick Road intersects with its 50th birthday, Universal will pull out all the stops to produce a lavish box set containing upgraded wax, scores of bonus cuts and outtakes, and—fingers crossed—Greg Penny having been granted the honors of remixing the album in Dolby Atmos. Until then, my chosen listening future lies with Blu. Brick Road 5.1 harmony and me, we're pretty good company.