Putting the Home in Home Theater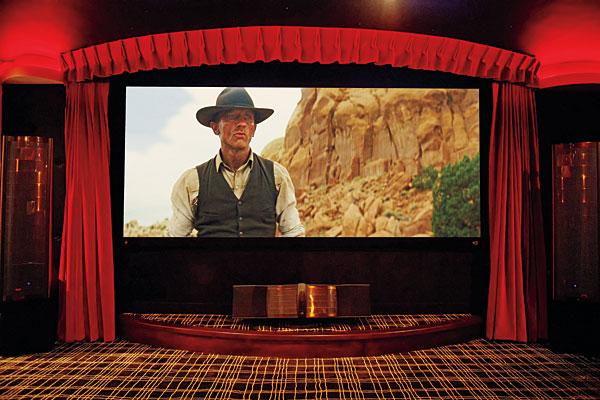 This dedicated home theater creates a warm and inviting atmosphere where you can enjoy a glass of wine by the fire. It was built out as a retrofit in the family room, and the main feature the homeowner wanted to keep intact was the fireplace. He also wanted a wet bar and wine rack to create a homier environment.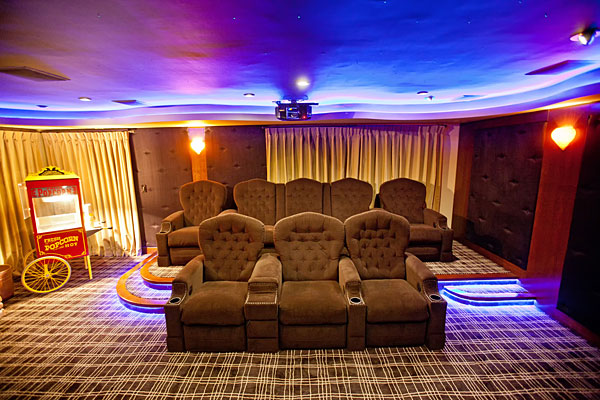 According to Peter Pantis of Audio Video Zone, "We had two directives of equal importance: The theater had to be inviting for family and friends, yet deliver state-of-the-art audio and video." That said, both Pantis and the homeowner wanted to avoid the pitfalls of multipurpose rooms. These types of rooms are subject to excess ambient light, which affects the image and creates a very different atmosphere. This room demonstrates a nice fusion of a dedicated theater that is still a social space.
The fireplace was located on the shorter wall (17 feet), which made it an easy decision to put in a 133-inch, 2.35:1 cinemascope screen from Screen Innovations on the taller, 23-foot wall. The screen is coupled with a JVC DLA-RS60 3D projector that has a motorized Panamorph lens and a Lumagen video processor.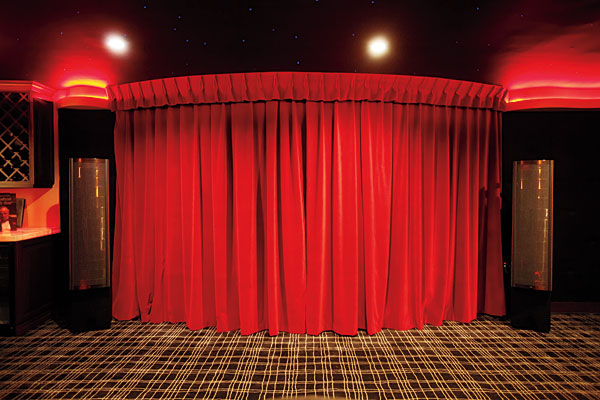 What's immediately striking in this quasi-traditional-styled theater is the brightly colored LED lighting placed in the soffit, riser steps, ceiling, and underneath the bar counter. GreenTex LED installed the lighting, and Converging Systems provided the controllers. The controllers are compatible with the URC MX6000, which controls the entire room, including drapes, lighting, and A/V gear. In fact, the URC remote's docking station is hidden inside the swivel arm in the homeowner's personal chair. Couture Curtains custom-designed the plush, red drapes, and SM Automation designed the motor drive and track.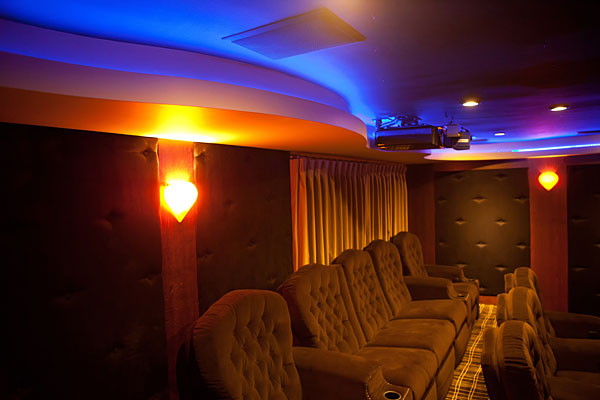 The audio is equally as impressive with a Krell seven-channel amp driving MartinLogan speakers. A Yamaha RX-A3000 A/V receiver is used strictly as a pre-amp for the various sources, which includes an LG 3D Blu-ray player with Internet access, widgets, and streaming services; an Apple TV, plus an HTPC that runs an 8TB NAS that stores HD movies.
The most challenging architecture element in the room was the soffit behind the seats. It couldn't be removed because there is an air duct and pipes running through it. Sorina, the interior designer on the project (and Pantis' wife), transformed it into a wavy soffit and extended it around the room. This helped connect the fireplace to the rest of the area.
Grab a glass of wine, pick a seat in one of the two rows of cushy chairs from Fortress Seating, and enjoy the movie.
Contact: Audio Video Zone, (949) 350-6983, avzusa.com