Passion and Patience: Delays and Budget Didn't Deter This Homeowner
Back in 2001, James Hollingsworth got the home theater bug when a sales consultant asked a very simple question: "Do you want a TV, or do you want a home theater?"
During what he thought would be a routine new-TV purchase, James was introduced to possibilities he never imagined. He thought the 65-inch TV he was watching looked impressive until the sales guy dropped down a 100-plus-inch projection screen.
"It was like telling a computer nerd, 'Do you want dial-up or DSL?'" James recounts. "I was hooked, and all I could think about was, How do I get this room into my house?" He soon started making plans with a contractor to create an addition to his home. Then 9/11 hit, work was scarce, and he had to put his plans on hold.
In 2009, the Hollingsworths had a new home built that included space for James' long-delayed dream theater. Altering the builder's original plans, he had a 23 x 18–foot space built out and raised the ceiling to 9 feet with a 10-foot, 5-inch tray ceiling. He had them add a riser for a second row of seating, too.
Still, the room sat empty for a year while the Hollingsworths decorated the rest of the house. Then in 2010, James decided on his projector and screen combination, a Sony VPL-VW1000ES projector paired with a Carada 150-inch 1.3-gain Brilliant White screen. He also bought Berkline theater seating for the back row and a Natuzzi couch for up front. He updated an old preamp with the Anthem D2v and replaced his DVD player with an Oppo BDP-83 Blu-ray player.
"When you have champagne taste and a beer budget, you have to have some patience, buy a little at a time, and be willing to do some of the work yourself," James says. So it wasn't until last year that he was able to remodel the room with stained wood walls, fabric acoustic panels that he inset into the walls, and a fiberoptic star ceiling (scroll to the end for a photo of the room before the wood walls and star ceiling were added).
He added a TV over the equipment rack, which is located outside the viewing room, making it easy and convenient to schedule DVR recordings or preview content playing in the theater.
James and his wife made the acoustic panels by wrapping fabric around Owens Corning 703 fiberglass and installing 26 panels into the insets of the walls and soffits. A carpenter did the majority of the woodwork, but James did most the trim work plus the decorative wooden boxes and the corner and cove modelings. He performed about 75 percent of the electrical work himself, too. James figures he put in about 600 hours building out the room, and his wife put in 200 hours. The whole remodel took about three months.
This year he went all out to maximize the audio performance by upgrading to McIntosh amplifiers: three MC601 monoblocks for the LCR array and an MC452 for the surrounds. He also replaced some of his Aerial Acoustics speakers with flagship models. James went from a 5.1- to a 7.2-channel system, replacing the front 7Bs with 20T V2s, upgrading to the CC5 for the center, and adding four SR3s for the surrounds. (His previous surrounds were from a different brand.) He added a second SW12 to get the dual-sub action he'd always wanted.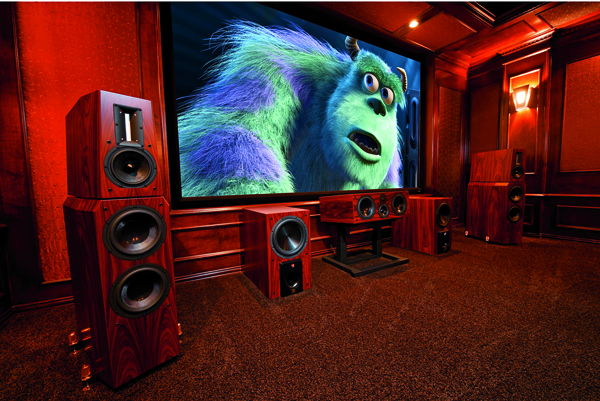 The game room is presently being remodeled and will feature two light boxes to showcase movie posters and a marquee sign reading, "The Galaxy Theater." He already knows a new projector and DAC are coming up soon.
"I have gotten so much joy from this hobby that I just want to see if I can make the experience even better," James concludes. "The additions this year absolutely exceeded my expectations in audio performance. I've fallen into the home theater trap, and all I can think about is how I can take my theater to the next level."