Paradigm Premium Wireless Multiroom Audio System Review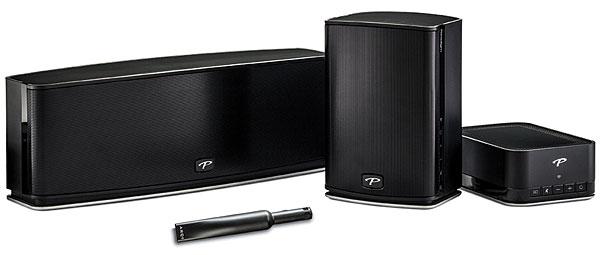 PRICE
$1,897 as reviewed
AT A GLANCE
Plus
Excellent build and sound quality
192-kHz/24-bit support over Ethernet
Anthem Room Correction with included mic
Minus
Limited number of streaming services
Single orientation for PW speakers
Components can't be powered on via the app
Play-Fi control and proximity limitations
THE VERDICT
Limited streaming options and a few limitations for its Play-Fi multiroom platform are the only things that hold back this beautifully designed system with top-notch room-correction technology.
At last count, 1.34 bazillion established companies and crazed startups were designing wireless streaming audio systems. The latest company to toss its Wi-Fi dongle into the steaming streaming pile is Paradigm. Founded in 1982, the Toronto-based speaker company is no starry-eyed Kickstarter sensation hell-bent on streaming multiroom audio using a Raspberry Pi, an Altoids tin box, and numerous references to the Internet of Things. In fact, as well known as Paradigm is, the company should know better than to sully their engineering hands (they actually do build a lot of their speakers by hand in Toronto) with the interference-ridden mishmash of 802.11g/n standards, amplified speakers, audio codecs, sample rates, apps, and "What's the best router to use?" On the other hand, maybe Paradigm—with its new Premium Wireless series—has actually succeeded in building a premium, wireless, streamingaudio system.
Share and Share Alike
With any streaming audio system, there are two constituents to consider: the hardware components and the software, used by the hardware and/or apps for control, communication, and the all-important user interface. In this case, Paradigm is using the DTS-owned "open" Play-Fi interface. But let's look at Paradigm's hardware first.
The Premium Wireless series includes three products. The PW 600 and PW 800 are all-in-one, amplified sound systems. The driverless PW Amp is a wireless, streaming-oriented, integrated zone player/amplifier. (A fourth item, the line-level-only PW Link, was on the way at the time of my evaluation. It's essentially a zone player/preamp designed to turn an existing sound system into a room or zone.) As with all such systems, the components within the Premium Wireless series have plenty of design features and functions in common. For starters, they all include Wi-Fi connectivity (duh…), both 2.4 gigahertz and 5.0 GHz (802.11 g/n). The components also support high-resolution audio files up to 192-kilohertz/24-bit—although that capability is only achievable when using the device's wired Ethernet connection.
All three PW models have a line-level RCA subwoofer output and can detect a connected sub. When they do, each component—including the PW Amp—will automatically redirect low-frequency content from the main speakers to the sub. Each one has a stereo analog audio input (3.5mm for the 600 and 800, RCA jacks for the Amp). You can select the analog input by pressing the input button manually, or any of the components can be configured to automatically select the analog audio input when the Play-Fi app is turned off. Connected to the analog audio output of a TV, for example, the 600 or 800 becomes a high-class, two-channel soundbar when not being used for streaming audio. The Amp and a pair of attached speakers make for the possibility of an even better step-up in TV-audio quality.
All the PW components share distinctive and quite classy industrial design elements, too, such as a slightly offset aluminum baseplate that makes the speaker's cabinet appear to float a fraction of an inch above the plate. The 600 and 800 have fullfront, black metal grilles and glossy wood-veneer tops. The Amp's top cover has a racetrack (or cribbage board) of ventilation holes around the outer perimeter, with a solid black rectangle in the middle holding it all together.
The baby of the breed, the compact PW 600 ($599) is a vertically oriented, two-way, bookshelf-style speaker, with two 1-inch domes and a single 5-inch cone. There are five control buttons and a status LED located on the cabinet's lower right side. Without knowing otherwise, you'd think the 600 was a typical, upper-end passive monitor. Unlike most monitors, though, the 600 includes 200 watts of Anthem Class D amplification. If you want to go all out, you can configure two 600s as a $1,200 screaming, streaming stereo pair.
The PW 800 ($799) is a horizontally oriented, two-way, tabletop speaker that acts as a stereo sound system, with two 1-inch tweeters and two 5-inch bass drivers. It's only 7 inches tall, but the 20-inch width means you'll need plenty of cabinet or shelf space. Despite the dual woofers and 230 total watts from Anthem Class D amps, Paradigm specs the PW 800's low-frequency extension at 39 hertz, which is only one hertz lower than that of the PW 600. (A word of wisdom: If one hertz, two won't feel any better.) Other factors being equal, the 800 is likely to have more output capability and/or lower distortion at those frequencies.
The stocky, two-channel PW Amp ($499) is surprisingly deep by modern streaming-gadget standards at 8.63 inches, but it's quite diminutive when compared with most traditional power amplifiers. The height (3.13 inches) and width (5.75 inches), however, make the PW Amp perfectly suited for mounting up to three-across in a standard A/V rack. (Middle Atlantic Products conveniently offers custom faceplates for rack-mounting PW Amps.) As with the other components, inside the Amp is an Anthem Class D amplifier. This one is rated at 2 x 50 watts RMS into 8 ohms.
That's all pretty standard streaming-audio system stuff. However, there's a feature that, while common to all the PW series components, is quite uncommon in other streaming systems: Every Paradigm PW box includes a calibrated USB microphone. That's because each Premium Wireless model is designed to take advantage of a version of the highly regarded room acoustic-correction technology from Paradigm's electronics-only sister company, Anthem. Naturally enough, it's called Anthem Room Correction (ARC).
ARC isn't some cheesy, five-band equalizer with a seizure-inducing array of flashing lights, the likes of which you'd expect to find in a tricked-out 1976 Chevy Impala. (I know. I used to own one.) As we've reported in earlier reviews of Anthem's pre/pros and AVRs (for which ARC was developed), when it comes to levels, crossover settings, equalization, and the rest of the nitty-gritty details concerning what's best for the particular speakers in the particular acoustics of your particular room, ARC is the real deal.
Calibrating a PW speaker requires running "ARC for Play-Fi" software on a Windows PC (or a Mac running Windows, which is what I used) with the USB microphone connected to the PC—not the sound system, as you might expect. The program searches the network for connected components, lists them, and prompts you to select the one to be calibrated. The software plays five test-tone sweeps through the unit(s), pausing between each one so you can move the mic to a different spot. ARC then cranks the heck out of the data and uploads the configuration file to the PW component. You won't need the computer again unless you move things and need to re-calibrate.
Anthem Room Correction routinely gets top-notch ratings, and even though ARC is slimmed down in the PW series, it's easy to hear why it's so well respected. Of course, the differences you hear will depend on the room, the sound system's location in the room, and your finesse with the measurement procedure. In very general terms, in my room, the bass got tighter (but not necessarily louder), the midrange gained clarity, and the highs became less aggressive and harsh without losing detail. One of the many cool things about ARC is that after you've completed the calibration process, you can print out a report containing graphs of the frequency response pre- and post-ARC
ARC de Triumphant
For those of us who are hip-deep in this sort of stuff, it seems only natural that you'd place your system where it'll sound best. "Normal" people don't always do that—especially in kitchens, bathrooms, and bedrooms, where speakers often get shoved to an out-of-the-way location. ARC can compensate for acoustically undesirable placement—within reason, of course.
To see what ARC could accomplish with a speaker in a stupid location, I placed the PW 600 on a stool in one corner of my office, partially under the desk. Prior to ARCification, with the 600 pointed into the room toward my chair, the poor thing sounded very bass-heavy. With a song like Carly Rae Jepsen's "Call Me Maybe," which is bass-rich to begin with, the 600 sounded like an overclocked bass generator. On John Gorka's "Writing in the Margins," the lower guitar strings continued to vibrate long after the song was over and Gorka had already packed up and headed home from the studio.
In the vocal range and higher, everything was brighter and sharper than it would have been in a more appropriate location. ARC calibration did an amazing job of curing most of those ills—most notably in the bass response, which tightened up dramatically. The vocals were more focused, and everything had a more defined presence.