Outlaw Model 975 Surround Processor Page 2
The other setup options are easy to configure and include assigning audio and video inputs for each of your source devices, adjusting any audio delays to correct any lip-sync errors (I needed 50 ms for Blu-ray playback), and deciding whether you want to use the Model 975's built-in video processing by setting it to Autoscale or to bypass the processing with Native. Analog signals won't be scaled before being output via HDMI without enabling Autoscale, so plan accordingly. According to the manual, analog signals will appear in their native resolution at the HDMI output when the unit is set to "Native" and will only be scaled to 1080P when set to "Autoscale." As you can see in the Video Test Bench section, the Model 975 performs admirably with its video processing, but if your display or source components have superior performance, then just set it to Native and forget about it.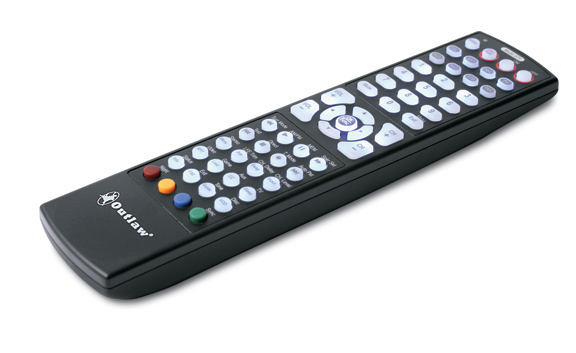 Since I received one of the first production units from Outlaw, it shipped with a temporary remote that offers basic functionality, although its range was extremely limited. The company will be shipping out the proper remote in early 2013, which will offer some universal functionality, an improved layout, an expected increase in range, and a backlight.
Let's Make Some Noise
With Iron Man 3 coming soon, my son and I decided to watch a double feature of the first two films. Iron Man 2 pits Tony Stark against a ruthless Russian physicist (played by Mickey Rourke) who's hell-bent on destroying the playboy billionaire. To say the DTSHD Master Audio 5.1 soundtrack rocks would be an understatement. One of my favorite scenes is during the opening of the movie when Stark prepares to leap from the back of a military aircraft as AC/DC's "Shoot to Thrill" fills the room. As the payload door slowly drops, you can hear fireworks exploding, and the superhero free-falls into the airborne pyrotechnic display.
My jaw literally dropped when I listened to this scene through the Model 975. Directional cues were seamless between the speakers with phenomenal imaging and deep bass. In fact, the Outlaw's midrange was more robust than my reference Integra 80.2 pre/pro. Not once did I find myself missing the Audyssey room correction software in my reference gear. Granted, my room is acoustically treated to deliver fairly balanced response even without room correction, so your mileage may vary depending on your circumstances.
Avatar in 3D was a hot commodity on eBay when it was a Panasonic exclusive title, but since it was released on Blu-ray in 2012, everyone can now enjoy the best 3D experience in his own home. One of my son's friends had yet to experience the movie, and I was eager to see how well the Outlaw would perform with the demo-worthy material. It didn't disappoint. The film's third act is one long demo scene, with plenty of action on screen that includes a plethora of discrete effects, a smattering of dialogue, and intense bass with James Horner's powerful score playing in the background. The Model 975 didn't break a sweat as bullets flew from speaker to speaker and the room shook from the intense action.
Music performance was just as impressive whether I listened to CDs from my Oppo BDP-95 or music files from my home server via a Squeezebox Touch. I couldn't distinguish much difference in the audio when I fed the Model 975 different delivery methods—analog, HDMI, or digital coax.
I wanted to see how well the Model 975 performed with two-channel music using Billy Joel's "An Innocent Man" in various formats—SACD, CD, and ripped FLAC files stored on my Home Server. The SACD sounded the best of all three, with superior imaging across the front soundstage. I had difficulty localizing the sound from my left and right speakers, which created that coveted wall of sound that we all seek from our systems. However, the CD and streamed FLAC files weren't disappointing at all. The stereo output delivered a solid experience with a robust midrange, crisp highs, and intelligible vocals.
Wrapping Things Up
Some may look at the Model 975's feature set and dismiss it outright, but they'll be doing themselves a disservice. The performance of this pre/pro far surpasses its $549 price tag. Seriously, if you want all the Internet goodies, spend the money on a Squeezebox Touch for audio, a Roku for video streaming, or virtually any Blu-ray player, and put some money into room treatments that will last a lifetime—you'll get a much better user experience than what most of the AVRs and pre/pros offer.
That's not to say the Outlaw is perfect for everybody. The Model 975 is limited to five source devices, and with only four HDMI inputs, I can see how a lot of users will need more when they start stacking up multiple game systems, a set-top box, and players for various disc-based formats. If you fall into this category, then you'll probably want to look for a system that offers additional inputs. Furthermore, if you already know room correction software makes a big difference in your room, then this may be a deal breaker as well.
Yet, despite its lack of bells and whistles or a multitude of connections, I still find myself mighty impressed with the Model 975. If you've thought that venturing into separates was beyond your financial capability, there's no excuse anymore. Pairing the Outlaw with a suitable amp—whether from Outlaw or another manufacturer that mates well with your speakers—you can get in the game for well under $1,500. Furthermore, Outlaw offers a 30-day money-back guarantee. So if you aren't satisfied with the product, the company will take it back and you're only out the shipping costs. What a bargain!