Oppo Sonica Wireless Speaker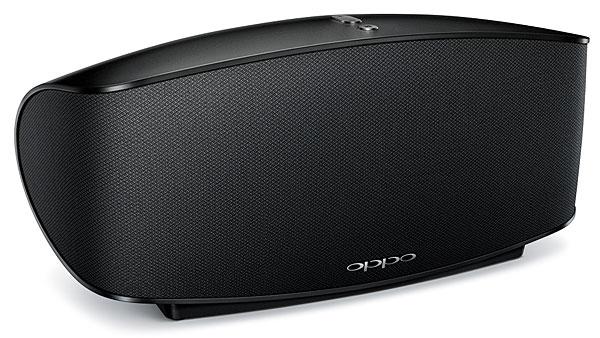 PRICE
$299
AT A GLANCE
Plus
Elegant styling
Top-notch build quality
Bluetooth and Wi-Fi streaming up to 192 kHz/24 bit
Remarkably full sound from a compact speaker
Minus
Can sound a tad bright
Not battery-powered
Rudimentary app
THE VERDICT
Oppo's Sonica is an elegant and versatile wireless speaker whose superb sound belies its small footprint.
As I waited in anticipation for Sonica to arrive, I was reminded of an old ad slogan: "When E.F. Hutton talks, people listen." It's kinda that way with Oppo. Over the past 12 years, the Silicon Valley–based company has built a stellar reputation with its best-in-class Blu-ray players and Top Pick–designated headphones and amp/DACs. I couldn't wait to see if Oppo had extended its golden touch to wireless speakers—a category with more than its fair share of duds. My expectations were high.
As I lifted Sonica out of the box, I was drawn to its sci-fi-esque '60s vibe—this speaker has style and a silky fit and finish that exudes quality. Oppo has gone out of its way to cover the bases: Sonica is DLNAcompliant and compatible with AirPlay in addition to supporting Bluetooth streaming and highresolution playback over Wi-Fi. It's also compact and flexible: Two Sonicas can be paired for stereo, and multiple speakers can be used in a multiroom setup—all controlled by the Sonica app, which lets you play the same music on all speakers, create speaker groups, or play different tunes on each speaker.
Putting its best foot forward, Oppo enlisted Igor Levitsky—the designer behind its outstanding PM-1 and PM-2 headphones—to design and tune its maiden speaker. A peek behind the grille cloth reveals a well-considered layout: A pair of 2.5-inch drivers flank a beefy 3.5-inch woofer whose output is bolstered by side-firing passive radiators, which are also designed to "cancel unwanted vibrations in the speaker enclosure." Each speaker is powered by its own custom-matched amplifier/electronic crossover, and total output is a generous 50 watts: 2 x 10 plus 30 for the woofer.
Setup was fairly straightforward. I connected to my Wi-Fi network (selecting the 5G band to avoid interference) and downloaded the Sonica app on my iPad. Next I activated my trial subscription to Tidal (which is preloaded on the app) and set Wi-Fi Streaming Quality in Tidal's Settings menu to Hi-Fi to ensure the best possible sound.
To account for speaker placement, room acoustics, and listening preferences, the app has four Sound Optimization presets and a Super Bass mode. You can experiment (as I did) or go to the Guide Me menu and select room size (small, medium, large), location (open space, against the wall, corner/countertop/bookshelf), and bass boost (on/off) to get a recommended preset. The app is a no-frills affair that could use a little polish and some tweaking: The screen, for example, doesn't rotate to a horizontal orientation—it's stuck in a vertical display mode.
Going Tidal
Skipping Tidal's Playlists, I went straight to Genres, selected Folk/Americana, and kicked back in my chair for some easy listening. I was immediately struck by the fullness and depth of Amos Lee's "Till You Come Back Through" (Spirit). Lee's soulful voice filled my 12 x 12-foot office in a most convincing way. I remained impressed while listening to a broad range of music—from Tony Bennett's soaring vocals on "Fly Me to the Moon" (1965's Songs for the Jet Set) to Beck's spunky and impeccably recorded "Where It's At" (1996's Odelay) to Regina Spektor's fresh and quirky take on George Harrison's "While My Guitar Gently Weeps (Kubo and the Two Strings soundtrack). I found Sonica to be a tad on the bright side, which could be a blessing or a (minor) curse, depending on the track.
Switching to Bluetooth, I opened Pandora on my iPad and immediately noticed a warbling character in the upper register that utterly destroyed solo piano (think George Winston). Adding insult to injury, the music would cut out every few minutes. Disaster! Oppo sent out a replacement unit right away, and although the sound no longer dropped out, the music was still plagued by wavering treble. Oppo determined that interference was causing the problem and sent a firmware fix that I uploaded via USB; the fix is now available to previous Sonica owners.
The patch restored my confidence in Oppo as I returned to Pandora and worked my way through a dozen or so handcrafted stations, stopping at "Undone" from Weezer's 1994 self-titled debut album. Although the sound wasn't quite as open or nuanced as what I heard on Tidal, I was captivated by the clarity of the song's trademark party chatter and how the multipart vocals remained distinct from the power-chord-backed chorus. Way at the other end of the musical spectrum, Karen Carpenter's contralto voice was appropriately sweet and velvety on "I Won't Last a Day Without You" from 1972's A Song for You.
I have to point out that I had a momentary scare when interference rendered the speaker unlistenable after I switched from hi-res listening via Wi-Fi to Bluetooth. Fortunately, I was able to correct the problem in a matter of seconds by "restarting" the speaker from the app's Advanced Settings menu.
Sonica is an elegant and versatile wireless speaker whose superb sound belies its small size. Assuming Oppo has permanently righted the wrongs I encountered during my weeks-long evaluation period that immediately followed the product's introduction, I have no problem recommending Sonica—a speaker more than capable of filling a room with music—and smiles.