One-Stop Shopping Experience
Nowadays an integrated home entertainment system is just as much, if not more, about the interior design as it is the technology. In fact, the most sophisticated custom installations reveal little to no technology to the naked eye, however, behind the walls and artwork, or hidden in the ceiling you just might find some amazing state-of the art sound and video gear.
Audiovisions recently turned their Lake Forest, CA. showroom into the ultimate Experience Center. Customers are not being sold on the cool products of the day but instead they are treated to a complete environment where form and function are far more relevant than what's behind the curtain making it all work.
According to Mark Hoffenberg, president of Audiovisions, "We have a very refined consultative sales process that we feel allows us to really hone in on what is important for our clients. With the introduction of our 2,500 square foot Experience Center we now have the ability to educate and explain how a system will look, feel and operate in the real world."
Visiting the Audiovisions Experience Center is not like going to a traditional store. You're not going to browse for your next TV or Blu-ray player nor are you going to bring anything home the same day. What the Experience Center does, is cleverly integrate the latest technologies with sophisticated acoustic and design details so all you experience are beautiful, yet highly functional, living spaces. You'll walk away with a greater understanding of what a fully integrated system "feels" like, the various types of design applications available to you, and what is involved in creating a customized system.
"The ability to clearly establish a clients expectations has resulted in continued growth of the company since the opening of the Experience Center in April 2009, in spite of the economy," says Hoffenberg. "Our intent was to provide a venue to demonstrate our Brand Promise of "Simplicity and Enhancement". We're able to provide a convenient and exciting way for our clients to see, touch, feel and experience technology that is elegantly integrated into a design-centric residential environment."
What seems to resonate most positively with customers is the simplicity of Audiovisions' proprietary User Interface, which is available on a variety of control system platforms. The Center also gives the sales staff an opportunity to demonstrate the importance of great lighting design and control, noise isolation and acoustics. Often these disciplines are not fully understood or confuse the client, yet when they experience the benefits firsthand, they instantly understand it's value.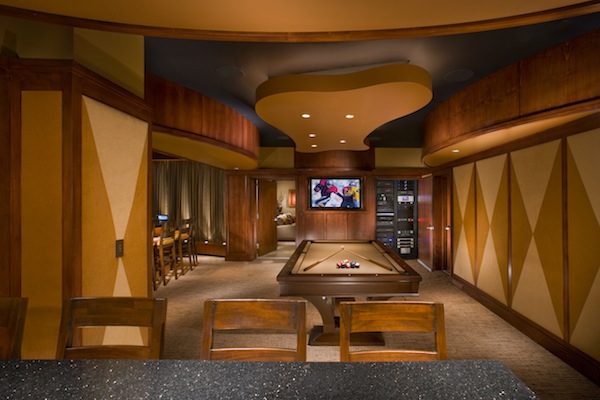 The Experience Center was a complete remodel, requiring demolition of the existing showroom. New permits had to be pulled and the infrastructure was a totally new design, requiring a good deal of construction and custom millwork for the cabinetry. Hoffenberg recounts that one of the more challenging parts of the project was the overall design since there were a number of individuals involved, each with slightly different visions. However, since that was no different than working with clients that had more than one decision maker, it prompted the idea for a new service, photorealistic 3D renderings. It provides the client with a visual representation of their theater and entertainment spaces, making it easier for them to make important decisions. It also allows the other trade partners to have an overall concept of the entire project.
Like the showroom, which is full of hidden technology that the client knows is there but can not see, there is more to the Audiovisions Experience Center than meets the eye. Behind the beautiful interiors is nearly 10,000 square feet of space where designers and engineers actually create the custom systems. Once clients get the complete facility tour and see what goes into these systems, they have a better idea of what's involved and fully appreciate the time, expertise, and cost required for a fully customized system.
When you walk into the center, you feel like you are walking into someone's home with an entryway, family room, an entertainment complex that includes a game room, sports bar and home theater, plus a kitchen, breakfast nook and a powder room with a Seura TV embedded in the mirror that is activated by a motion detector. When clients are curious about the inner workings, they are taken to the adjacent equipment rooms to see what runs it all.
Audiovisions features some of the top manufacturers in the business such as Control 4, Crestron, and Savant home automation systems, Cineak Theater Seats, Integra, Mark Levinson and Lexicon electronics, Revel, JLAudio, Sonance and Triad speakers, in addition to Sim2 projectors along with Screen Research screens, NuVision and Sony TVs, Lutron lighting, Kaleidescape media servers. A large hit with aesthetic conscious architects, designers and homeowners are the innovative flush mount systems from Trufig.
Providing a one-stop shopping experience, local design firms, architects, and builders bring clients directly to Audiovisions Experience Center because they now realize how important it is to get the systems integrator involved at the earliest stages of a project's development. "There has been times that after meeting with a member of our design team, the client changed their approach completely," says Hoffenberg. "By bringing us into the mix early on, the client is given far more flexibility and versatility in the creation of their entertainment areas. In most cases, they just don't know the options available to them in the early stages of construction that are not possible later on."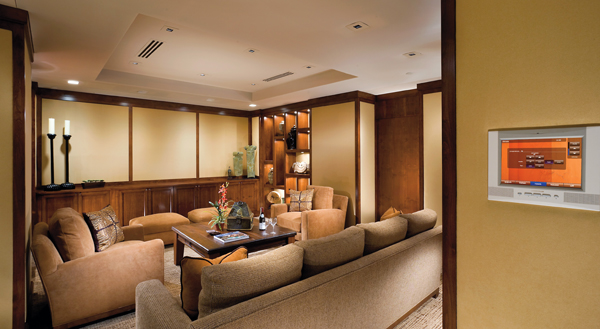 Like any project, the Entertainment Center required a full design and construction team including Rich Starley as the Interior Designer, Russ Berger Design Group provided the acoustical engineering, Martin van Koolbergen of KGM Architectural Lighting did the lighting design, Dan Luna customized the millwork and Marc Halaby did all of the painting and millwork finishes. Of course, Audiovisions employees did all of the design, documentation, installation, programming and integration.
The Experience Center is for the whole community and to that end, Audiovisions hosts major sporting events, movie nights, and tours for local colleges with Interior Design and Architecture programs. It's important for industry partners to stay ahead of the curve so educational events and seminars are commonly hosted here, too.
The folks at Audiovisions believe that education on topics such as electronics integration, acoustics, lighting control, automation and energy management raises overall awareness about the systems integration industry. "The facility tour is not the same for everyone," concludes Hoffenberg. "It is customized to each client to meet their particular desires and interests. As a small, boutique division of Best Buy, we are considered the Formula One racing team for the enterprise. The things we do today, while at the high end of the market, will eventually trickle down and provide exciting opportunities at the mass market level".
CONTACT INFO
Ted Taylor
Audiovisions
949-206-0606
www.avisions.com
info@avisions.com