Nellie McKay: 21st Century Renaissance Woman Page 2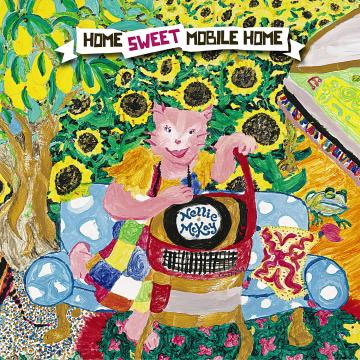 Visual arts: That's her painting on the cover of Mobile Home.
Renaissance woman, to be sure. Or, to put it another way: a "Harlem Holly Golightly" (Los Angeles Times) and "pop polymath" (WNYC) who stocks her "indie musical comedy" (Blender) with "sourball show tunes" (The New York Times), all making for a sort of "taxicabaret" (um, that would be me).

Of course, by definition, Renaissance people are supposed to be adept at both the arts and (at least one of) the sciences. McKay's science of choice is political. And she's passionate about it - especially about her support for the rights and welfare of animals, which helps to explain why she's the custodian of two rescued pit bulls named Hank and Bessie (adorned with pearls on the cover of the Doris Day tribute) and why McKay is a longtime vegan.

Which brings us back to my dinner with Nellie, taking place at the vegan Café Blossom, not far from McKay's apartment on the Upper West Side of Manhattan. Yes, the basic story of her life and career is indeed a good one. But for the benefit of Sound+Vision readers, I've come here to focus on her primary profession as a working musician - in which she's a mini-Renaissance woman, when you consider her multitasking as writer, arranger, and producer.

A wonderfully long dinner it is, though maybe it's not so much lazy as pensive. McKay is never on AutoExtensiveReply; rather, she contemplates each question and gives each answer carefully, pausing often to get the right phrasing. And when it comes to the subject of making records vs. performing concerts, her preference is clear: "It's sweet freedom to get into a studio."

THIS, HOWEVER, IS THE FIRST TIME she went into multiple studios for the same album. From the start of her career - with Get Away from Me being done at Clinton Recording Studios in New York City - McKay has made each of her albums in one place. But Home Sweet Mobile Home involved six different locations. Two were past Manhattan favorites: Lofish Recording Studios (where she made Pretty Little Head) and Sear Sound (Normal as Blueberry Pie). She also revisited a Pocono spot, Red Rock Recording in Saylorsburg, Pennsylvania (Obligatory Villagers). But the other three locations were new to her and all far-flung: Winslow Ct. in Los Angeles, Kite-fishing Studio in Salt Lake City, and Jack Ruby's Studio in Ocho Rios, Jamaica.

"I loved the variety," she says. "There's always a learning curve going into a new studio, but it's nice that each place has its own atmosphere, which certainly comes across in the recording. And, of course, each city has its own atmosphere."
Take, for example, Ocho Rios - more a town than a city, but no small thing when it comes to atmosphere, which you can hear in Mobile Home's pair of tropical tracks, "Caribbean Time" and "Unknown Reggae." And a lot of the vibe does come from the studio itself - not named for that Jack Ruby, but for the pioneering Jamaican producer.

"The studio was very local, very small, and fellas were smoking ganja," McKay recalls. "Everything was low-key, and warm. That's certainly my favorite kind of studio. Cozy."

She tapped local musicians for both songs. Did it take time to establish a rapport? She thinks long before replying. "The whole country has a hustle, you know? We really didn't know what to expect ... But there were some wonderful musicians, especially the drummer [Joslyn "Speckles" McKenzie], who was beautiful ... They just know what they're doing down there. You feel in safe hands."

Most of the album's songs were done at Winslow Ct. "I really wanted to record there because Craig Parker Adams, who runs it, is very smart politically, and it's a beautiful old studio; they made a lot of early recordings there." In fact, Winslow was originally an L.A. outpost of the old RCA Recording Studios. "I was just so pleased with the tracks we cut there. Winslow's got this fabulous room that has such a wonderful sound" - which you can hear especially, in different ways, on the slow-burning "Bruise on the Sky," the otherworldly "The Portal," and the Latin-loving "¡Bodega!"

"And then," McKay continues, "when I was in Salt Lake City, I was passing through with the Aimee Mann Christmas show, and I had to work a little bit on a Christmas song. [She actually has written two, both typically unconventional: "Take Me Away" and "A Christmas Dirge." ] I just found this guy's name out of the phone book: Camden Chamberlain at Kite-fishing Studio.

"Going there, I didn't know what to think. It was just a house. But he was really sweet, and I love the track we did there, 'Please.' In terms of the sound...it was such a small studio, but it's incredible what you can get from something like that. This was the first time I put wah-wah on a ukulele, and it was just because I was experimenting in someone's home studio ... I prefer lower-budget, smaller places. There can be a sterility to the bigger studios."

McKay also acknowledges that, whatever the studio, things can become tense. "There's the stress of getting things right. Of course, because everything costs so much, you have to get it right now ... That's where Robin comes in."

That would be Robin Pappas, who is not only McKay's co-manager and co-producer but also her mother.
"She decides when it's right or not, because sometimes I just start going...I feel like...you know those movie robots? Or The Stepford Wives? [She repeats rotely:] "One more cup of sugar, one more cup of sugar." I start losing it a bit ... But there's nothing better than having made something that you can hold and take home and listen to.
"Whereas...for me...live performances are so much work, so much physical energy, so much pressure. When I think about how many resources are used for that, as opposed to making a recording - especially when you get people who tour with big trucks and have big bills and everything - I just don't get it. I never went to concerts. So whenever I look out at people in a theater, I may like them, but I don't really understand them. And I... uh [lowers voice], I just get very worried."
LATEST VIDEO