NAD VISO 1 Wireless Music system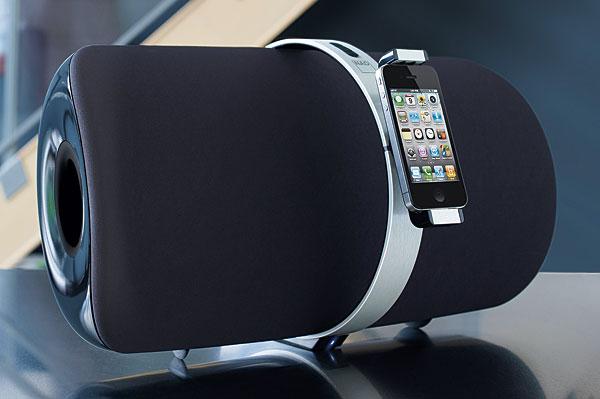 Price
: $600
At a Glance
: 2.1 independently amped channels • Bluetooth and dock connectivity • Tweaked by Paul Barton
The NAD VISO 1 was an immediate hit in my household from the moment it was uncrated. Between my roommate and myself, it received Bluetooth input from an iPad 2, iPhone 4, and iPod touch 2G. The dock played host to two iPod nano 6Gs and two nano 2Gs in addition to the nano 5G actually used for formal demos. Though not portable in the strictest sense—it won't slip easily into a briefcase or carry-on—the system was still movable, and eager hands shifted it from living room to bedroom to kitchen. It was pressed into service to provide music for ballet exercises, cooking, reading, and bedtime listening.
Shaped like a Hostess Ho Ho, the VISO 1 is roughly 19 inches wide and a foot in diameter. Aspiration to high performance was the motive for this enclosure size. The enclosure is made of a nonresonant ABS/polycarbonate composite plastic with internal ribbing for further strength and is available in gloss black or white. It has a port on the left end and a hardwired power on/off button on the right. A strip of heavy aluminum arcs around the center, providing a home to the 30-pin iPod/iPhone dock. The dock is sturdily constructed with a sliding top piece that provides needed back support for the mobile device—so you needn't worry about stressing the connector when pressing controls on the touchscreen or click wheel—and rotates for portrait or landscape mode.
The metal strip also includes the logo, two volume buttons, and a source select button, which are augmented on the remote control by play/pause and track forward/back. There is a blue LED at the bottom that indicates power on and blinks when volume is adjusted. On the back are a digital optical input, which may come in handy if your pencil-thin TV has unacceptably awful speakers; a component video output, which supports 480p and 576p—an improvement over interlaced composite and S-video outputs; and a Mini-USB jack that is strictly for software updates. An optional wall-mount (VWB-1, $70) includes a bracket to hold an Apple TV or other media streamer.
Inside is an unusual front-facing driver array extensively tweaked by NAD's sister brand, PSB, best known for making great speakers. Two full-range drivers cross over to a single 5.75-inch woofer at 500 hertz, allocating all midbass and bass production to the side-ported woofer. The full-range drivers are an aluminum dome/cone assembly with a 1-inch dome in the center and a total diameter of 2.75 inches. Each of the three drivers has a dedicated amp channel (15 watts times two, plus 50 for the woofer) based on the high-end NAD M2 Direct Digital power amp. Crossover, volume control, bass EQ, time alignment, and soft clipping all operate in the digital domain, avoiding potential degradation from passive circuitry. The volume control operates in a 35-bit architecture and therefore does not truncate audible bits at low volumes. There is no simulated surround.
For wireless connectivity the VISO supports Bluetooth aptX, a higher-fidelity version finding its way into Apple, Nokia, and Samsung products. Apple adopted it for all products and OS upgrades starting in autumn 2010. The VISO is backward compatible with earlier versions of Bluetooth. NAD notes that Bluetooth does not deplete battery power as quickly as Wi-Fi. If you want AirPlay, add AirPort Express. As much as I love AirPlay, NAD was wise to avoid the added expense. The VISO and Bluetooth mesh easily: let the mobile device detect the VISO, enable pairing within the mobile device, and go.

The system is easy to operate. Punch the right-side power button, dock your iPod or iPhone if desired, and operate the touchscreen or click wheel as you normally would. The dock is the default input. A press of the source button goes to Bluetooth and then to the optical input. If no iOS device is docked, optical-in is the default. The only notable ergonomic shortcomings are in the remote control: Fastening the lid on the battery compartment was harder than it should have been and the black-on-black legends were nearly invisible.

After a few happy days of informal use, the critical listening began. I ripped three albums in both uncompressed WAV and MP3 at 192 kbps: Beethoven's Seventh Symphony with the Vienna Philharmonic conducted by Carlos Kleiber, Debussy's Études for piano performed by Paul Jacobs, and Richard Thompson's live acoustic guitar album Small Town Romance.

With the gold nano 5G docked, the full-range drivers had just enough resolution to distinguish the uncompressed WAV tracks from the lossy MP3 tracks. The WAV made the Vienna Philharmonic's string section a tad more vivid and imaging more solid. Although the MP3 gave up a little resolution and imaging, the difference was subtle, and they were still smooth and listenable even at foreground-listening levels. Switched to aptX Bluetooth, the system seemed to work just as well. Moving on to pre-aptX Bluetooth gave up a little more imaging, though the balance of timbres was still warm and pleasing.
I was impressed with the sure-footed musicality of the VISO's midrange, especially with Thompson's vibrant Martin guitar. Bass was solid and tuneful, showing off the pianist's left hand and the orchestra's tympani. (NAD claims the system is flat down to 50 hertz, with the port tuned to 40 Hz, and does not hit -6 decibels until 33 Hz.) Overall, this was the best one-piece docking system I've ever heard. All it lacked in comparison with a good component system—at the risk of belaboring the obvious—was soundstage width.

But the target audience for this product would rather not fuss with speaker placement or cables. They're more likely to consider the NAD VISO 1 a step up from small iPod speakers and table radios for ad hoc music lovin' in that great big world beyond the sweet spot. To feel its addicting qualities, all you have to do is be in the room with it.

NAD Electronics • (800) 263-4641 • nadelectronics.com