My Movie Magic on Beale Street
I've been an A/V nerd all my life. As a kid, I would take apart my parents' stereo equipment and make a huge mess. It's always been my dream to have the biggest and baddest A/V system on the block. Well, it took me 20 years, but I think my newest home theater takes the cake, at least on my block.
My newly constructed home theater measures 24 by 27 feet. It houses a 117-inch microperforated THX projection screen by SmX. Since I know the president of the company, and he wanted my opinion, I got the screen for a beta test. The coolest thing about it is that I can put the center-channel speaker directly behind the screen. Rather than hearing dialogue in the traditional surround sound context, this new screen makes it seem like dialogue is coming right at you. It adds increased realism to the home theater experience. With the help of Dennis Erskine of Design Cinema, we designed a theater that showcases the possibilities of home theater sound from a consumer standpoint.
The projector is a 1080p Sony VPL-VW50 Pearl, and I have a seven-channel Triad InWall Gold THX Ultra speaker system. Two SVS PB12 Ultra subwoofers and two Triad InWall Bronze PowerSubs pound out the bass. My gear also includes AudioControl amps, a Lexicon surround processor, and a DVDO video processor. The theater is equipped for Blu-ray, HD DVD, and all the gaming systems you'd expect for a family with three children.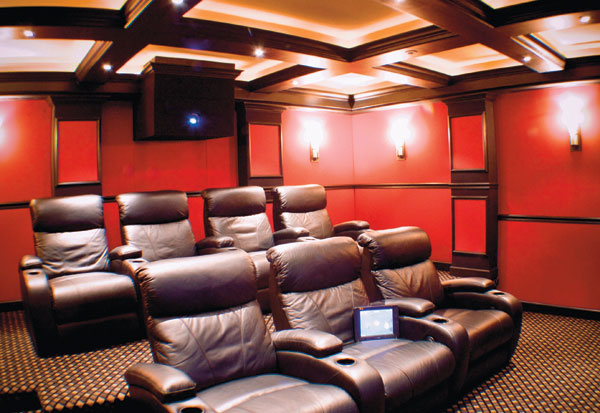 I also installed a remote Sony DVD changer in a separate part of the house so I can watch any DVD from my library at any time. The whole house is automated and controlled from a Control4 HC-500 Home Controller and four HC-300 Home Controllers, along with several 7-inch LCD touchpads located throughout the house. Moreover, I can control the whole house, including each device in the theater, from my iPhone through Control4's interface. Video switching is controlled through a Key Digital video switcher, which sends 1080i over Cat 6 wiring throughout the home. With the help of Phoenix Communications here in Memphis, Tennessee, I can control almost every automated device in the home, from security cameras to my son's television, so I can turn it off when it's his bedtime. I can even control the automated dog door from any remote in the house.
After I got my components squared away, my next challenge was to make sure I could contain the awesome sound my theater churns out. I decided to go with a room-in-room construction, and I used Green Glue noiseproofing compound in my walls, ceiling, and floor to dampen the sound from the system.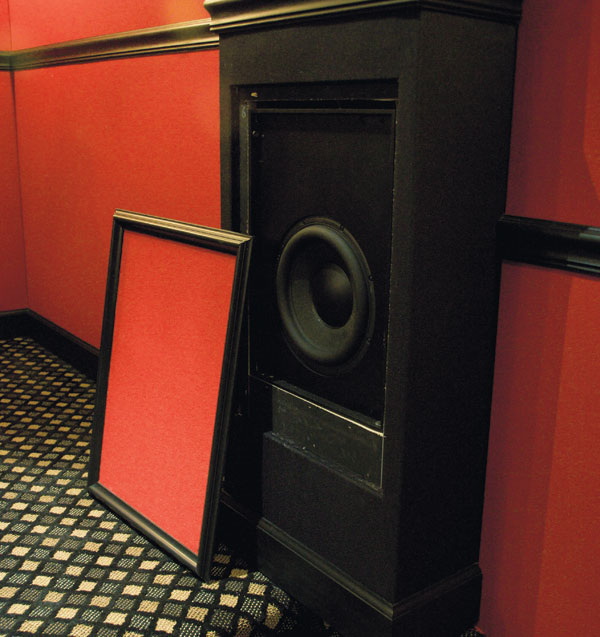 I applied three 5-gallon buckets of Green Glue between three 0.6-inch layers of gypsum drywall. I also used a new speed gun prototype that was supplied by The Green Glue Company to save time during the process. The people at Green Glue were great to work with. They are very well informed about home theater systems and soundproofing, and they went the extra mile to make sure my job was done right.
The results from the Green Glue have been amazing, especially with bass from my subwoofers, an area where Green Glue is especially well known. In total, the soundproofing job (including Green Glue application on two layers of drywall and full installation) took eight hours. The walls are 5 inches thick, and I can now listen to a movie or play my guitar at reference level, and my two-year-old daughter can't hear a thing in her room right next door. The difference before and after the Green Glue is more than 45 decibels.
Everything's perfect, and the sound is pure enjoyment. I couldn't be happier, and my parents laugh every time they come to see me, remembering where I started and seeing how far I've come. I think I owe them an amp or two.