Mass Fidelity Core Multiroom Bluetooth Speaker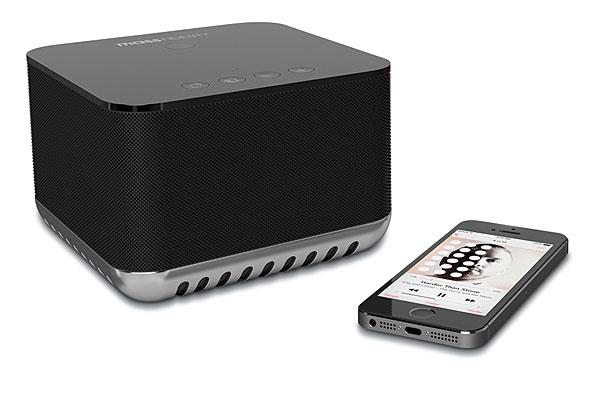 PRICE
$599
AT A GLANCE
Plus
Stylish, sturdy design
Compact and battery powered
Easy setup, no apps required
Remote control included
Spacious, full-bodied sound
Digital audio input
Minus
Pricey
Not ideal for heavy pop/rock
THE VERDICT
The Core is a remarkable speaker that delivers excellent sound quality for its size, but its price is steep.
My wife thought I was crazy as I walked into the kitchen cradling a speaker while singing along with the Boz Scaggs classic "Look What You've Done to Me." It's not uncommon for me to serenade the family, but doing so with a "live" speaker in tow, well, that's unusual even for (the goofball in) me. But that's one of the things I love about Mass Fidelity's remarkable Core: It's so easy to move around. And then there's the sound—we'll get to that in a minute.
Before I delve into the Core's other endearing qualities, a word about its unique design. Four small custom-designed drivers project sound from the front and sides of a stylish cube with a black acrylic top and slotted chrome base with feet that elevate the speaker just enough to let bass radiate from its 3.5-inch downfiring woofer. Three of the four sides are covered with black grille cloth; if you saw it sitting on a shelf, you probably wouldn't guess "speaker."
Apart from being impeccably built, the Core is engineered to deliver the best possible sound quality from the smallest possible enclosure. It supports higher-quality aptX and AAC (lossless) coding and uses 24-bit digital signal processing to create a spacious stereo soundfield regardless of the listener's position. At play is an audio rendering technique called Wave Field Synthesis (WFS), which works by "physically re-creating sound in space—similar to a hologram."
Around back, you'll find auxiliary analog and (optical) digital inputs along with a subwoofer output.
Operating the Core is a piece of cake. There's a power button around back and four "buttons"—actually inconspicuous depressions—on its top panel: one for putting Core in multiroom mode, one for source selection, and two for volume up/down. If you're streaming from an NFC-enabled phone, simply tap it on top of the Core, and you're off. Otherwise, just press the source button until the tiny LED turns blue and select Core in your device's Bluetooth menu.
A Versatile Performer
Apart from being easy to set up and use, the Core is one of the most versatile Bluetooth speakers I've tested. For starters, it's battery powered, which means if you need a quick fix of music in the laundry room while performing your favorite chore, no problem: Just pick it up and move it. The battery is rated for up to 12 hours of operation, which is realistic based on my experience.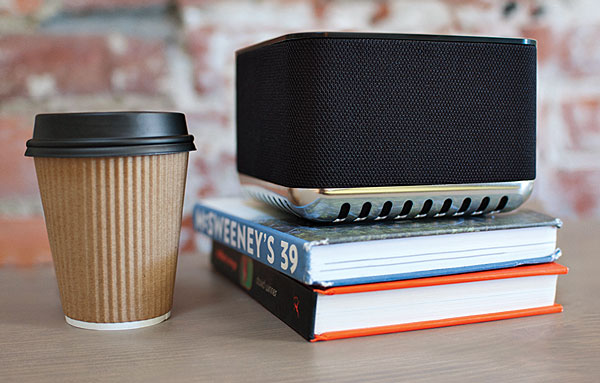 About that multiroom mode: Pushing the multiroom button sets up a dedicated 5.2-/5.8-gigahertz wireless network that shares uncompressed digital audio at "above CD quality" among up to eight speakers. Whatever you're playing on one speaker can be streamed to seven others—all you have to do is tap the multiroom button on the speaker(s) you want to receive the signal. If you decide you want to play another source on one of the networked speakers, simply hit the source button on that speaker to select another input. Works like a charm. You can create up to four networks, or groups, but I only had two speakers so I wasn't able to test that feature.
I listened to a broad range of music—from country to classical to pop to alternative rock—and had fun moving the speakers around: from the living room to the dining room, from the kitchen to the foyer, from my basement office up to a second-story bedroom and, yes, even to the laundry room. The sound was shockingly good for such a small speaker—spacious, detailed, and full-bodied. The manufacturer recommends placing the Core around the middle of a wall rather than in a corner for the best imaging and pushing it close to the wall for the best bass—both good bits of advice. Moving the speaker to within an inch or so of a wall (or any boundary) delivered a sweet bass boost, although I did notice buzzing (overload) on some bass-heavy material; notching down the volume usually solved the problem.
The Core really shines on acoustic music, which seems to be par for the course with most of the smallish Bluetooth speakers I've tested. I was struck by how alive Antoine Dufour's acoustic guitar sounded on "Into Your Heart" (Existence), especially the plucked harmonics and guitar slaps. On heavy pop/rock—like Evanescence's "Bring Me to Life" (Fallen)—the treble could become a tad harsh with the volume cranked—again, a problem generally solved by turning down the volume.
Exploring yet another of the Core's many talents, I ran a cable from its optical input to a 50-inch LG TV and fired up Captain America (Comcast On Demand). While no match for a discrete surround-sound setup (duh), the sound was many cuts above what the TV can do on its own, with respectable oomph and breadth.
In the final analysis, the Core is a remarkable little speaker. It's stylish, unobtrusive, versatile, and, most important, delivers excellent sound quality for its size. My only reservation is the price, which is considerably above the $300-to-$400 sweet spot where you'll find a number of very good Bluetooth speakers.