Korus Wireless Multiroom Speaker System Review
PRICE
$997 as reviewed (three speaker models plus accessories)
AT A GLANCE
Plus
Robust sound from small, medium, and large speakers
Excellent fit and finish
Portable design
Minus
A little pricey
Connection process can be finicky
Tiny transmitter "batons" easy to misplace
THE VERDICT
The Korus wireless speaker system requires almost no setup and delivers excellent sound quality from three different size speakers.
I first learned of Korus last summer at the CE Week press event in New York City. Big sound emanating from small wireless speakers prompted me to stop at the booth for a closer look—and listen. I was impressed. So much so that a couple months later, I found myself doing a hands-on evaluation away from the hustle and bustle of the noisy trade-show floor.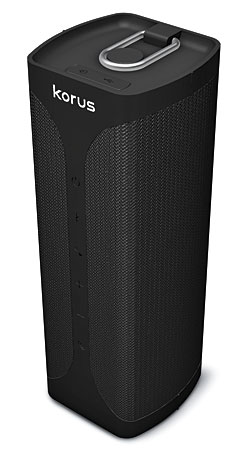 Korus offers three beautifully crafted speakers—the V600 ($399), the V400 ($299), and the M20 ($199, shown at right)—which can be mixed and matched to create a wireless multiroom system based on SKAA technology, which is said to deliver CD-quality sound at distances up to 65 feet. Unlike other wireless schemes, SKAA requires the use of a mini transmitter—or baton—that attaches to your source device. Each speaker can remember up to 10 batons.
Four types of batons are avail- able: USB, micro USB, 30-pin for older Apple iPhone/Pad/Pods, and Lightning for newer Apple devices. The M20 includes a USB baton and for an additional $50 you can buy a V400 or V600 "bundle" that includes three of the four batons (no micro USB). Otherwise, batons cost 50 bucks a pop.
The V600 and V400 are made of sturdy molded plastic and sport a slick gloss finish, contoured metal mesh grille, and integrated carry handle. There's a power cord receptacle and minijack input around back and a row of buttons on top for power on/off, connect, mute, volume up, and volume down. The V600 offers a nice surprise: a secret compartment that holds six D cell batteries, which Korus says will keep the tunes cranking for up to 90 hours.
Designed for indoor/outdoor use, the brick-size M20 is water resistant and powered by a rechargeable battery that lasts up to 17 hours. Rubberized edges and a tightly knit cloth speaker grille make it easy to grip, and it's the only speaker in the Korus trio that supports Bluetooth streaming. The control layout is similar to that of its big brothers, except there are buttons for speakerphone and Bluetooth. Up top you'll find a minijack and micro USB port (for charging), both concealed under a rubber tab.
On With the Show
I unboxed the speakers and set them up around the house: the V600 in the living room, the V400 in the family room, and the M20 on my kitchen counter. Within seconds of plugging the micro USB baton into a Samsung Galaxy S5 phone, music was playing—first in the kitchen and then in the family room and living room. The house was rockin'. Next I plugged the USB baton into my laptop with Pandora running. Whereas the S5 brought each speaker to life almost immediately, making the initial connection took a minute or so this time.
Switching sources, I unplugged the USB baton from my laptop and plugged the 30-pin baton into my iPad, but something was amiss. With all three speakers connected, wireless performance was sketchy. Suspecting a faulty transmitter, I asked Korus to send a new baton. The next day I was back in business, this time with iTunes Radio. When you plug the 30-pin baton into an iDevice, you're prompted to download an app, which provides master volume and independent control over up to four speakers. Very cool—and useful. You can even name each speaker.
Over a period of several days, I successfully streamed music from other devices, including a Samsung Galaxy S3 phone, Windows 7 laptop, and XP desktop. Be sure to check Korus' list of compatible devices. The system only supports Apple's 3G and 4G iPod touch, for example. I found Korus' button-pressing control routines to be finicky and learned that patience is a virtue. If you push the Connect button too quickly while cycling through batons, for example, you miss the start of music and have to do it again. Part of the issue here is there's no screen or other visual feedback.
Wireless performance was generally reliable and consistent, even when I moved devices around, although the system did go down unexpectedly a couple of times. Was this caused by a drop in my Internet service? I'm not sure. In most cases the signal range was about 60 or so feet before signal breakup. Bluetooth streaming from the S5/S3 to the M20 worked like a charm but with a slightly shorter range of about 50 feet.
Audio quality was excellent across devices. The M20 delivered clean sound with more than a hint of bass at volumes louder than you might expect. I found myself carrying the little guy upstairs to the bedroom, into my basement office, and…no, not there. Well, maybe once. The V400 provided a step up in volume and breadth but sounded bloated on some bass-heavy material. The V600 did an outstanding job filling my 15 x 25-foot living room with a soundstage that extended beyond the speaker. American Idol-winner-turned-country-star Scotty McCreery's baritone was surprisingly lush for a speaker this size.
Korus proved to be a good musical companion, delivering perfectly synchronized music throughout the house. If you're looking for a simple wireless music setup, these speakers are worthy of consideration.