Face-Off: Noise-Canceling True Wireless Earbuds Apple AirPods Pro
Apple AirPods Pro
($249)
apple.com
With its new AirPods Pro, Apple has finally granted iPhone-owners wireless buds worthy of the company's reputation for intersecting function with style. Most important, the company abandoned the ridiculous different-to-be-different, no silicone tips, one-size-doesn't-fit-all design that hampered the original AirPods. Just like everyone else in the true wireless bud biz, Apple now includes de rigueur different-sized silicone ear tips, with the result that the Pro provides a more consistent, sealed, noise-isolating fit than its all-plastic predecessors.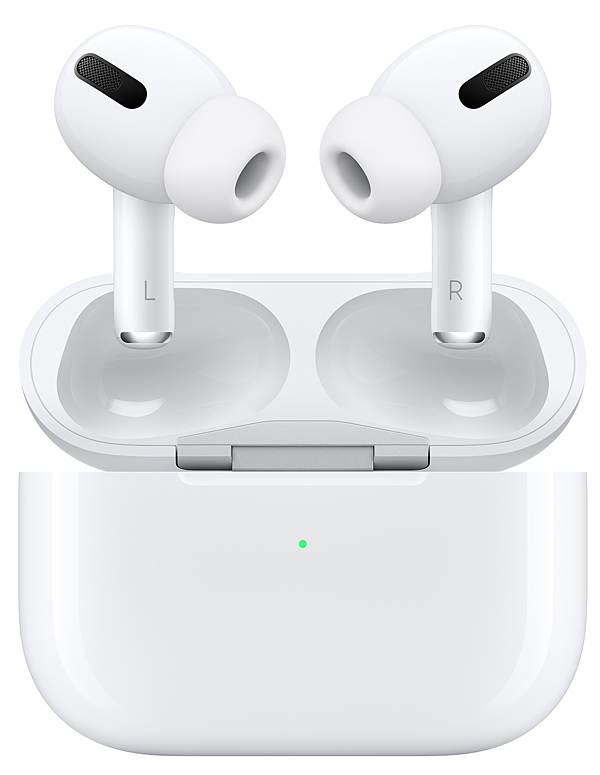 The AirPods Pro also features the company's excellent active noise-cancelation, which can extinguish all but the most egregious ambient annoyances. Although Apple has made some controversial adjustments to its noise cancellation technology via software updates, what remains is still way above-average compared with other buds we've auditioned. Of course, the Pro offers the Apple-specific niceties found on the previous two AirPod iterations, such as easy initial and subsequent pairing and Siri voice control. In fact, the AirPod Pro's top selling point may be its unmatched compatibility with iOS devices among true wireless buds.
Not that the AirPods Pro are perfect. No matter their popularity or cool factor, the aesthetics of those droopy white sticks are often a grudging and rationalized acquired taste, even if the Pro's stalks are a bit shorter than those of the previous two AirPod iterations. As anyone who has tried to don or remove a shirt or sweater or scarf while wearing them and sent one or both of the buds flying can attest, the design is ergonomically awkward. Also, they're substantially less secure than other true wireless buds with a completely in-the-ear fit.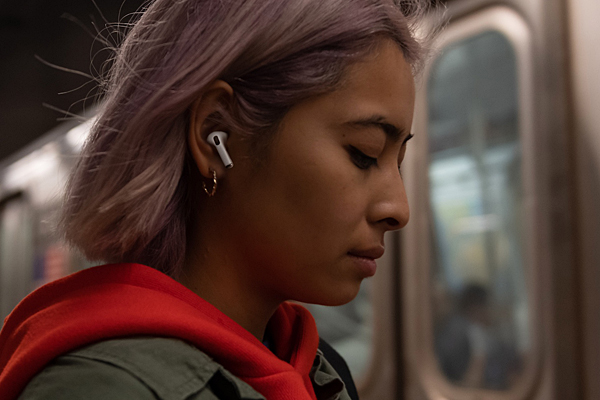 From a functional standpoint, the pushbutton on each bud that toggles between music navigation and noise-canceling/ambient sound controls doesn't provide much physical feedback. Siri voice control is handy—as long as you're alone, which means the only physical way to adjust volume is via your iPhone or Apple Watch.
The AirPods Pro provide solid, if unspectacular, sonics: not as bright or airy as other premium buds, with a middling soundstage, and understated bass that's unlikely to satisfy rap music fans. While music reproduction is merely average considering the premium price, sound quality during conversations—both live and via an iPhone—is more impressive. The Transparency ambient sound mode seems to almost amplify live voices, while phone conversations are equally crisp and clear at both ends.
You can expect five hours of single charge listening time with the Pro, which is about standard. When using its compact charging case, you get up to 24 hours of non-noise-canceling listening time, while just five minutes of charge time gives you enough juice for an additional hour of music-listening or chatting. Fitness enthusiasts will appreciate that the Pros are IPX4 sweat- and water-resistant—they can be rinsed off if necessary—although they're more likely to slip out from sweaty ears during vigorous exercise than buds from other vendors.
Apple's AirPods Pro buds look funny and are priced higher than most of the comparable premium competition, but it's the obvious noise-canceling true wireless bud choice for iPhone-owners—as long as you don't jones for audiophile-quality music playback.