Face-Off: Noise-Canceling True Wireless Earbuds Amazon Echo Buds
Amazon Echo Buds
($130)
amazon.com
"Noise reduction" is not noise-canceling—an important consideration if you're pondering saving $70-plus by opting for the lower-priced Amazon Echo Buds instead of one of our top picks in this test. The Echo Buds are equipped with Bose active noise reduction that "limits" background noise. They were able to muffle noise nearly as effectively as non-noise-canceling buds with a solid noise-isolating seal, but not as effectively as other top models. The Echo Buds do amplify ambient sound slightly, especially voices, though not as much as the Nuheara IQbuds2. Still, the effect is strong enough that those with slight high-frequency hearing loss might actually want to leave them in even when not listening to music.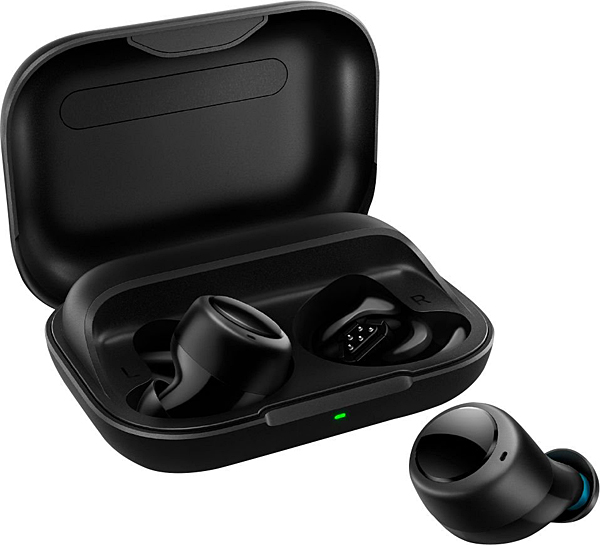 Echo Buds come with more customizable fit options than some pricier alternatives. You get not just the usual small, medium, and large silicone ear tips, but also S-M-L wing bands that provide a lobe fit so snug they make the Echos nearly impossible to accidentally dislodge. The tight wing-tip fit could quickly become uncomfortable; fortunately, the Echo Buds form-fit securely without the bands. You get an average 5 hours of listening from a single charge, and 20 total hours with case-charging. The Echo buds also are IPX4 sweat- and water-resistant.
Sound-wise, the Echo Buds acquit themselves well when compared with the competition by providing an open, airy soundstage, though the just-there bass is on par with Apple's AirPods Pro. But even if they lack the next-level thump, definition, and dynamics delivered by the Sony, 1More, AT, or even Jabra buds, the aural differences are subtle enough that most listeners on a budget likely won't even notice.
While I judged the Echo Buds' noise-reduction and sonics to be slightly higher than "good enough," and considered both its fit and ambient sound as plusses, a potential deal-breaker is the on-bud control—or lack thereof. Instead of a dedicated app, you use Amazon's Alexa app to customize the Echo Buds, which means drilling deep through various menus to finally get to the relevant controls. Once there, you'll find an adjustable 3-point EQ (treble, mid and bass), sliding ambient volume level, and touch-tap customization. While you can choose from varying double-tap and long-tap options, I found it weird that there are no single-tap on-bud controls since every other brand's buds do something with a single tap or button push.
At $129, the Echo Buds deliver above-average sound quality, firm fit, and better ambient audio adjustment than any other sub-$200 true wireless option. If you can accept its on-bud control and app shortcomings and decent but not great noise reduction, the Echo Buds are a good deal.