Face-Off: Noise-Canceling True Wireless Earbuds Sennheiser Momentum True Wireless 2
Sennheiser Momentum True Wireless 2
($299)
en-us.sennheiser.com
Audiophiles justify Sennheiser's premium pricing by citing Sennheiser's premium sonics. But given the number of impressive noise-canceling true wireless buds currently on the market, is there really any reason to pay up to $100 more for the company's second-gen Momentum 2?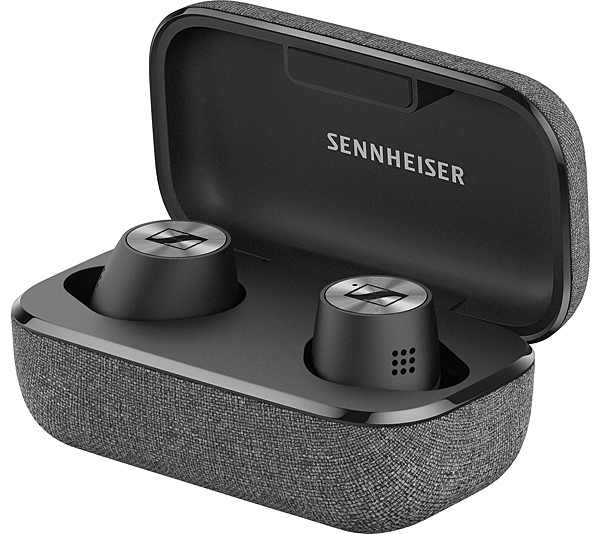 That's not to say the M2 isn't worthy of the Sennheiser imprint or price. Like the original Momentums, they have Sennheiser's distinctive flat sound signature, which the brand's adherents swear by. But I found that the M2's bass tends to sometimes crowd out the restrained midrange and vocals, and the soundstage isn't quite as wide or as well-defined as what I heard with the Sony, 1More, or AT buds.
If you're dissatisfied with the M2's default flat response, you can adjust EQ via the Sennheiser Smart Control app. However, unlike other bud app EQs where you can adjust multiple points independently, Sennheiser's EQ adjustment is a graphic wave that only bends in the middle and pulls all other frequencies evenly up or down.
The Sennheiser has above-average noise-canceling and "Transparent Hearing" ambient sound capabilities. It can dampen all but the shrillest noises on par with the best of these buds, and real-life and Transparent Hearing volume levels are about the same.
The M2 offers above-average 7-hour battery life that's extendable to 28 hours via the company's unique cloth-covered charging case and four ear tip options. You also get full control, including track navigation, volume and noise-canceling level, and Transparent Hearing, via a series of L/R bud-specific tap sequences. However, they lack the same voice confirmation of noise-canceling or ambient sound settings that you get with other buds.
There's no question that Sennheiser's impressive Momentum True Wireless 2 is worthy of the brand name. But it's harder to justify their worthiness when compared with the other fine noise-canceling true wireless bud options in this test priced $100 less.