Face-Off: Noise-Canceling True Wireless Earbuds Audio-Technica QuietPoint ATH-ANC300TW
Audio-Technica QuietPoint ATH-ANC300TW
($229)
audio-technica.com
Anyone seeking noise-canceling wireless buds suitable for an active lifestyle will be interested in the new ATH-ANC300TW from Audio-Technica, which provides a tighter fit to withstand the rigors of exercising plus a degree of water- and dust-resistance. Along with good comfort and fit, the ATs also offer impressive audio quality and noise cancellation, and a key convenience feature: one-touch Hear-Through/music suppression.
When you open AT's box, you'll find an assortment of varying-sized earbuds—three pair of silicone tips to supplement the pair already placed on the buds, plus a pair of foam tips— perched naked on pegs for easy swapping. The buds sit upright facing you in a magnetized case, making them easier to grab and return for charging than with the flush-with-case arrangement typical with other buds.
With a bright and spacious sound and just the right amount of bass, the ATs were among the most sonically balanced of the buds I auditioned. Noise-canceling is conveniently the default setting when you take the buds out of the charging case. While the AT's noise cancellation doesn't quite match that of the Sony or 1More models, its background sound-erasing capability is above-average. The AT's Hear-Through ambient mode is also top-notch—nearly in the same class as the 1More and the Jabra 75t.
Instead of touch or click panels, each AT bud has a top-mounted button that you single- or multi-push to activate various music navigation, volume, call, and noise-canceling adjustments, with each bud controlling a different set of functions. While you can't customize what button pushes activate which controls, you can switch the commands from left-to-right bud and vice versa.
Like the Sony WF-1000MX3, you can set noise-canceling (AT offers different settings for airplane, "on the go" (i.e., bus, subway), and office/study) and Hear-Through to low, medium or high with a sliding bar control. Oddly, turning off both noise-canceling and Hear-Through requires the Audio-Technica Connect app. And that's something you will want to do on windy days, since wind noise is loud with noise-canceling on, and even louder in Hear-Through mode.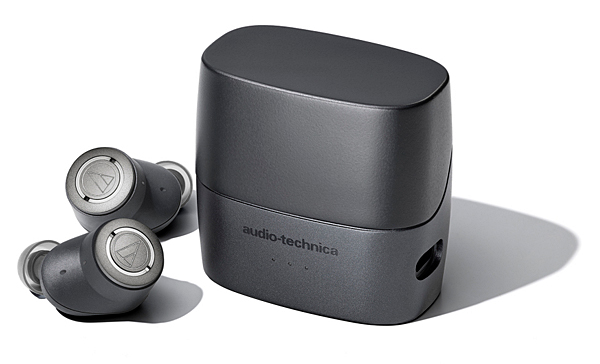 Pressing the bud button to activate Hear-Through not only opens the mics up to outside sound, but drastically lowers the volume of—but doesn't pause—music, an arrangement that assumes your ambient listening needs will be brief. You can then decide to pause the music by pressing the button on the opposite bud. (Why AT didn't go further and program Hear-Through as a single button push that also simultaneously pauses playback escapes me.)
The ATs are IPX2-resistant to sweaty ears and rain but can't be rinsed or dunked in water. While they protrude less than the Sony WF-1000MX3, they are not as secure or ear-flush as most of the other buds in this roundup, so avoid slipping a t-shirt on or off with them in your ears.
The AT's primary drawback is its relatively short battery life: just 4.5 hours, with the case adding another below-average 13.5 hours of listening. Also unfortunate is the lack of a quick-charge option. But even with those shortcomings, the ATH-ANC300TW is still an excellent, though slightly pricey, choice if you want great sound while exercising outside.