Enclave Audio CineHome HD Wireless Home Theater System Review Page 2
The Smart Center acts as the system's nerve center, providing both the input and output jacks as well as the WiSA wireless transmitter that connects it to the other speakers. While you can stream audio wire- lessly from a phone or tablet to the CineHome HD via Bluetooth, most people will also want to hard- wire some sources to the input connections. You get three HDMI 1.4 ports capable of passing 3D and 4K (3840 x 2160 UHD resolution at max 30 Hz), though these lack the latest HDCP 2.2 copyright compliance. There is also a Toslink optical digital input, and a 3.5mm analog input. The Smart Center's HDMI output does include the ARC (audio return channel) feature, so alternatively you could use your TV set as your source selection switcher, with just a single HDMI connected to the Center. (Be certain your TV passes 5.1 audio from input to output before considering this path, though.) One big plus: With the Smart Center sitting directly under the TV, any cable runs are likely to be short—and won't include the long speaker-cable runs that, with a traditional hard-wired system, you need to snake around the room somehow, past doorways and other obstacles.
The notion of simplicity also runs to the supplied remote, which has a navigation/volume keypad and just four additional buttons labeled Power, Menu, Input, and Mute. Unfortunately, the buttons are small and completely flush with the top surface of the remote, making it hard to operate the system by feel in a darkened home theater. A smartphone/tablet control app, or even just a remote with raised buttons, would be a welcome addition.
Setup
Connecting a 5.1-channel home theater system doesn't get much easier than this. My only real challenge was finding enough wall outlets to plug in all of those power supplies. Using the Smart Center as the switcher, I connected my Blu-ray player, cable box, and Roku streamer to the three HDMI inputs, then ran a fourth HDMI cable to my TV. Once I plugged everything in and turned it on, I had sound right away. The Enclave has a pretty basic set of onscreen menus that let you select the input, surround mode, and dynamic range compression, if desired for late-night viewing—and if you dig a little deeper, there are level trims with a noise sequencer and a front-to-rear delay adjustment. If that seems like too much exertion, the out-of-the-box factory settings actually work pretty well, since all of the components have been matched to work together as a whole.
To use the CineHome HD's Bluetooth input, you can either stream directly from your device or use Enclave's app for iOS or Android. The app lets you access your accounts at streaming services like Spotify, Tidal, and TuneIn, and you can access music files on your home network directly. The app can also stream to a Google Chromecast device via Wi-Fi, which can deliver better audio performance than a compressed Bluetooth connection.
I placed the three front speakers on the cabinet under my TV, about 6 inches from the front wall, with the left and right speakers spread about 7 feet apart. The surrounds were on my usual high stands directly to the sides of my listening seat, while the subwoofer was on the floor next to the front left speaker.
Music
The first thing that struck me when I fired up some music was how well the CineHome HD's subwoofer was able to blend with the satellites. On my bass torture track, Keith Richards' "Words of Wonder" (from Main Offen- der), the bass line remained deep, tight, and tuneful, never pulling a disappearing act on certain notes, which can happen when a sub doesn't blend well. Creating a seam- less blend between components is a hallmark of many complete integrated systems, but Enclave has done a particularly impressive job here. Tonally, the overall system balance leans a bit toward the soft and warm side, so drums don't have quite the snap and impact I can get when the speakers are bigger than a shoebox. Meanwhile, Tom Waits' "Murder in the Red Barn" (Bone Machine) demonstrated how there's no substitute for widely spaced separate speakers if you want to experience a big, spa- cious soundstage. And the warmish overall balance was highlighted again on the Bill Evans Trio's "Alice in Wonderland" (Sunday at the Village Vanguard). The piano had a lovely sense of harmonic richness, although drummer Paul Motian's cymbals sounded just a little bit soft.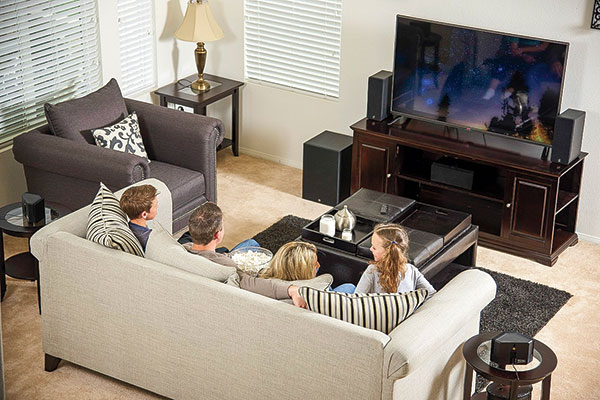 With so much of the music we listen to these days coming from less than pristine sources, it's probably better for a system to err on the forgiving side of the tonal balance equation than to be so hyper-detailed that it will only sound good with the finest source material. With that in mind, I think Enclave did an excellent job in voicing the CineHome HD.
Movies
The CineHome HD has decoders for most of the common surround formats, including Dolby Digital Plus, Dolby Pro Logic II, and DTS, but it can't decode the highest-resolution Blu-ray audio formats, Dolby TrueHD and DTS-HD Master Audio. That might have been a problem if the CineHome HD were a huge megabuck system, but with its admittedly rather modest speakers, any differences are likely to be negligible. Enclave points out that many Blu-ray players have their own onboard Dolby TrueHD and DTS-HD Master Audio decoders and that you can send the decoded signal to the CineHome HD using PCM. I found that the system sounded great using the more basic formats.
More important is how the system is able to deliver a proper surround experience. In a scene with lots of surround action, such as the chase between Vector and Gru with his Minions in Despicable Me, the zooming aircraft and Gru's firing weapons enveloped my listening position with pulsating sounds. In my 13 x 17-foot room, the volume topped out at a little more than 100 decibels at the listening seat on movie content; while that's not exactly chest crushing, it's more than enough to annoy my neighbors. Dialogue was natural and transparent, making it easy to hear what was being said.
Conclusion
If you're the type of home theater fanatic who relishes the thought of doing lots of research to match up components—and who then likes to delve into the process of tweaking the settings, moving the speaker positions, and configuring everything exactly to your own preferences—then you might be able to piece together a receiver and speakers that outperform the Enclave at this price. On the other hand, if you want something that's way better-sounding than the glorified mono of a soundbar, yet remains simple to use and can be set up and playing in just a few minutes with a minimum amount of fuss and cables, then the Enclave CineHome HD is hard to top.