DIY Reader Home Theater: Music Lover's Dream
How I turned my passion for audio into my own theater.
Ever since I can remember, I've always had a passion for music, and I've since become an audio enthusiast. When I was 12, my next-door neighbor introduced me to his Fisher stereo system. Then, several years later, I befriended another neighbor who used to work at a local radio station and had hundreds of records and
12-inch singles, as well as a high-end audio system. From there, it has been a constant hobby of mine. My desire for having a dedicated room for audio and video started when I met someone who'd built a dedicated home theater in his house. I bought my first home in 2002, and the work was set to begin.
I was fortunate enough to have a room in the house that seemed perfect for a dedicated home theater/listening room. The room started off as a regular 11-by-18-foot bedroom in a newly constructed single-family home. A nice benefit is the fact that the door is at the rear of the room. There's also a closet at the rear, which is perfect for equipment and media storage. I wasn't worried too much about soundproofing, because the front, side, and exterior walls are heavily insulated. There is a window at the front of the room, but I took care of that by covering it with layers of materials to help sound from traveling outside. This also prevents light and sound from coming inside. From the outside, it looks like just another window on the house. I can easily remove these materials and panels to gain access to the window from within the room if needed.
I installed (my first time!) a suspended ceiling with black panels about 3 inches below the original ceiling. This allowed for further sound absorption since the room was very reflective to start with. To help with acoustics, I replaced the original door to the room with an exterior-grade French door. For an added sense of height, depth, and style, a coworker of mine spent a few weekends helping me with the installation of a crown-molding light soffit around the perimeter of the room. I enlisted the assistance of another coworker—a certified electrician—to run two dedicated 20-amp circuits to the room from the main panel. One handles the projector, and the other is for the equipment rack and lighting.
My friend with the dedicated room, who I mentioned earlier, had come up with an equipment-rack design that I simply fell in love with. It's made of 6-foot-tall thread for the supports and custom-cut and painted 1-inch MDF for the shelves. The shelves are fully adjustable. This design helps isolate the equipment from vibrations caused by loud volumes, bass, and so on. So, once the rack was complete, I loaded the equipment.
Atlantic Technology designs complete home theater speaker systems. So, after I listened to their systems at various shows and home theaters, it was no question that I needed to pick up the System 370 THX. Their systems offer the best bang for the buck, and, although this one's THX Ultra certified, it sounds great for music. Once I got the system home, I filled each of the pedestals with approximately 40 pounds of kitty litter for sound damping and stability. The center channel needed a stand to sit on, so I constructed an enclosure made of MDF and then filled it with 50 pounds of kitty litter. The enclosure is draped in black material to match the room's décor. This stand weighs in at about 100 pounds. I also installed curtains and a valance around the front of the room and around the Da-Lite 82-inch electric HDTV screen. This helps hide the screen control and housing, acoustic materials, and wiring, and it provides a stage-like appearance. Self-built rigid fiberglass acoustic panels help keep the sound dialed in.
I control the room lighting via X10 programming, and the lighting operates in conjunction with the rest of the system. For example, when I touch the Start Movie button on the Philips ProntoPro remote, the soffit lighting dims, the Sony HDTV projector turns on to the component input, the screen lowers, the system selects the DVD input, and the DVD drawer closes and starts playing the movie. Each channel of the THX Ultra2–certified NAD Masters Series processor and matching seven-channel amplifier has been calibrated to the Dolby Digital reference level using an RTA. My Pioneer DV-563A universal disc player plays practically anything on a 5-inch disc—CD, DVD-Audio, DVD-Video, SACD, CD-ROM with pictures, and more. Once the format war between HD DVD and Blu-ray has died down, a player upgrade will be in order. A DirecTV receiver and dish handle HDTV. A JVC turntable and a phono preamp provide a nice listening experience for records. (They're making a comeback, you know.) For gaming entertainment, I can connect a game console to the system, and provisions are in place to connect a PC or any other multimedia device.
For seating, I found a great deal on some standalone leather chairs with ottomans. Three chairs are connected together to form the rear row, and there are two independent seats on either side just in front of the rear row. A few poster cases (one illuminated and self-built) round out the movie-themed décor.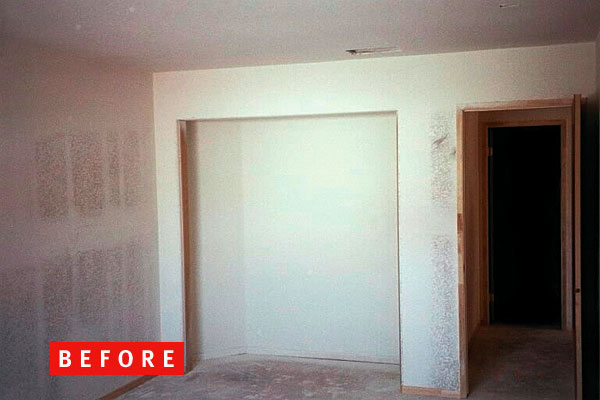 I am very pleased with the result and thank a couple of my friends for ideas used in my room. I enjoy countless hours of music listening and HDTV viewing. The latest ritual at my house now is BBQ/movie nights with friends. Although the retail price tag on this—my first self-built dedicated listening room/theater—was just over $28,000, I did it with careful shopping, a lot of DIY, and long weekends for just under $16,000.
For detailed pictures and information on my theater, check out members.ispwest.com/jreedy, then click on "Home Theater Pictures and Info."
Equipment List:
Atlantic Technology 370 THX speaker system
NAD Masters Series M15 preamp/processor
NAD Masters Series M25 amplifier
Velodyne SMS-1 subwoofer-management system
DirecTV H20 HDTV receiver and Ka/Ku 5 LNB dish
JVC QL-FX5 turntable with JEC TC-760 phono preamp
Sony SLV-980HF VCR
Pioneer DV-563A DVD/SACD player
Sony Cineza VPL-HS10 HD WXGA LCD projector
Sony PSS-610 ceiling mount
Da-Lite Cosmopolitan Electrol 82-inch HDTV screen
Philips ProntoPro TSU6000 remote and docking station
Custom-built equipment rack and isolation shelves
Custom-built media-storage shelves
Custom-built pedestal for center-channel speaker
Extron Electronics 25-foot HDMI-to-DVI projector cable
Acoustic Research six-channel analog-cable bundle for SACD and DVD-Audio
Acoustic Research Pro Series HDMI cable
Acoustic Research Pro Series component video cables
Nordost Spellbinder analog interconnects
Various Monster Cable interconnects
X10 lighting controls
Monster OMC speaker cables
Custom acoustic sound panels
Acoustic curtains and valance
Suspended ceiling with black panels
Media/equipment niche with dedicated 20-amp circuits
Legacy L56M 5.6-inch LCD service monitor
Panamax MAX-1000+ line conditioner
How It Works For You
• Installing a theater in an above-ground room? No problem. You can control ambient light and sound without sacrificing an architectural detail like a window. Simply cover the opening with layers of material and drape a curtain in front. Voila—instant light and sound control, as well as a dramatic backdrop for your screen. And, best of all, you can open the curtains to let the light in if you choose.
• Don't be afraid to be creative. In the true DIY spirit, reader James Reedy thought outside the litter box and found an ingenious use for a common household item. He filled each of his speaker pedestals with kitty litter for stability and sound dampening on the cheap.