Disc Roundup – Mission Irreversible: A Summer Vacation Trek with My Looney Bros.
As students on their warm weather break wend their way through their summer reading lists, we tender to SoundandVision.com's visitors our first-ever Summer Watching List, a menagerie of 4K discs, HD Blu-rays and DVDs selected to entertain us and perhaps even distract from the worldwide heat records that have been broken thus far.
From debut seasons of hot TV shows to complete series, from kid-friendly to adults-only animation, from magnificent restorations of genre classics to reissues of popular film franchises that are returning to the multiplex this season, you'll find plenty of reasons to hole up in the home theater with the air conditioner blasting and your ice cubes clinking.
Mission: Impossible 4K Steelbooks (Paramount)
This summer brings with it the beginning of the end for Tom Cruise's epic thriller saga, a reboot of the popular '60s/'70s TV show. The star/producer took the reins with (until recently) a rotating roster of directors and the introduction of secret agent Ethan Hunt.
He's the kind of guy we'd want in in our corner whether he's fearlessly protecting one of his own or saving the entire world, both feats apparently requiring some death-defying stunts that only Ethan/Tom can personally perform. Their dedication is even more impressive for the fact that they will have been in the spy game for almost 30 years by the time they're done.
We shouldn't be surprised that Paramount has repackaged the extremely popular 4K/Blu-ray/Digital Copy combos, with Dead Reckoning hitting the big screen this month. This time they've landed as sleek steelbooks, so if the recordings self-destruct, the pretty cases should survive okay.
Unlike the studio's recent Transformers steelbooks, these six are separate releases so we can pick and choose, specifically from among:
Mission: Impossible (1996), directed by Brian De Palma
Mission: Impossible 2 (2000), directed by John Woo
Mission: Impossible 3 (2006), directed by J.J. Abrams
Mission: Impossible - Ghost Protocol (2011), directed by Brad Bird
Mission: Impossible - Rogue Nation (2015), directed by Christopher McQuarrie
Mission: Impossible - Fallout (2018)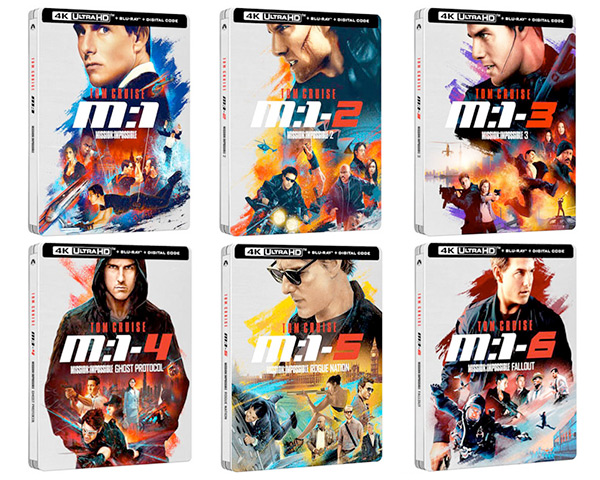 These last three are conveniently numbered on the spine and cover art, with familiar photos of Ethan et. al. reimagined as paintings, all around a central color scheme atop what appears to be the bare metal, for a look that will work well on the shelf together. Numbers four through six are in fact three-disc sets, owing to their generous bonus content, the first three have lossless 5.1-channel soundtracks, Ghost Protocol (possibly my favorite of the series) steps up to 7.1, whereas the two most recent entries are Dolby Atmos, and all have Dolby Vision HDR.
This is certainly a fantastic way to enjoy and to collect these missions.
The Venture Bros. The Complete Series DVD (Warner/[adult swim])
What started as a wry riff on Johnny Quest soon pulled in obscure references from across the pop culture multiverse to give viewers one of the weirdest, wickedest comedies in Cartoon Network's [adult swim] late-night programming block. The glory days of Venture Industries behind him, Dr. Thaddeus "Rusty" Venture is now a bitter single dad of teenaged twin boys Hank and Dean, still traveling the world in search of adventure but now with middle age and bill collectors on his heels.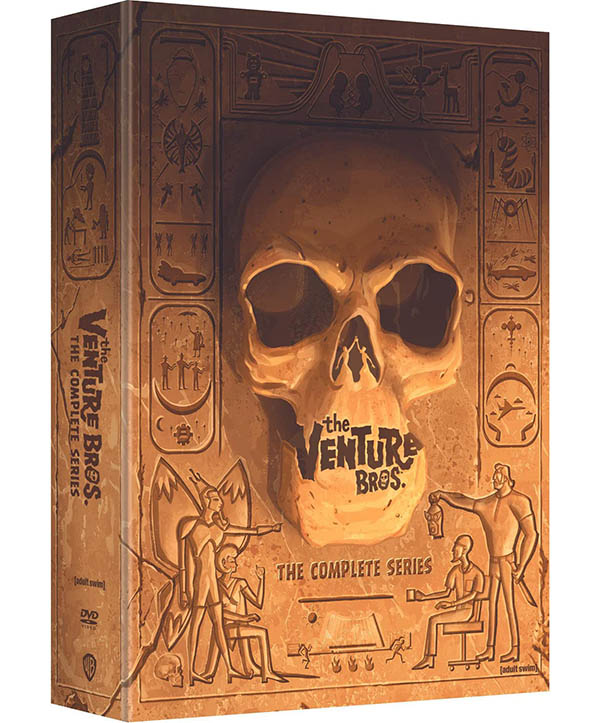 Thank goodness he has loyal, homicidal bodyguard Brock Samson (voiced by Patrick Warburton) at his side. On and off for an impressive seven seasons and 82 episodes spanning 2003-2018, the series arrives on 14 DVDs, unrated (although it never reached Rick and Morty levels of raunch) and porting over the previously released bonus content, which is quite substantial. Audio for the later seasons is Dolby Digital 5.1.
Stooge O-Rama: The Men Behind the Mayhem - And Even More Mayhem! Blu-ray (Kit Parker Films/MVD)
Moronic, violent and often in questionable taste, the antics of The Three Stooges have been entertaining audiences for almost a century, dating back to vaudeville before taking Hollywood by storm. Some knuckleheads wear their admiration of The Amalgamated Morons proudly while others (like me) keep their guilty pleasure on the DL, but Kit Parker's new three-disc set is for all of us, plumbing obscure treasures in tribute to Moe, Larry, Curly, Shemp, Joe and Curly Joe. Settle in for more than ten hours of nuttiness, some no more than relative scraps, although we are assured that any content here that has been previously released is now upgraded and/or presented in a more complete version.
Lovingly curating vintage comedy bits, Fox Movietone newsreels, TV commercials, movie trailers, photo galleries and archival audio of every description--much of it long buried and some never before available--this is the ultimate accessory to the boys' many short films (available separately). O-Rama is anchored by an updated version of the Stooges' 1994 A&E Biography documentary, now including extended interviews with family, co-workers and famous aficionados.
The Complete Story of Film Blu-ray (Music Box Films)
Why settle for one film when you can have all the films? Music Box's new set assembles Mark Cousins' seminal, labor-of-love 2011 documentary series The Story of Film: An Odyssey alongside his 2022 follow-up (because film never sleeps), The Story of Film: A New Generation. Across its 15 one-hour chapters, Odyssey masterfully tackles the unenviable task of distilling the whole of cinema for its audience, from the actual birth of the motion picture medium through to the business of movies in a new millennium.
True to its name, the two-part/nigh-three-hour New Generation explores the continuing, accelerating dramatic evolution of storytelling in the recent years of the 21st century, studying potboilers, blockbusters and indies from both hemispheres, and confronting the rise of streaming in the digital age. This double-documentary spans the globe for an in-depth, universal yet personal view of every facet of filmmaking, built largely of illuminating clips and exclusive interviews, all without ever losing sight of our collective love of movies. Finally remastered and presented on four high-def discs, the series is teamed with a remarkably candid, encyclopedically thorough guide booklet. A film school masterclass in one slim case, The Complete Story belongs in the library of anyone looking to up their movie smarts in a big way.
Shaw Brothers Classics Vol. 2 Blu-ray (Shout! Factory)
Just how damned big is the Shaw Brothers' vault, anyway? These guys were the mavens of lavish action flicks that elevated the martial artform (on screen, anyway) with beautiful sets, costumes, and cinematography, aided in no small measure by talented stars such as Chen Kaun Tai, Cheng Pei-Pei, Sammo Hung and Ti Lung. For Shout! Factory's second collection, we travel back to the early/mid '70s, considered by many to be the golden age of kung fu fighting. All of these titles are new to North American Blu-ray, the dozen discs nearly packaged as a series of double features:
Lady of Steel (1970)
Brothers Five (1970)
The Crimson Charm (1970)
The Shadow Whip (1972)
The Delightful Forest (1972)
The Devil's Mirror (1972)
Man of Iron (1972)
The Water Margin (1972)
The Bride from Hell (1972)
Heroes Two (1973)
The Flying Guillotine (1975)
The Dragon Missile (1976)
(
The Flying Guillotine
is every bit as crazy/cool as it sounds, although the hero's razor-sharp boomerangs in
The Dragon Missile
are nothing to sneeze at, either.)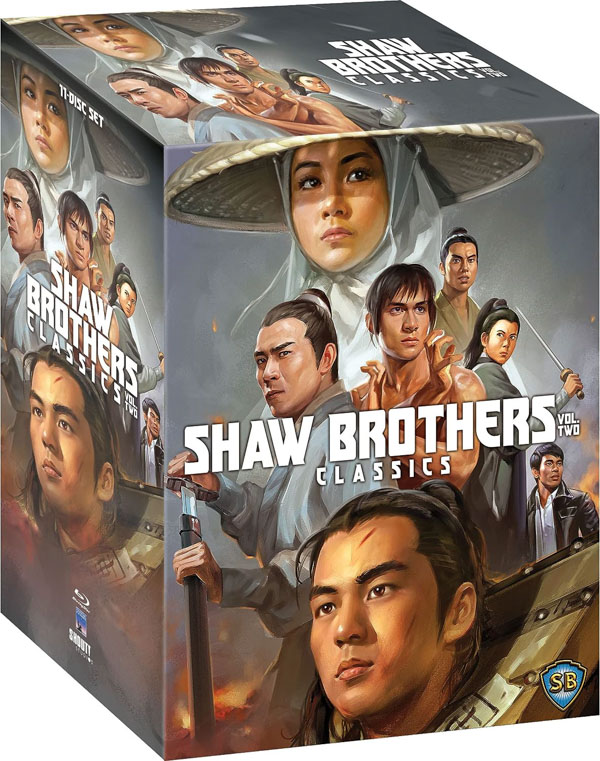 The standard for all films here is Mandarin DTS-HD Master Audio mono, with new subtitle translations. Each movie carries at least one expert audio commentary, some with two, for a total of 16 newly recorded tracks. Additional extras include archival tidbits and new interviews that further reflect upon the kung fu-nomenon.
Invaders From Mars 4K (Ignite Films/MVD)
Robot Monster Blu-ray 3D (Bayview Entertainment)
Released last year as a limited edition and now available everywhere for its 70th anniversary, director William Cameron Menzies' Invaders from Mars remains a genuinely disturbing relic of the Cold War era. The alien trespassers of the title are using powerful mind control as part of their fiendish plan, so of course no one believes the innocent boy who alone knows the truth, so what hope does Earth have? Invaders was a beautifully designed production and is one of the most eye-popping restorations I've ever seen, its use of color at times astounding, particularly the Martian greens. The picture quality was so gorgeous in fact that theatrical prints used the fancy SuperCinecolor process.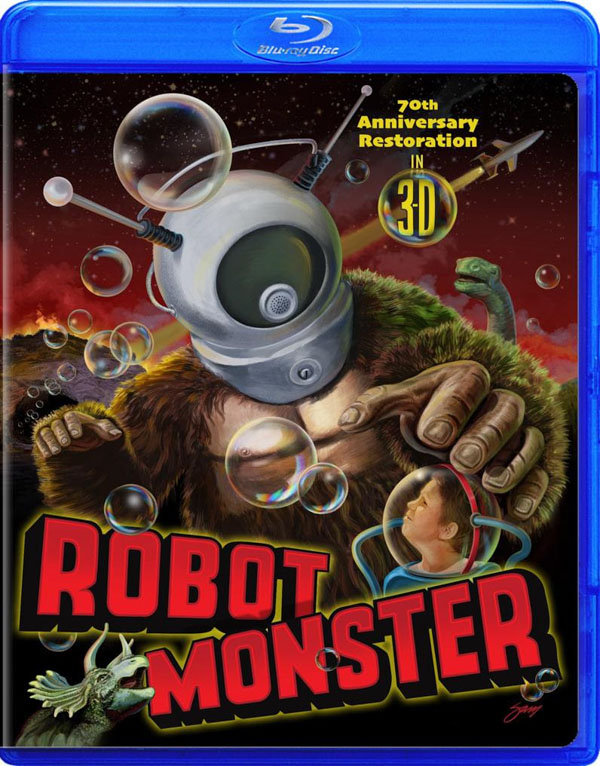 Lest you think that all of Ignite Films' disc budget went into the award-winning restoration, this BD-100 platter is crammed with new and exclusive extras--my favorite is the before/after comparison--especially impressive when you consider that this is a small label and a movie well over half a century old.
Hitting screens just one month after Invaders, Robot Monster treads much the same ground, preying upon America's boundless paranoia and hunger for popcorn sci-fi with this campier take on alien intrusion. Here, a heartless "Ro-Man" (hilariously, a guy in a gorilla suit and diving helmet with antennae) is on the verge of successfully exterminating the last humans on Earth, but for the pluckiness of the few remaining survivors. Produced in black-and-white 3D ("new Tru-3 Dimension!" no less), Robot Monster is now presented by Bayview Entertainment in both polarized and anaglyph 3D, the latter playable on any TV, with one pair of red/cyan specs supplied in the case.
South Park Seasons 21-25 Blu-ray (Paramount/Comedy Central)
As someone who's been amassing the misdeeds of Cartman, Kyle, Stan and ill-fated Kenny on Blu-ray for years now, I can attest to the allure of Paramount's transition to this more compact, more affordable alternative to the individual season sets.
This of course includes the truncated Seasons 24 and 25, wherein creators Matt Stone and Trey Parker reacted to COVID in extremely amusing fashion, and their slow return to business as usual for the foul-mouthed tykes.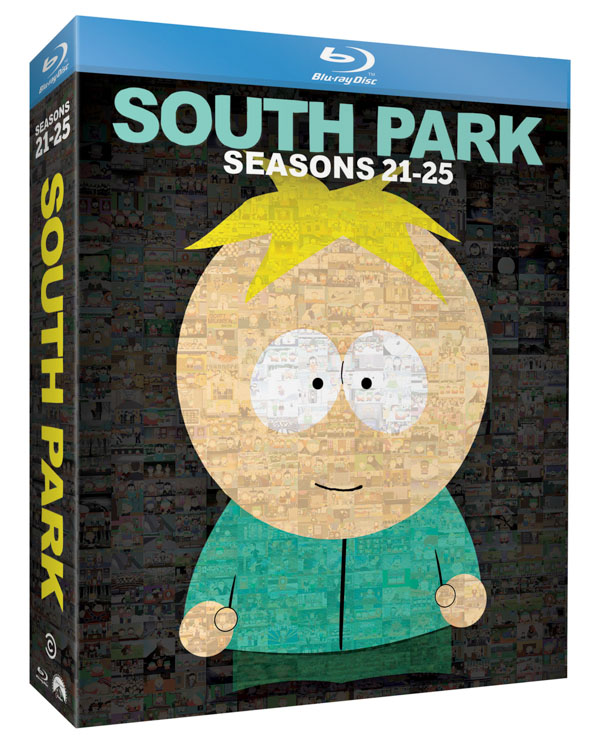 Along the way they grapple with hot-button current events including social media, immigration and vaping. The supporting characters have certainly grown in prominence as well, but the boys are still at the heart of the action and their POV guides the tone of the show. Extras across the seasons include Parker/Stone audio commentaries, an assortment of deleted scenes and concept art.
Enter the Video Store - Empire of Screams (Arrow Films)
One of the many experiences Gen Z is missing out on is the ceremonious trip to the local VHS emporium to browse the latest arrivals and the dust-collectors, and returning home with one or more plus some overpriced Milk Duds and a pack of that newfangled microwave popcorn. Boutique label Arrow transports us back to those days with this limited edition five-movie boxed set, specifically themed around the unapologetically entertaining horror, sci-fi and exploitation films from filmmaker Charles Band's long-since-defunct Empire International Pictures label. His secret? Somehow producing modestly budgeted genre flicks that don't seem low-rent.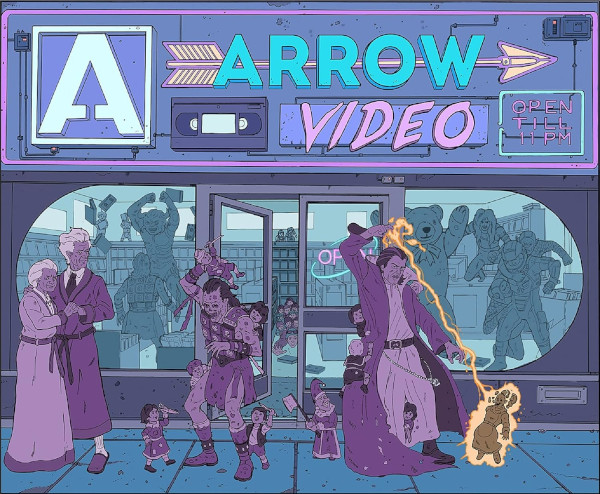 The title line-up inside:
The Dungeonmaster (1984)
Dolls (1986)
Cellar Dweller (1987)
Arena (1989)
Robot Jox (1989)
(That last one is one I've been itching to watch ever since I read about it in Starlog when I was a young man.)
Most are slick new 2K restorations and all are loaded with new and old extras--with a depth and a quality and an honesty that might surprise you--each with at least one audio commentary (Dolls has three). The packaging too is simply glorious, the cheekily designed box stuffed with double-sided posters for all five, more than a dozen photo cards and a massive softcover companion book.
The pithiest touch of all might be the membership card which I hope isn't just for show: Arrow's video store is definitely one I'd like to visit again.
Looney Tunes Collector's Choice Vol. 1 Blu-ray (Warner Archive)
If I ever stop loving Looney Tunes, check my pulse and call the doctor, and clearly I'm not alone as Warner has revisited their deep animation catalog to bring us 20 new-to-Blu cartoons.
Bugs Bunny, Daffy Duck, Porky Pig, Tweety & Sylvester, Road Runner & Wile E. Coyote, Foghorn Leghorn plus plenty of oddball characters star in these (mostly) gems curated from the '40s and '50s, directed by legends Friz Freleng, Frank Tashlin, Robert McKimson and Arthur Davis. The original negatives were scanned at 4K and restored for inclusion here, some unseen on physical media since the laserdisc era, which means that some might be a little lesser known.
The cel artwork is extremely clean and the colors are pleasingly strong across the entire collection. There aren't any extras (so much has already been said about Looney Tunes) but this set's pricetag suggests that Warner is going for value, in which case all I can say is, bring on Vol. 2.
Mickey & Friends 10 Classic Shorts – Volume 2 Blu-ray (Walt Disney Animation Studios)
And on the topic of second volumes, Disney has released a sophomore set of shorts featuring the headlining mouse, his pet pooch, his bestie the duck and whatever the hell Goofy is, among other friendly cartoon faces.
These selections span the '30s, '40s and '50s, although of greatest historical significance--as this disc series is part of Disney's centennial celebration--is 1935's "The Band Concert," the first Mickey Mouse film to be produced in color, and a sumptuous three-strip Technicolor affair at that. They're all uncut as far as I can tell, which would explain the cultural sensitivity notice on the back cover.
The Blu-ray combo pack also includes a DVD and Movies Anywhere digital copy code so we can bring the fun to the beach, the back seat or wherever the summer takes us.
The Last of Us Season The Complete First Season 4K (HBO) I wouldn't have necessarily thought it was possible but with The Last of Us, creators Neil Druckmann, Craig Mazin et. al. have managed to dodge all the pitfalls of videogame adaptations while somehow remaining remarkably faithful to the source material. Years after a particularly aggressive fungus has turned most of humanity into zombie-like predators and driven society into barbarous chaos, the chance for a vaccine sends a reluctant hero and his young charge on a merciless cross-country quest.
Emphasizing drama over action, The Last of Us gives the creepy-AF monsters surprisingly little screentime, instead trusting a great cast with some great characters. A co-worker even singled out Episode 3, "Long, Long Time" as one of the best hours of television he's ever seen. Another winner for HBO, the show was produced in 4K and the disc looks appropriately ugly (in a lovely way) with Dolby Vision HDR, immersing us in Dolby Atmos audio to boot. Multiple featurettes are provided, including three that are new for this set.
National Lampoon's Vacation 4K (Warner)
Once a product of its era, the o.g. Griswold Family vacay is now a time capsule for that bygone era of summer road trips shared by dutiful parents and ungrateful kids. For the movie's 40th birthday, it joins last year's Christmas Vacation disc in the 4K format, a part of Warner's 100th Anniversary celebration. Long gone is the flat, ugly crush of that old DVD-era video master employed for the lousy 30th Anniversary Blu-ray I reviewed almost a decade ago: With its new restoration and effective use of HDR, the film image comes alive with rich colors, genuine nuance and a welcome grain structure we haven't seen since the theatrical run. Audio is DTS-HD 2.0 mono, still missing The Pointer Sisters' "I'm So Excited," unfortunately.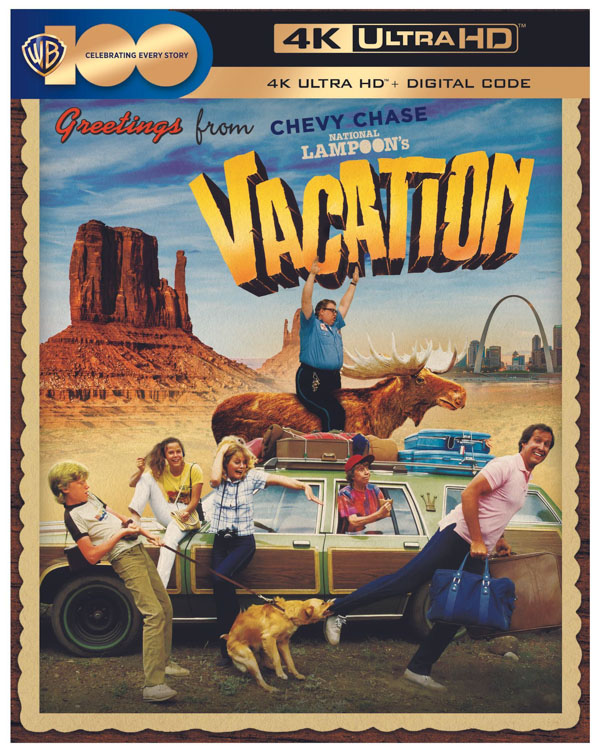 The group commentary track is ported over, but because (surprisingly) no HD Blu-ray is provided, we're missing a fair amount of legacy bonus content, notably a feature-length A&E documentary, although that is included digitally when we redeem the Movies Anywhere code.
Star Trek: Strange New Worlds The Complete First Season 4K (CBS/Paramount)
In the ever-expanding pantheon of Star Trek shows, Strange New Worlds stakes its claim by being smart, exciting and best of all, it's a lot of fun. It's tricky to explain how SNW fits into established lore, since there are now two major timelines ("Prime" and "Kelvin") but it's my understanding that it's set seven years before the first episode of The Original Series, giving us a welcome step back from the implausibly advanced tech of other recent Treks. Rather, it relies on familiar characters engagingly embodied by new actors as we witness Spock's early career under Christopher Pike, who's wrestling with his own grim fate, and joined by new Starfleet officers for a host of daring missions across these 10 episodes, first aired on Paramount+ last year.
One big reason I was so keen to include it here is the next-level technical quality. Strange New Worlds benefits from a true 4K master and the three dual-layer discs afford a high-bitrate presentation for absolutely stunning picture quality in terms of color, clarity, shadow detail and peak brightness (thank you, Dolby Vision), making this surely one of the best-looking TV shows on Ultra HD Blu-ray so far. Although it streams in Dolby Atmos, the only English language option is DTS-HD Master Audio 5.1, but this a solid track with active surrounds and sub within a well-thought-out mix. Extras too are better than expected, with an audio commentary, deleted scenes, substantive looks behind the scenes, and even the full TOS episode "Balance of Terror" to enhance our appreciation of the season finale.
Irréversible Blu-ray (Altered Innocence)
Gaspar Noé's Irréversible is a challenging film, not only for its brutal subject matter but for its unconventional structure, recounting in reverse chronological order the horrific events that befall a young couple (Monica Bellucci and Vincent Cassel, real-life husband and wife at the time) one fateful night in Paris. Through the clever revelation of information, we slowly begin to understand what's happening, why, and how it's even more tragic than we first assumed.
For indie label Altered Innocence's new two-disc edition, the original 2002 version has been restored at 2K alongside the release of the filmmaker's 2020 re-edit, dubbed the "Straight Cut" for its natural sequencing of the story. Both work, if you were wondering. In the extras, the retrospective interviews offer a wealth of insight on the film's inspirations and production.
Needful Things 4K (Kino Lorber Studio Classics)
I remember when the latest Stephen King bestseller was a must for beach reading, and you'd spot plenty of them in the oily hands of sunbathers. In the 1993 adaptation of King's Needful Things, Max von Sydow is deliciously evil as the mysterious Leland Gaunt, at the top of an all-star cast. At his new antique shop in the formerly sleepy hamlet of Castle Rock, Maine, the price of his wares are "favors"… and the occasional soul, lending chill to this often pithy dark comedy of sorts directed by Fraser Heston, son of Charlton. The original camera negative has yielded a 4K/Dolby Vision master of the theatrical cut spread across three layers, but the real treat here is the newly up-res'd 191-minute TV version (that's over an hour longer) presented in HD.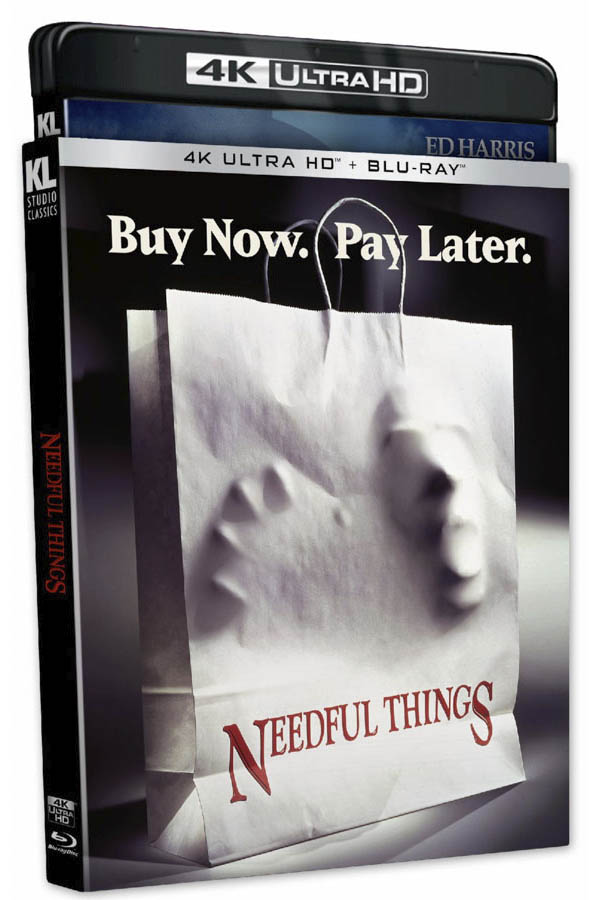 KLSC's excellent two-disc set also packs a legacy audio commentary and a new Interview with screenwriter W.D. Richter.