National Lampoon's Vacation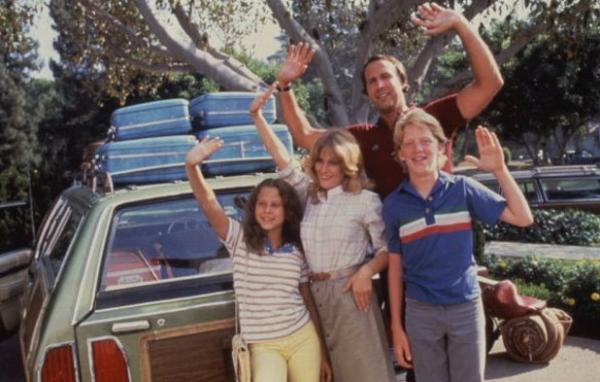 Vacation
recalls a bygone era of station wagons, roof racks, sing-alongs, roadside attractions, whiny kids (they never go out of style) and a whole generation that drove everywhere for their summertime frolics. The late, great John Hughes adapted the memorable script from his earlier story in the pages of
National Lampoon
magazine, and director Harold Ramis scored a sophomore hit following his debut,
Caddyshack
. But the movie truly belongs to star Chevy Chase, who carries this pitfall-laden odyssey to a famous theme park with his formidable onscreen persona: goofy faces, artful pratfalls and random comedic riffs, some repurposed from his work on
Saturday Night Live
. As patriarch Clark Griswold, he embodies the beleaguered American everydad facing all-too-familiar disappointments on the clan's cross-country trek, and although his optimism might not be contagious, it is pretty damned funny.
So what would cheery Clark have made of this mixed-bag video presentation? Encoded in old-fashioned VC-1, the 1.85:1 master appears to be the same as previously released on Blu-ray, down to the harsh, lifeless shadows and varying levels of film grain and video noise. Well-lit scenes fare much better, mostly clean with respectable textures, and the scenery really pops. On the upside of 1080p clarity, we can now read a character's Nixon/Agnew campaign pin. Downside, the impressive-in-their-day matte paintings look like… well, paintings.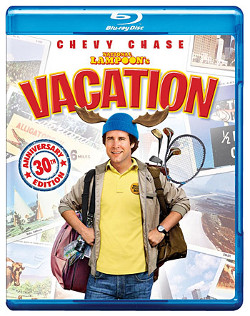 The soundtrack is DTS-HD Master Audio 1.0, not flashy but it makes its point. The dialogue and effects are sufficiently clear, with adequate dynamics, even for the shotgun at the Dodge City saloon, while Ralph Burns' music maintains its original mix and balance. It's just like I remember it from the theater that Summer of '83… except for a crucial recurring song that was rescored for home video and has still not been restored.
The extras are an incomplete port from the 20th Anniversary DVD, starting with an absolutely awful on-camera introduction by the filmmakers, but followed thankfully by an audio commentary from Ramis, Chase, co-stars Randy Quaid, Anthony Michael Hall and Dana Barron, and producer Matty Simmons. The one "new" bonus item is a substantial behind-the-scenes TV special from 2011 that gets most of its facts right. Missing here is the fun little 2003 featurette about the notorious and ill-fated Wagon Queen Family Truckster.
Let's recap: Old transfer, no audio remix or restoration, a single pre-fab addition to supplements, one item dropped and no Digital Copy included? Anniversary or not, there's little cause for celebration with this Vacation.
Blu-ray
Studio: Warner, 1983
Aspect Ratio: 1.85:1
Audio Format: DTS-HD Master Audio 1.0
Length: 98 mins.
MPAA Rating: R
Director: Harold Ramis
Starring: Chevy Chase, Beverly D'Angelo, Imogene Coca, Randy Quaid, Dana Barron, Anthony Michael Hall, John Candy, Christie Brinkley
Now celebrating its 30th year,
LATEST VIDEO