Transformers: Rise of the Steelbooks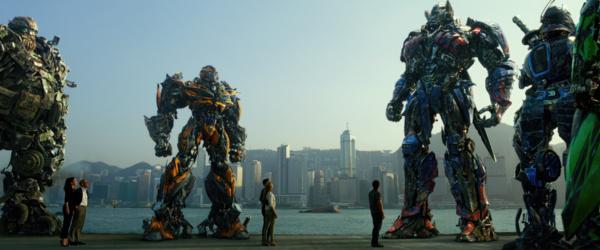 With the seventh live-action Transformers movie, Rise of the Beasts, arriving in theaters this month, Paramount has for the first time seized the opportunity to release the previous half-dozen movies together on 4K Ultra HD in the Transformers 6-Movie SteelBook Collection. The titles include:
Transformers (2007)
Transformers: Revenge of the Fallen (2009)
Transformers: Dark of the Moon (2011)
Transformers: Age of Extinction (2014)
Transformers: The Last Knight (2017)
Bumblebee (2018)
For those unfamiliar with the enduring franchise, these films are based on a line of toys… and a cartoon… and comic books, brought to life by blockbuster maestro Michael Bay, with the help of executive producer Steven Spielberg. Travis Knight (Kubo and the Two Strings) would take over for Bumblebee, released one year after Bay's fifth and final outing. The underlying story follows two opposing races of (essentially) living machines who leave their far-off home planet of Cybertron following a devastating civil war.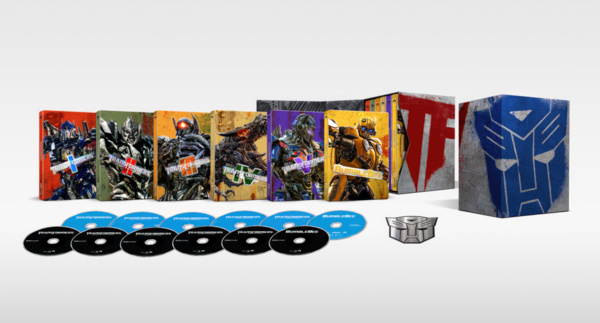 They eventually find themselves on Earth where they've been patiently hiding but now, with their existence revealed, our world has become their battleground. Despite the Transfos' vastly superior technology, we humans are able to fight the ill-intending Decepticons alongside the heroic Autobots, led by the supremely noble Optimus Prime, powerfully voiced since 1984 by the one and only Peter "Why Won't You Let Me Retire Already?" Cullen.
To give the adventures a relatable face, Shia LaBeouf stars as angsty teen-into-adult Sam Witwicky, befriended by a car that turns out to be a sentient robot, later trusted and recruited by his heavy metal brood. A few different actors have come and gone across the saga, replaced with big box-office draws (Mark Wahlberg, Hailee Steinfeld) and joined by a remarkable slew of revered supporting thespians, for reasons only their accountants can say for sure, among them Sir Anthony Hopkins, Frances McDormand, Stanley Tucci, and John Malkovich.
As movies based on toys go, these aren't half bad, as director Bay and his writers quickly figured out what worked and what didn't, with a healthy respect for the source material and plenty of boundary-pushing action. By and large, ILM's visual effects are on-point, particularly for the giant machines of the title, their namesake transformations at times inspiring genuine awe. And when the movies want to be funny, they're actually kinda funny.
All of the Bay installments were shot on photochemical film to some extent or another, the first four presented here at a letterboxed 2.4:1 and The Last Knight shifting between 2.39:1 and 1.90:1 to accommodate the IMAX sequences. Bumblebee was captured digitally and has a constant, screen-filling aspect ratio of 1.78:1. All are upscaled to 4K resolution; the Dolby Vision high dynamic range (HDR) is a real boon, especially to Bay's highly stylized color palette; and all pack Dolby Atmos audio with a TrueHD 7.1 core. The entire series earns high marks for picture and sound, so any one of these movies would be worthy show-off material, with aggressive 360-degree surround and bombastic low end.
Even so, Paramount's high-end packaging might be the real star. This set is comprised of six individual steelbooks, each containing a 4K Ultra HD disc and an HD Blu-ray platter, and each metal case rendered in a different color with a different character front and center, marked with the title and further distinguished by Roman numerals (as appropriate) and all in an attractive matte finish.
One of the criticisms leveled against the studios has been for the flimsiness of the outer cardboard sleeves on their multi-movie sets, not an issue here as this box is a substantial affair, thoughtfully designed inside and out and with a magnetic closure to keep the discs secure.
Digital copy codes are also included but there are no Blu-ray 3D versions, so keep that in mind if you have alternate editions in your collection and want to keep it complete. Because this is an upscale repackaging of previously released discs, expect the extensive legacy bonus content to carry over as well. And to make it just a bit more fun, the iconic Autobot logo is served up as a heavy-duty sticker. For the discerning Transformers fan/home theater enthusiast, this impressive 12-disc set is likely a must-own.