Denon AVP-A1HDCI Surround Processor and POA-A1HDCI Amplifier Page 3
However, I wanted a bit more customization with the video processing. I recently reviewed the Integra DHC-9.9 (HT, July 2009), and I was impressed by how much flexibility Integra offers with its per-input video processing modes and ISF support. While the Denon offers full deinterlacing and scaling for both HD and SD signals and full cross-conversion of analog video to HDMI, its settings were global across all inputs. It didn't have the tweakability that I know HQV Realta can bring to the table. Maybe this is something Denon will integrate into future firmware updates for the unit.
Setup
Typically, my biggest impression of any audio system comes from its setup and interface. You can have the greatest audio processor and amplifier in the world, but if the interface leaves you frustrated, the experience suffers. When I looked at the Denon's long list of features, I was worried about how easy it would be to get it up and going.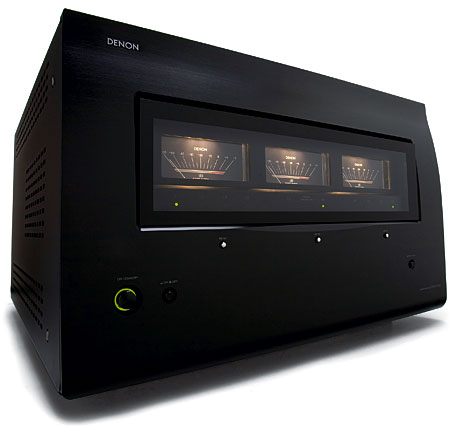 Every manufacturer approaches this in a different way, and they all have pluses and minuses. Honestly, I think the only manufacturer that has made an incredible interface for a vast amount of control is Apple in its iPod products. They epitomize simplicity yet still allow for a broad range of control that never leaves you wanting.
For control, Denon supplies two remotes with the AVP-A1HDCI. This is similar to the company's approach with its higher-end AVR designs that give you a separate remote for each zone. The main remote features a touchscreen on the upper part of the remote and standard buttons for more common commands on the lower part. I've never been a fan of this remote, though. The touchscreen doesn't always do what you think it would, and it can be frustrating to navigate. The second remote has a simpler design and was my preferred method of control.
Denon used to rely on a simple GUI. It walked you through a series of options and typically got the job done. It was never pretty, but it didn't miss anything. In the last few years, Denon has moved on to a prettier GUI that incorporates onscreen images and a media bar format that's very similar to what Sony uses in its PlayStation 3 and select A/V products. The problem is the huge number of options that the Denon offers. With so many features and the ability to tweak all of them, the menus are dense, and I got lost more than a few times. It was often frustrating to figure out where I was and how I got there, especially if I had to find my way back later.
This is the blessing and curse of this much adjustability. It could become an issue for enthusiasts who are less experienced in setting up components. Thankfully, Denon offers another option: online-based setup that you can access from a PC. I found that this interface was much easier to navigate, and the per-input setup was a breeze. If you're considering this processor, I suggest that you go this route for setup.
Another plus is the auto audio setup. The surround processor's Audyssey room correction is a twofold blessing here. Audyssey does a tremendous job correcting for your room without the need for lots of acoustic treatments (although they almost always help), and it also performs basic setup features like setting speaker distances, crossovers, and levels. Since this is all part of the calibration process, it takes care of a lot of the details with very little effort.
Since Audyssey does the bulk of the audio setup duties, you'll mainly use the menus to adjust the preferences for the different inputs and audio processing.
In Use
Once I finally had everything set up, the experience was nothing short of spectacular. I've used plenty of separates in my time, and few have delivered the performance that this combination does.
To start, I tried out Denon's media server capabilities. The Wi-Fi connectivity made it simple to tap the AVP-A1HDCI into my home network, and the Denon had no trouble finding my media files. I love the fact that Denon supports not only MP3 and WMA files, but also FLAC, which is what I primarily use in my media server. All the information I needed was right there on the screen, and navigation was simple and intuitive. Denon also offers an iPod dock, which I didn't use for this review.
For my home theater demos, I connected several components to the AVP-A1HDCI, including a Panasonic Blu-ray player, the Xbox 360, and a PlayStation 3. I wanted to see how the processor would work with a variety of sources and different audio formats. Since the Denon features complete onboard audio decoding of all the latest audio flavors, I set the Panasonic to bitstream mode and let the Denon do the heavy lifting. The AVP-A1HDCI did a tremendous job with all of the Blu-ray Discs I threw at it.
The Denon showed obvious improvements over the previously reviewed Integra in low-end refinement with aggressive soundtracks and noticeable infrasonic improvements. The lossless soundtrack for Michael Bay's popular blockbuster Transformers is a great example. The end battle in the city has some incredible bass sweeps with plenty of low bass range. The Denon resolved the sweeps with aplomb, and the bass control was a clear step up from what I experienced with the Integra processor.
While movie playback was always a treat, I wanted to get a sense of how musical the Denon was. At this price point, the AVP-A1HDCI competes directly with higher-end surround processors that have had the audiophile crowd's ear for years. My reference for high-resolution audio playback is Denon's DVD-5910CI flagship universal DVD player, and the AVP-A1HDCI upholds that same level of refinement. It might even create a new standard.
The Denon's noise floor was incredibly low with CDs. When I used a digital transport with the AVP-A1HDCI to take advantage of its DACs and processing, there was a marked improvement over even the DVD-5910CI's performance. The imaging was incredible, and the level of refinement in vocals and bass was as good as anything I've heard from the high-end crowd. The processor's performance with DVD-Audio and SACD was even more satisfying, but most components do a great job with material at this resolution.
The POA-A1HDCI proved to be an outstanding mate for the AVP-A1HDCI. While it isn't a fully balanced design, the POA-A1HDCI still offers balanced inputs, and I ran the main and center channels bridged. This gave my Paradigm Signature S8 mains and C5 center more juice for full-range playback. The amp's ability to add a bit more to a speaker's lower-end performance reminded me of Krell designs. On the upper end, the amp had a great sense of transparency, and it didn't seem to impart its own character on the voicing of the speakers. It provided crisp, detailed highs. If you're looking for plenty of power and great low-end performance from a full-range speaker, you should consider the POA-A1HDCI, even if you don't pair it with the AVP-A1HDCI.
Wrapping It Up
Denon's return to the separates world is an atom bomb—and I'd expect nothing less from Denon. If you're looking for the most feature-laden separates imaginable that offer true flagship-level flexibility, performance, and features, this combination is almost impossible to beat.