Denon AVP-A1HDCI Surround Processor and POA-A1HDCI Amplifier Page 2
Only have a 5.1 system? No problem. You can bridge the amps to double your power to each speaker. When you bridge two channels, the output goes up to 300 watts per channel with an 8-ohm load. Another option is to put the amp in biamp mode to power each section of your loudspeaker individually. The choice is yours, and Denon makes it simple so you don't have to fuss with the amp's back panel settings. A communication cable connects the processor and amp. When the amp powers on in conjunction with the AVP-A1HDCI, the latter configures the amp channels for your selected setup. The AVP-A1HDCI can even pass a digital 5.1 signal to a second zone, although it can't decode it and then output it to the POA-A1HDCI.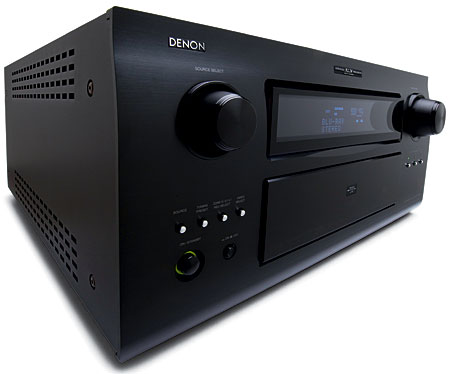 If there were a drawback to these models, it would have to be their massive size. Both components stand tall, and with a combined weight of nearly 200 pounds, they can create a problem for standard rack placement and integration into the average home theater. If you're considering this pair, make sure you verify the capabilities of the shelves you plan to place them on. I recommend that you have everything in place prior to installation. Trust me, you don't want to have to move these beasts more than once.
It's What's Inside That Counts
While the AVP-A1HDCI and POA-A1HDCI cast a daunting glare on the outside, their true performance comes from inside. Whether it's audio or video, Denon went all out.

Audio
At the heart of the AVP-A1HDCI are three floating-point DSPs that provide all the power the processor needs for the latest audio processing. Denon is always on the cutting edge of audio processing, and the AVP-A1HDCI leaves no stone unturned. The processor decodes all of the latest audio formats, including the full Dolby and DTS suites. It can also handle the full complement of popular DSP modes, including Dolby's Pro Logic II suite and THX Ultra2 processing.
One of the biggest highlights for audio lovers is Denon's inclusion of Wi-Fi and Ethernet connectivity. The AVP-A1HDCI takes advantage of the various media you have on your home network, and it can also connect to the Internet for Internet radio, firmware updates, and hardware troubleshooting when you run into issues. This is the first surround processor I've seen with firmware updates that are available right over the Web. We've become quite pleased with this feature on various Blu-ray and DVD players.
The built-in media player supports WAV, FLAC, and WMA files, and it will even play back video files directly from your server. The interface is simple to use, and the processor had no trouble finding media on my home server.
The processor also features Audyssey MultEQ XT setup and room correction, plus Audyssey Dynamic EQ, Audyssey Dynamic Volume, and a low-frequency correction that's exclusive to Denon. Our review sample of the AVP-A1HDCI did not have Dynamic Volume installed when we received it, but Denon provided it later in a free firmware update. We got a chance to give this new feature a whirl in our review of the Integra DHC-9.9 (HT, July 2009), and it's nice to see Denon offer this kind of free upgrade. Many times, companies talk about supporting their products with future upgrades as new audio processing comes out. And many times they instead put a new processor on the market, which requires buyers to reinvest for the latest processing.

In the future, maybe we'll see a Denon firmware update to incorporate Audyssey's new DSX process. DSX is designed to provide up to 11 full-range channels of information (produced via DSP from the 5.1 channels in most surround source material). This makes it a natural fit for the Denon POA-A1HDCI's 10 amplifier channels.
Like the Integra, the Denon surround processor ships with Audyssey's most current microphone and measurement system. This results in a very obvious difference in low-end resolution and extension compared with the puck-style microphone that previously shipped with Audyssey-licensed components.
Denon hasn't skimped a bit on the AVP-A1HDCI's analog audio section. As I mentioned before, each channel has four dedicated Burr-Brown DACs that run in dual-differential mode. This is one of only a few surround processors that's also fully balanced in the analog output section. You usually find this feature in price-no-object designs that cost substantially more. Dual-differential designs use common mode rejection to eliminate noise in the audio signal. Denon claims this lowers the noise floor and increases dynamic range.
Like its AVRs, Denon also includes multiple surround sound speaker options. This lets you select different surround speakers in different locations for movie and multichannel music playback. Some recording studios use different near-field monitor placement for movie soundtrack mixing than for multichannel music mixing. This feature lets you replicate the mixing environment in your home.
Denon's subwoofer configurations are also a huge highlight. Rather than a simple subwoofer output, you can configure your bass setup to your preference, including true stereo subwoofer support for LFE playback. I haven't seen this feature on many processors, and it provides a lot of flexibility if you're using multiple subs in your room.
Video
On the video side, Denon continues to favor the HQV video processing that it premiered with its flagship DVD players. The video section is identical to its flagship AVR-5308CI AVR that we featured in our first AVR video processing roundup last year (HT, June 2008). The HQV Realta's processing performance more than impressed us then, and it still does today. HQV Realta offers top-of-the-line video processing performance for both high-definition and standard-definition signals. Its array of noise reduction features for HD video makes it a great addition for anyone who gets annoyed with those crummy HD cable signals. The HQV Realta processing reduces common artifacts such as blocking. It can add a nice level of sharpness to broadcast signals without adding a slew of other artifacts like many video processors do.
LATEST VIDEO